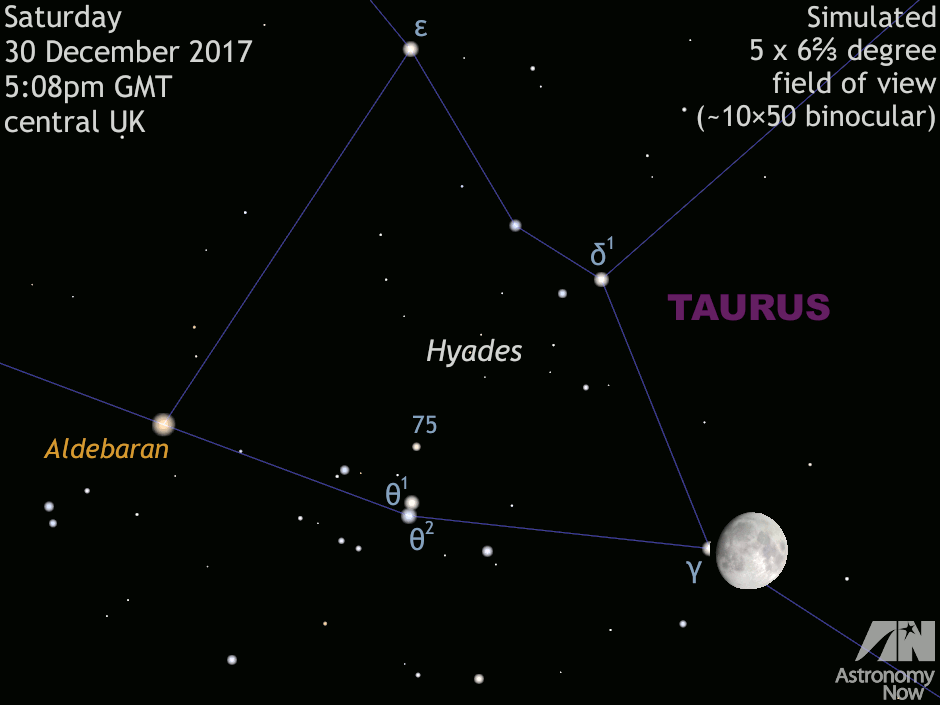 Observers in Western Europe with small telescopes and larger binoculars keen for something to view on the last weekend of the year should look no further than the waxing gibbous Moon as it occults (passes in front of) a number of naked-eye stars in the Hyades open star cluster in the constellation of Taurus.
This occultation bonanza starts with the disappearance of magnitude +3.7 star gamma (γ) Tauri just before the onset of nautical dusk on Saturday, 30 December in the British Isles. For observers in London, the star slips behind the dark limb of the advancing Moon at 5:05pm, or 5:11pm in Edinburgh. Observers near the centre of the UK will see the occultation of γ Tauri close to 5:08pm.
There is a little wait until the turn of the next star, slightly fainter 75 Tauri. This magnitude +5.0 body disappears at the dark limb of the 12-day-old gibbous Moon close to 9:20pm in both London and Edinburgh, or 9:18pm for those nearer the heart of the British Isles.
Next up its the turn of magnitude +4.8 star HIP 21029, destined to wink out of view as the Moon glides over it at 10:26pm and 10:46pm for observers in Edinburgh and London, respectively. For the centre of the UK, HIP 21029 is swallowed by the lunar orb close to 10:30pm.
For those prepared to stay up beyond midnight, the best is saved for last. In its final occultation of the year, first-magnitude star Aldebraran, the primary luminary of the constellation of Taurus, slips behind the Moon shortly after 1:01am on 31 December as seen from Edinburgh, at 1:05am from the heart of the British Isles, and just before 1:14am as seen from London.
If you have the stamina and clear skies, Aldebaran reappears at the Moon's bright limb shortly before 1:57am on Sunday morning as seen from Edinburgh and the centre of the UK, flashing back into view just after 1:59am as seen from London. Please note that all dates and times given in this article are Greenwich Mean Time.