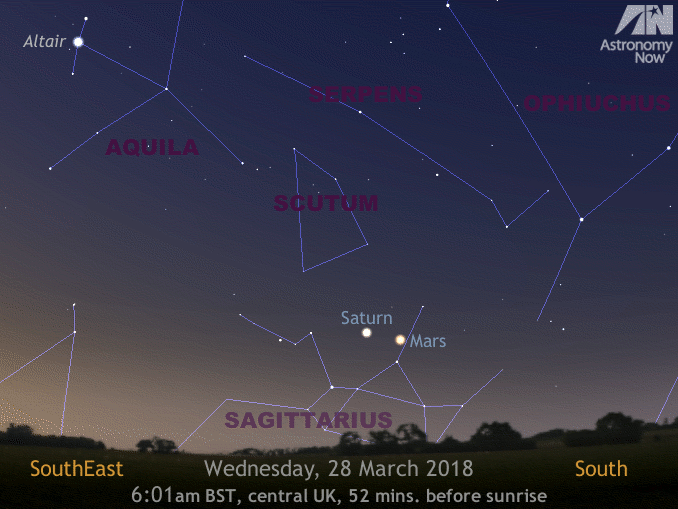 Early risers will already be aware that there's currently a lot of planetary activity in the dawn sky. Jupiter is the magnitude -2.3 'star' highest in the southern sky around 4am local time against the constellation backdrop of Libra. About an hour before sunrise finds a planetary pairing of Mars (magnitude +0.4) and Saturn (magnitude +0.5) in Sagittarius low in the south-southeast as seen from Western Europe.
Pay attention to Mars and Saturn as they're set to get closer over the next week as the Red Planet's faster orbital motion causes it to lap its more distant sibling. Ultimately, in the UK dawn twilight of Monday, 2 April 2018, Mars passes little more than 1¼ degrees south of the ringed planet. At this time the Red Planet lies 164 million kilometres distant versus 1,489 million kilometres for Saturn, hence the latter is nine times farther away.
Telescopically, both Mars and Saturn are encompassed within the same field of view at magnifications of 30x or less on the morning of 2 April. At higher powers, the 8.5-arcsecond-wide gibbous disc of Mars (which, incidentally, lies 0.4 degrees away from magnitude +5.1 globular cluster Messier 22) is slightly more than half the apparent size of Saturn's disc to the north.
If you need any assistance in identifying Mars and Saturn, the Moon acts as a convenient guide on the weekend mornings of 7 and 8 April. Observers in the UK looking low in the southern sky close to 5:30am BST on Saturday, 7 April can see the 21-day-old waning gibbous Moon 4 degrees to the upper right of Saturn, while Mars lies 2¾ degrees to the ringed planet's lower left – all three bodies will fit in the same field of view of typical 7x binoculars. The Moon lies to the left of both Mars and Saturn at the same time the following morning.
It's now open season for the Red Planet in the run-up to a notable opposition on 27 July – its nearest for 15 years. Mars is actually closest to Earth at 07:45 UT on 31 July, when the separation of our two worlds is a little short of 0.385 astronomical units, or 57.59 million kilometres to be precise. At that time Mars lies in the constellation of Capricornus, shines at almost magnitude -2.8 and the apparent diameter of its disc is a truly impressive 24.3 arcseconds.