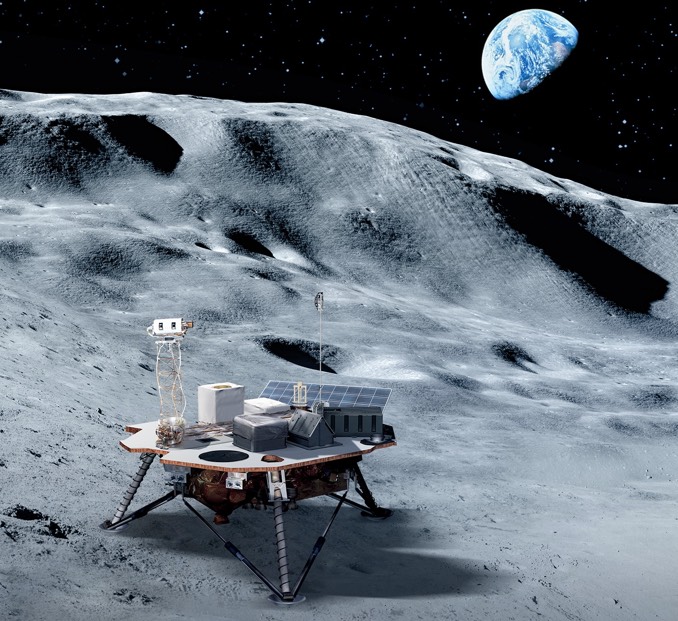 Under contracts valued at $253.5 million, NASA is funding three fast-track Moon landers in a programme intended to kick-start private-sector exploration and technology development, key elements in the space agency's drive to return astronauts to the Moon's surface in 2024.
Orbit Beyond of Edison, New Jersey, was awarded $97 million to build and launch its Z-01 spacecraft as a secondary payload on a SpaceX Falcon 9 rocket, landing on Mare Imbrium by September 2020.
Astrobotic of Pittsburgh, Pennsylvania, won $79.5 million to develop its Peregrine lander to carry 14 NASA payloads to a touchdown at Lacus Mortis in July 2021. The company has not yet specified a launcher.
Intuitive Machines of Houston, Texas, is receiving $77 million for its Nova-C spacecraft, bound for a landing in Oceanus Procellarum, also in July 2021. A Falcon 9 will be used to launch the Nova-C.
"This is a new era for the Moon," John Thornton, Astrobotic CEO, said when the contracts were announced 31 May. "It's been almost 50 years since we've been back as a country. Now we're going back, we're going to have regular, routine access to the Moon in ways we've never experienced before. Our scientists are going to get really, really smart about that's up there. This is a whole new era, an incredibly exciting time."
The contracts are managed by NASA's Commercial Lunar Payload Services, or CLPS, programme, which has authority to award up to $2.6 billion in contracts over a 10-year period. The goal is to fund private development of space systems and infrastructure that NASA can then use to send science payloads to lunar orbit or the surface.
Future contracts are expected to fund missions that will send landers to the Moon's south polar region to explore ice deposits in permanently shadowed regions where future astronauts may be able to extract air, water and even rocket fuel. That's where NASA plans to send the first crew in the new Artemis Moon programme.
"These CLPS providers are really leading the way for our return to the Moon as part of the Artemis program, these are precursor missions prior to us landing the first woman and the next man on the surface of the Moon in 2024," said Steve Clarke, deputy associate administrator for exploration at NASA Headquarters.
"NASA is one of many customers," he said of the landers. "We are buying a ride, essentially. … We are looking for these providers to deliver our payloads to the surface. They are responsible for the launch, the lander itself, landing it and making sure we can operate our instruments on the surface of the moon."
Officials with all three companies said the initial landing missions will set the stage for more extensive commercial development in the years ahead.
"I think it's going to create a new era, a new ecosystem for commercial companies to really explore space,"said Kam Ghaffarian, executive chairman of Intuitive Machines. "I truly believe commercial space in general, whether it's low Earth orbit or deeper space exploration is just beginning. It's going to be a truly exciting journey."