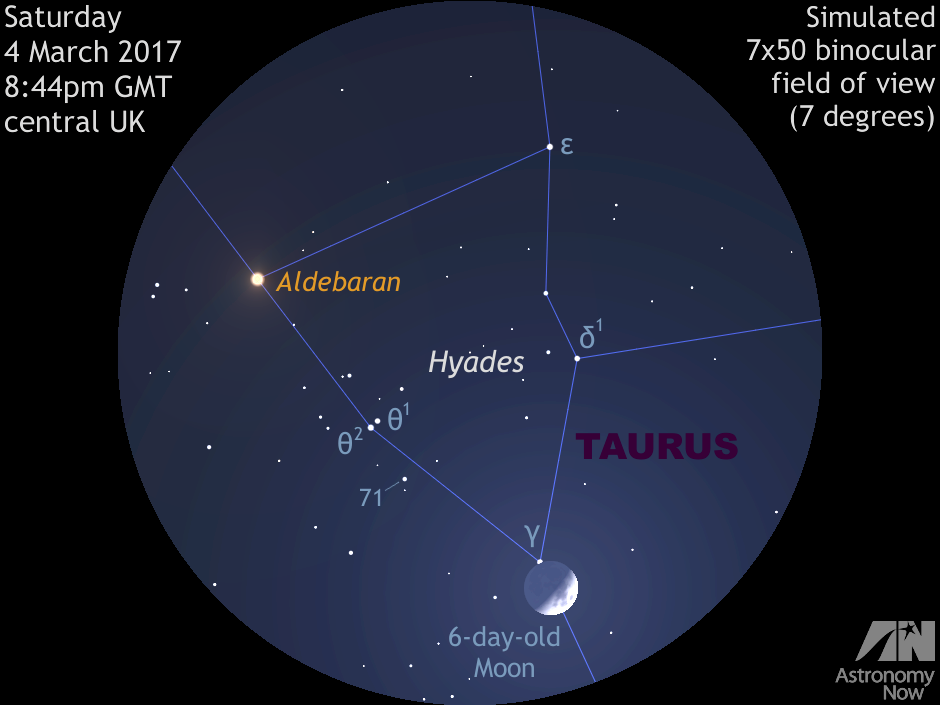 If the UK sky is clear on the evening of Saturday 4 March, don't miss an opportunity to see a waxing crescent Moon glide slowly through the southern extremity of the Hyades star cluster in the constellation of Taurus. This is not a spectacle that requires a large or expensive instrument to observe — all you need is a typical binocular and a low wall or fence to rest your elbows on to steady the image — but a telescope will give much clearer views.
The brightest stars covered by the Moon on the UK night of 4-5 March are — in order of disappearance — magnitude +3.7 gamma (γ) Tauri, magnitude +4.5 71 Tauri, magnitude +3.4 theta2 (θ2) and magnitude +3.8 theta1 (θ1) Tauri (see the illustration above where these stars are labelled).
As seen from London, the times at which the stars disappear behind the Moon's advancing dark limb are 8:47pm (γ), 11:42pm (71), 12:40am (θ2) and 12:46am (θ1). As seen from Edinburgh, the corresponding times are 8:44pm, 11:35pm, 12:38am and 12:47am, respectively (all times GMT). Note that the Moon will be very low in the west-northwest for the occultations of θ2 and θ1 Tauri as seen from the British Isles.
Once darkness falls in North America on 4 March, stargazers in much of the United States (but excluding the New England States of Massachusetts, Vermont, New Hampshire and Maine) can see the almost first quarter Moon occult first-magnitude star Aldebaran too. As seen from San Francisco, CA, Aldebaran disappears at 7:02pm. In Denver, CO, the Moon covers the star at 8:33pm. Residents of Chicago, IL can see Aldebaran occulted at 9:57pm; Miami, FL sees the event at 11:03pm and New York, NY witnesses Aldebaran's disappearance at 11:10pm (all US times are local).
The usual advice for observing occultations applies inasmuch as you should be ready with your binocular or telescope a few minutes before the appointed time(s) so as not to miss out. Plus, it's always fun to see the Moon's orbital motion carry it ever closer to the target star until it is almost instantly extinguished.
---

Inside the magazine
For a comprehensive guide to observing all that is happening in the coming month's sky, tailored to Western Europe and North America, obtain a copy of the March 2017 edition of Astronomy Now.
Never miss an issue by subscribing to the UK's biggest astronomy magazine. Also available for iPad/iPhone and Android devices.