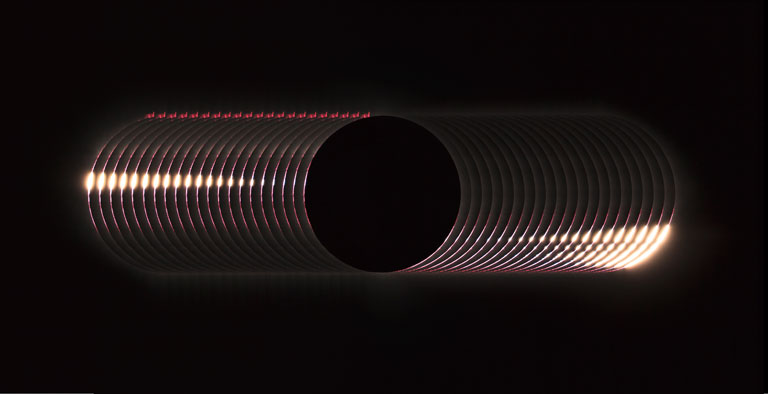 Chinese photographer Yu Jun has beaten thousands of amateur and professional photographers from around the globe to win the title of Insight Astronomy Photographer of the Year 2016. He received his prize at an awards ceremony beneath the dome of the Peter Harrison Planetarium at the Royal Observatory Greenwich. As well as securing the £10,000 top prize, his image takes pride of place in the exhibition of winning photographs opening at the Royal Observatory Greenwich on 17 September 2016.
The judges were captivated by Jun's unusual image illustrating the phenomenon of Baily's Beads of the total solar eclipse on 9 March 2016 from Luwuk, Indonesia, over a matter of mere minutes. Made up of several stacked images, the camera reveals what is usually hidden to the naked eye, stretching out the movements of the Moon across the face of the Sun illustrating the uneven surface of our natural satellite as beads of sunlight seep from behind the dark lunar disc.
Competition judge and Royal Observatory Public Astronomer, Dr Marek Kukula said: "This is such a visually striking image, with its succession of fiery arcs all perfectly balanced around the pitch black circle of totality. It's even more impressive when you realise what it shows: the progress of a solar eclipse, all compressed into a single frame with consummate skill and precision. A tremendous achievement that pushes the boundaries of what modern astrophotography can achieve."
The competition is now in its eighth year and a record number of more than 4500 entries were received from astrophotographers in over 80 countries.
See tips on getting started in astrophotography from the Astronomy Photographer of the Year judges.
Also see the judges explain what makes a perfect astrophoto.