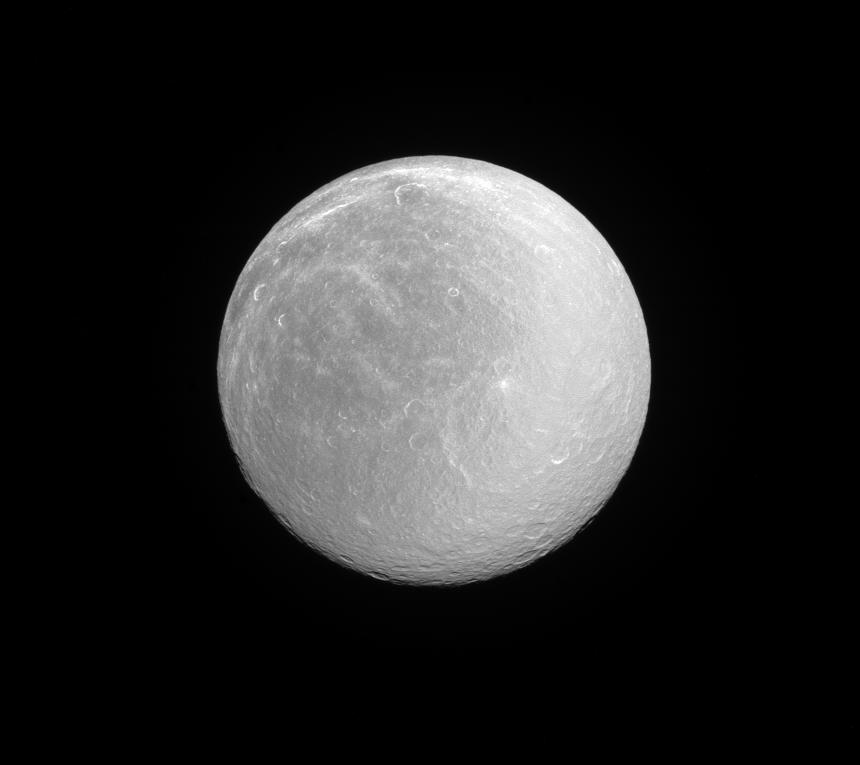 In this image from NASA's Cassini probe, Saturn's moon Rhea appears dazzlingly bright in full sunlight. This is the signature of the water ice that forms most of the moon's surface.
Rhea (1,527 kilometres or 949 miles across) is Saturn's second largest moon after Titan. Its ancient surface is one of the most heavily cratered of all of Saturn's moons. Subtle albedo variations across the disc of Rhea hint at past geologic activity.
This view looks toward the anti-Saturn hemisphere of Rhea. North on Rhea is up and rotated 36 degrees to the right. The image was taken with the Cassini spacecraft narrow-angle camera on 3 June 2016 using a spectral filter which preferentially admits wavelengths of ultraviolet light centred at 338 nanometres.
The view was acquired at a distance of approximately  587,000 kilometres (365,000 miles) from Rhea and at a Sun-Rhea-spacecraft, or phase, angle of 9 degrees. Image scale is 3.9 kilometres (2.4 miles) per pixel.
---
Saturn: Exploring the Ringed Planet
Find out more about Saturn and its moons in this 196-page special edition from Astronomy Now. [geot exclude_region="US" ]Order from our online store.[/geot][geot region="US" ]Order from our online store.[/geot]