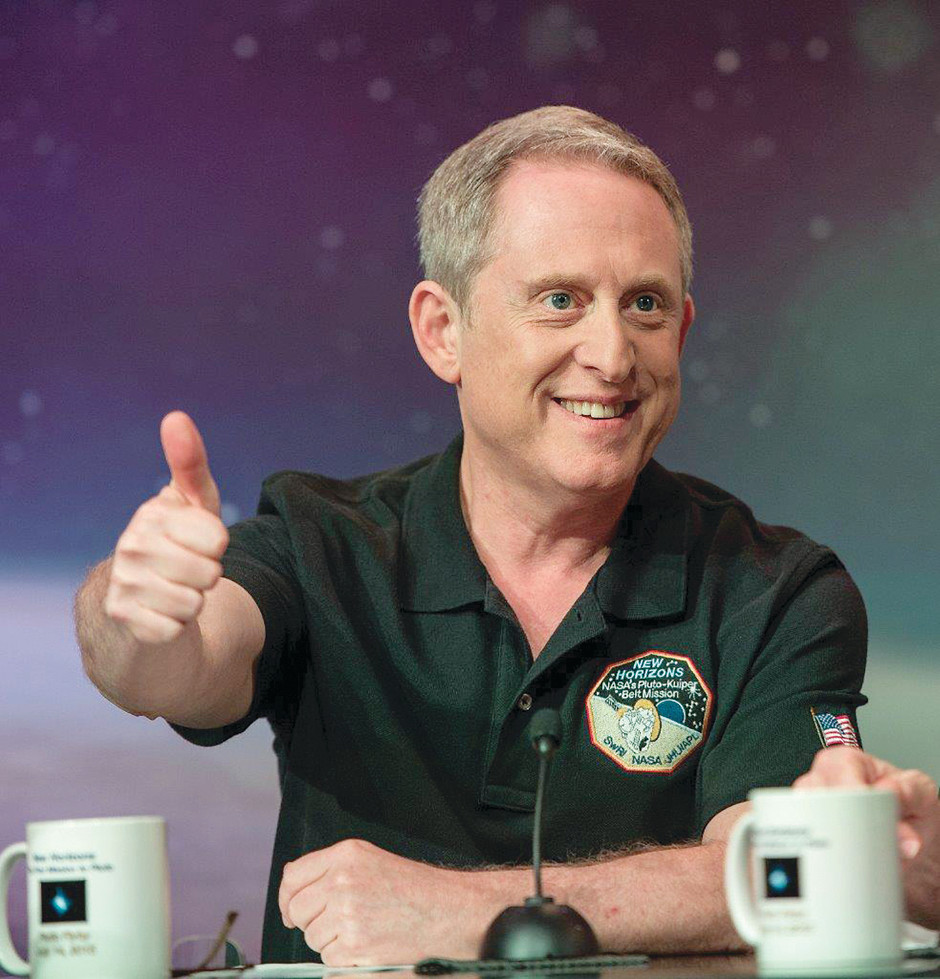 Dr. Alan Stern, associate vice president of the Space Science and Engineering Division at Southwest Research Institute (SwRI) and the Principal Investigator of NASA's New Horizons mission to Pluto, has been awarded the 2016 Carl Sagan Memorial Award by the American Astronautical Society (AAS).
The award is given to an individual who has "demonstrated leadership in research or policies advancing exploration of the cosmos." Past winners include Frank Cepollina, manager of NASA's Satellite Servicing Capabilities Office at the Goddard Space Flight Center, and Bruce Murray, a former director of NASA's Jet Propulsion Laboratory who co-founded The Planetary Society with Carl Sagan.
"I am honoured to receive this," said Stern. "And I'm accepting it on behalf of the entire New Horizons team across the U.S."
The AAS has also just presented its 2015 Neil Armstrong Space Flight Achievement Award to the New Horizons team for outstanding achievement as a flight crew. Founded in 1954, the American Astronautical Society is the premier network of current and future space professionals dedicated to advancing all space activities.
These are among many honours for New Horizons, which also earned the No. 1 spots in both the Discover Magazine Top 100 Stories of 2015 and the Science News magazine Top 25 Science Stories of 2015. GCN, a public sector IT publication, honoured New Horizons with the "Tenacity Award" for information technology that went into the spacecraft between its mission preparation from 2001 to launch in 2006 and software updates in the 9.5 years before its Pluto flyby.
"We are honoured that Alan and the entire New Horizons team have been recognized for advancing our understanding of Pluto and our solar system," said Dr. Jim Burch, vice president of SwRI's Space Science and Engineering Division.
As principal investigator, Stern has led the mission since its inception as a proposal, over 15 years ago.
The mission culminated on July 14, 2015, when the spacecraft reached its closest approach to Pluto. Onboard instruments collected valuable and historic images and other measurements of the Pluto system as New Horizons flew within 8,507 miles of the icy planet to explore it and its five moons. Located more than 3 billion miles from the Sun, Pluto has captivated the interest of scientists and school children since astronomer Clyde Tombaugh discovered it in 1930.
Stern and the New Horizons team now hope to extend the mission into the Kuiper Belt, an area of icy objects at the far reaches of the solar system. Pending approval from NASA, the spacecraft would travel nearly 1 billion miles beyond Pluto to fly by a Kuiper Belt object known as 2014 MU69 on 1 January 2019.