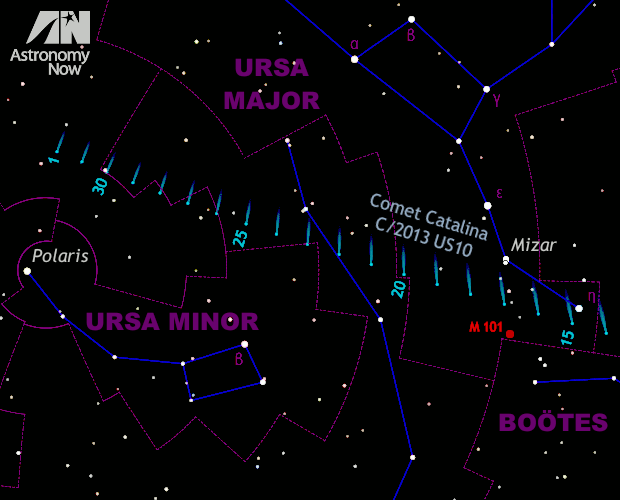 Twin-tailed Comet Catalina (C/2013 US10) is currently about magnitude +7 and therefore a binocular object under moonless skies, a circumpolar object that will not set over the British Isles for the remainder of 2016 and some time beyond. Despite receding from the Sun, C/2013 US10's distance from Earth is still decreasing and we make our closest approach at 5:25am GMT on the morning of Sunday, 17 January 2016 at a distance of 67.3 million miles (108.4 million kilometres).
In the pre-dawn hours of 17 January, Comet Catalina will also be situated between the Pinwheel Galaxy (M101) and famous double star Mizar (ζ Ursae Majoris) in the handle of the Plough, or Big Dipper. At 6am GMT this morning, the onset of astronomical twilight for the centre of the British Isles, C/2013 US10 will be virtually overhead and 2.3 degrees from M101 — have your camera ready for a great astrophotograph! As something of a finale, the comet also passes just 8.4 degrees from the pole star, Polaris, in the closing hours of January 2016.
The following J2000.0 topocentric coordinates of Comet Catalina for the centre of the British Isles are for 06h UT on the dates shown. The table includes predicted magnitudes (Mag.) with distances in astronomical units (1 AU = 92,955,807.3 miles or 149,597,870.7 kilometres) from both the Sun (r) and the Earth (Delta).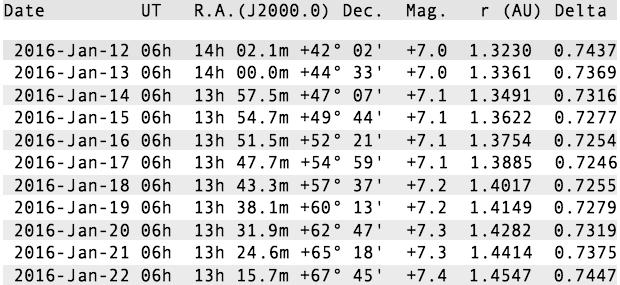 ---

Inside the magazine
Find out more about Comet Catalina and what's up in the night sky in the January 2016 edition of Astronomy Now.
Never miss an issue by subscribing to the UK's biggest astronomy magazine. Also available for iPad/iPhone and Android devices.