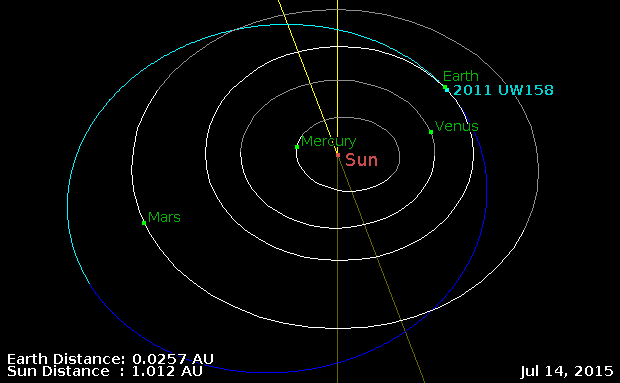 Scientists from the Arecibo Observatory observed asteroid (436724) 2011 UW158 on Tuesday, July 14th, providing the first detailed images of this asteroid from 6.9 million kilometres away (4.3 million miles, or roughly 18 times the distance to the Moon), revealing that this object is not the average asteroid.
Many asteroids observed to date seem to be numerous smaller rocks held together loosely by gravity. Asteroid 2011 UW158, though, was found to have an odd shape much like an unshelled walnut with a diameter of 300 by 600 metres (1,000 by 2,000 feet), the size of two Arecibo telescopes, and it rotates very rapidly, once every 37 minutes, which agrees with previous optical observations.
While many watched as the New Horizons spacecraft made a historic flyby of the dwarf planet Pluto, Arecibo Observatory was watching this much smaller — and closer — object fly by Earth. "Its size, shape, and rotation suggest there is something more than gravity holding this object together or else the asteroid would break up due to its fast spin," explained Dr. Patrick Taylor, a scientist in the Planetary Radar department and lead of the observations.

One possibility is that the asteroid is one solid body rather than many smaller rocks held together by gravity. Only two other asteroids this large and rotating this fast have been observed before. "We expect that something this big should have been shattered into smaller pieces by collisions with other asteroids over the age of the solar system. It is interesting that something this large and apparently solid is still around," described Dr. Taylor. He added that this asteroid will not make a similar fly by until 2108 and is not considered a potential threat to Earth.
"Such observations provide clues to how asteroids formed and changed over time," added Dr. Edgard Rivera-Valentin, a member of the Planetary Radar department and part of the observation team. The group of observers also included project specialist Linda Ford and Benjamin Sharkey, a student in the educational research program Research Experience for Undergraduates, funded by the National Science Foundation.