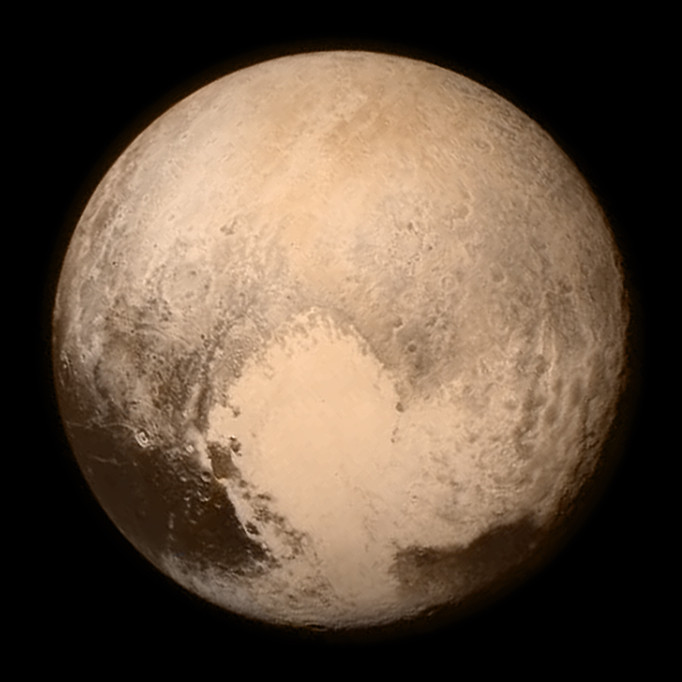 One cannot fail to be enthralled by the stunning imagery of Pluto and its family of moons as revealed by NASA's New Horizons spacecraft during its historic encounter with the enigmatic dwarf planet last week. What treats are in store during the 16 months that it will take for all of the probe's high-resolution imagery and science data to trickle back to Earth from 3 billion miles away?
Hopefully, some of you felt compelled to track Pluto down for yourself, either visually or photographically, by using our observing guide. However, as I explained in the piece, capturing Pluto from the UK at this time is challenging: the dwarf planet is faint — some 2000 times dimmer than the faintest naked-eye star — and it currently rises no higher than about 15 degrees above the horizon as seen from the centre of the British Isles. Furthermore, twilight still lasts all night for much of the UK.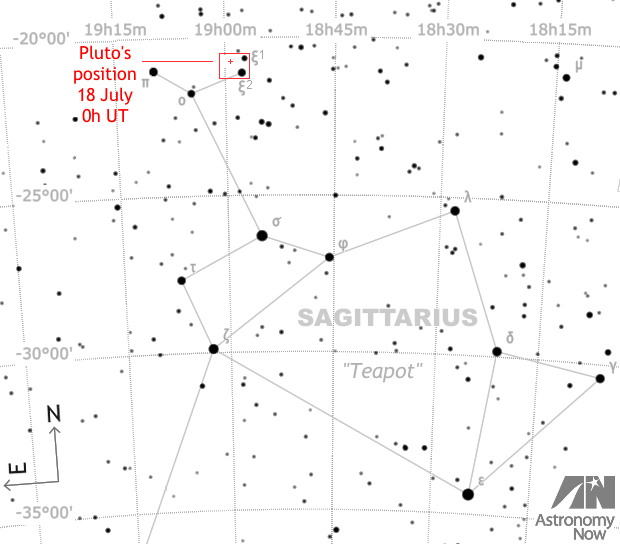 Undaunted, I had the additional challenge of imaging under less than ideal circumstances from the heart of a light-polluted, mid-sized East Anglian town. As close as possible to the date of New Horizons' epic encounter that weather conditions permitted, I desperately wanted to capture what was, until its downgrade to the status of a dwarf planet in August 2006, the outermost planet in the solar system. Positioning myself under an oak tree in the far northern corner of the garden with minutes to spare while Pluto was situated between two neighbouring rooftops, I had to best guess my telescope mount's polar alignment as I couldn't sight on Polaris — hence the slightly trailed stars in the following image.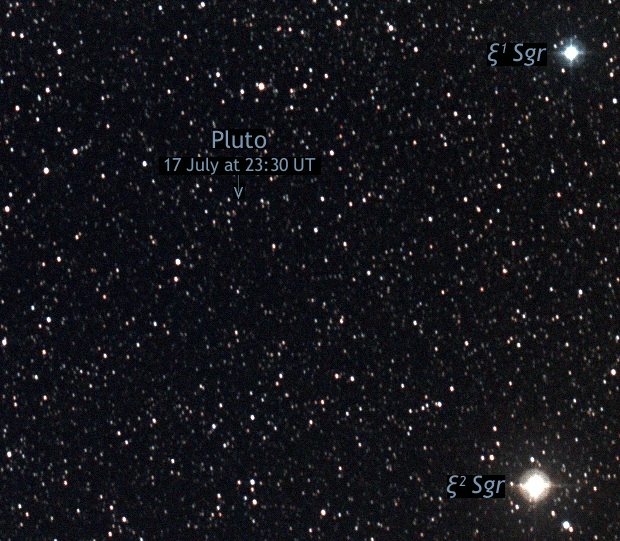 At the time of this astrophotograph, Pluto glimmered at magnitude +14.1 — possibly +14.6 with atmospheric extinction. Its distance from me was a staggering 2,966 million miles (4,774 million kilometres), so its light took 4 hours 25 minutes to traverse the solar system for its precious photons to be captured by my camera. Technically, it's far from my best image of the night sky, but its subject at this juncture certainly makes it my current favourite.
If you wish to take the Pluto challenge but thought that it was impossible from your suburban backyard, perhaps this will make you think again. Don't worry if your 'scope has a focal ratio slower than my 11-inch f/2 setup — Pluto is essentially a point source, so it's aperture not photographic speed that counts in this instance. But don't leave it too late, as the waxing crescent Moon will be setting after midnight in the British Isles by 23 July!
---

Inside the magazine
You can find out more about observing Pluto in the July edition of Astronomy Now in addition to a full observing guide to the night sky.
Never miss an issue by subscribing to the UK's biggest astronomy magazine. Also available for iPad/iPhone and Android devices.