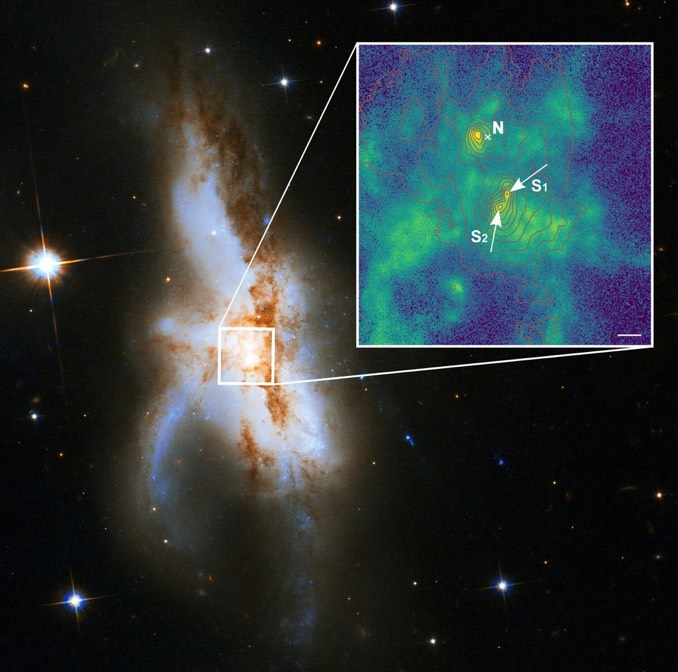 NGC 6240 is an irregular, chaotic-looking triple galaxy system 300 million light years from Earth where three galaxies are in the process of merging. Extensive observations indicated the presence of two supermassive black holes and now, researchers have found a third.
"Through our observations with extremely high spatial resolution we were able to show that the interacting galaxy system NGC 6240 hosts not two, as previously assumed, but three supermassive black holes in its centre," said Wolfram Kollatschny of the University of Göttingen.
Each of the black holes has a mass of more than 90 million times that of the Sun, and all three are located within a region spanning just 3,000 light years.
"Up until now, such a concentration of three supermassive black holes had never been discovered in the universe," said Peter Weilbacher of the Leibniz Institute for Astrophysics Potsdam. "The present case provides evidence of a simultaneous merging process of three galaxies along with their central black holes."
The discovery of such a triple system sheds light on how galaxies grow over time and how massive galaxies seen in the present-day universe managed to evolve as rapidly as they did in the 14 billion years since the Big Bang.
"If … simultaneous merging processes of several galaxies took place, then the largest galaxies with their central supermassive black holes were able to evolve much faster," said Weilbacher. "Our observations provide the first indication of this scenario."
To identify the third supermassive black hole, researchers used the European Southern Observatory's Very Large Telescope, the 3D MUSE spectrograph and adaptive optics to collect high-resolution spectra.
All three supermassive black holes likely will merge in a few million years, generating powerful gravitational waves. Similar signatures may be detected in the more foreseeable future by Earth- or space-based gravity wave detectors.