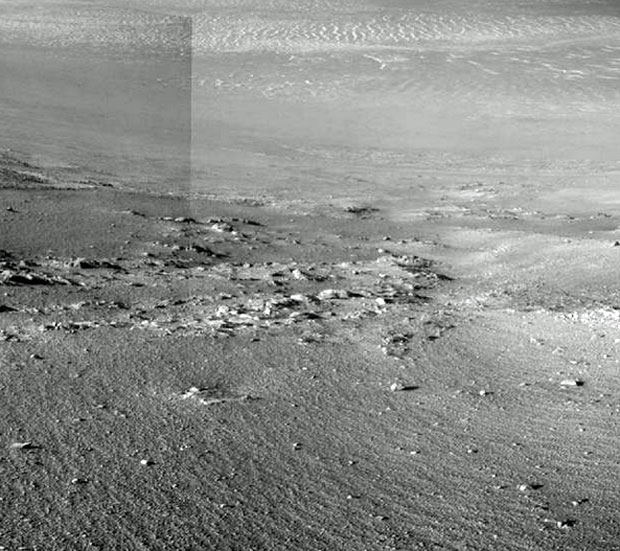 NASA's solar-powered Opportunity rover, which landed on Mars in 2004, enjoyed its 5,000th sunrise on 16 February, waking up on the western rim of Endeavour Crater for another day, or "sol," exploring Perseverance Valley, a shallow channel that runs from the rim the the crater's floor.
Opportunity and its twin Spirit were designed to operate for just 90 sols, but both rovers operated years beyond that target. Spirit eventually failed after it got mired in thick sand, but Opportunity, while hampered by bad random access memory and a broken wheel motor that forces it to run in reverse, continues to collect valuable data about the red planet's environment.
"Five thousand sols after the start of our 90-sol mission, this amazing rover is still showing us surprises on Mars," said John Callas, the Opportunity project manager at NASA's Jet Propulsion Laboratory in Pasadena, California. "We've reached lots of milestones, and this is one more. But more important than the numbers are the exploration and the scientific discoveries."
Opportunity has driven more than 45 kilometers (28 miles) since landing and has returned about 225,000 images. Recent images collected in Perseverance Valley show what look like so-called "rock stripes" on Earth that are caused by repeated freezing and thawing of wet soil. But they also could be the result of wind or other processes.
"Perseverance Valley is a special place, like having a new mission again after all these years," said Deputy Principal Investigator Ray Arvidson. "We already knew it was unlike any place any Mars rover has seen before, even if we don't yet know how it formed, and now we're seeing surfaces that look like stone stripes. It's mysterious. It's exciting. I think the set of observations we'll get will enable us to understand it."
But it may not be easy. The stripes are not as distinctive as those found on Earth and debris from other impact craters complicates assessments of how wind may have played a role.
"I don't know what these stripes are, and I don't think anyone else knows for sure what they are," said Robert Sullivan, a science team member at Cornell University. "So we're entertaining multiple hypotheses and gathering more data to figure it out."