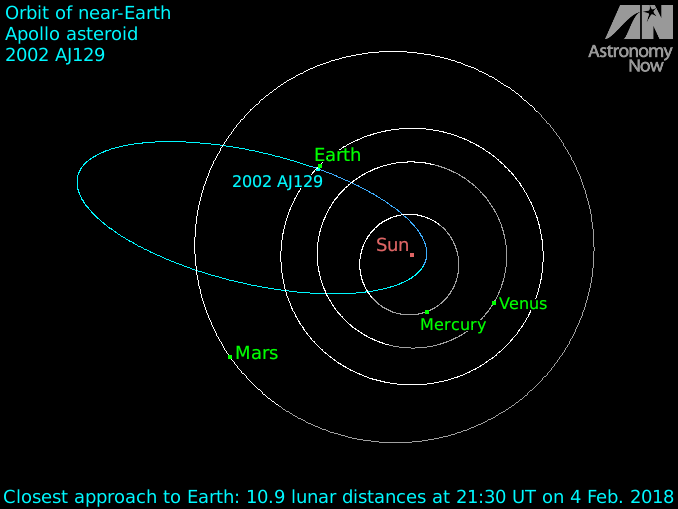 If any clear skies occur during the first week of February, don't miss a kilometre-wide space rock with the catchy designation 276033 (2002 AJ129) as it hurtles past our planet less than eleven lunar distances away. Predicted to reach a peak magnitude of +12.6 between 5 & 7 February, this near-Earth asteroid is a viable target for 6-inch (15-cm) aperture telescopes and larger as it zips through the constellations of Virgo, Leo and into Cancer.
Discovered by Near-Earth Asteroid Tracking (NEAT) at the Haleakalā Observatory in Hawaii on 15 January 2002, 276033 (2002 AJ129) is an Apollo-type asteroid that loops the Sun once every 586 days in a highly eccentric orbit. Studies indicate that its diameter lies in the range 480 metres to 1.1 kilometres.
At 21:30 UT (9:30pm GMT) on 4 February, 2002 AJ129 passes Earth at a distance of 4.2 million kilometres (2.6 million miles), or slightly less than eleven times the distance of the Moon. In recent history, the only time it has come closer to our planet was on 6 February 1904 (3 million kilometres; 1.9 million miles).
Although classified as a Potentially Hazardous Asteroid (PHA), there is no chance that 2002 AJ129 could collide with Earth over the next 100 years. The next close approach is that of 13h UT on 8 February 2172 when the body skims by our planet at a distance of 0.00458 astronomical units, or 1.8 lunar distances.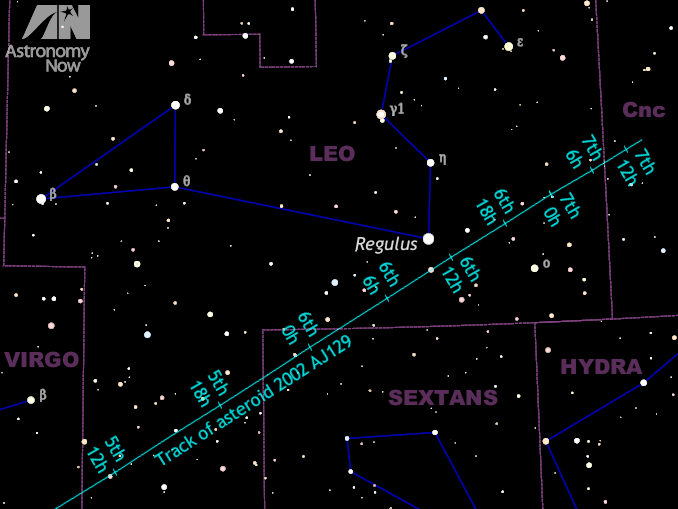 Where and when to see 2002 AJ129
The observing window where the asteroid is 13th magnitude or brighter begins on the UK evening of 4 February and lasts three nights, so hopefully the weather will oblige. The waning gibbous Moon is rising later each night, after midnight by the 7th, so its glare is less of a hindrance.
The evening of 4 February for UK observers finds 2002 AJ129 in the constellation of Corvus (the Crow) south of Virgo, travelling at close to 1⅔ degrees/hour against the background stars. The magnitude +13 asteroid passes 1½ degrees southwest of M 104 (The Sombrero Galaxy) at 23:30 UT (11:30pm GMT). This is a challenging astrophotographic opportunity for imagers in continental Western Europe with the gibbous Moon just 12 degrees away. Furthermore, the pair will be very low in the southeast for observers in the British Isles.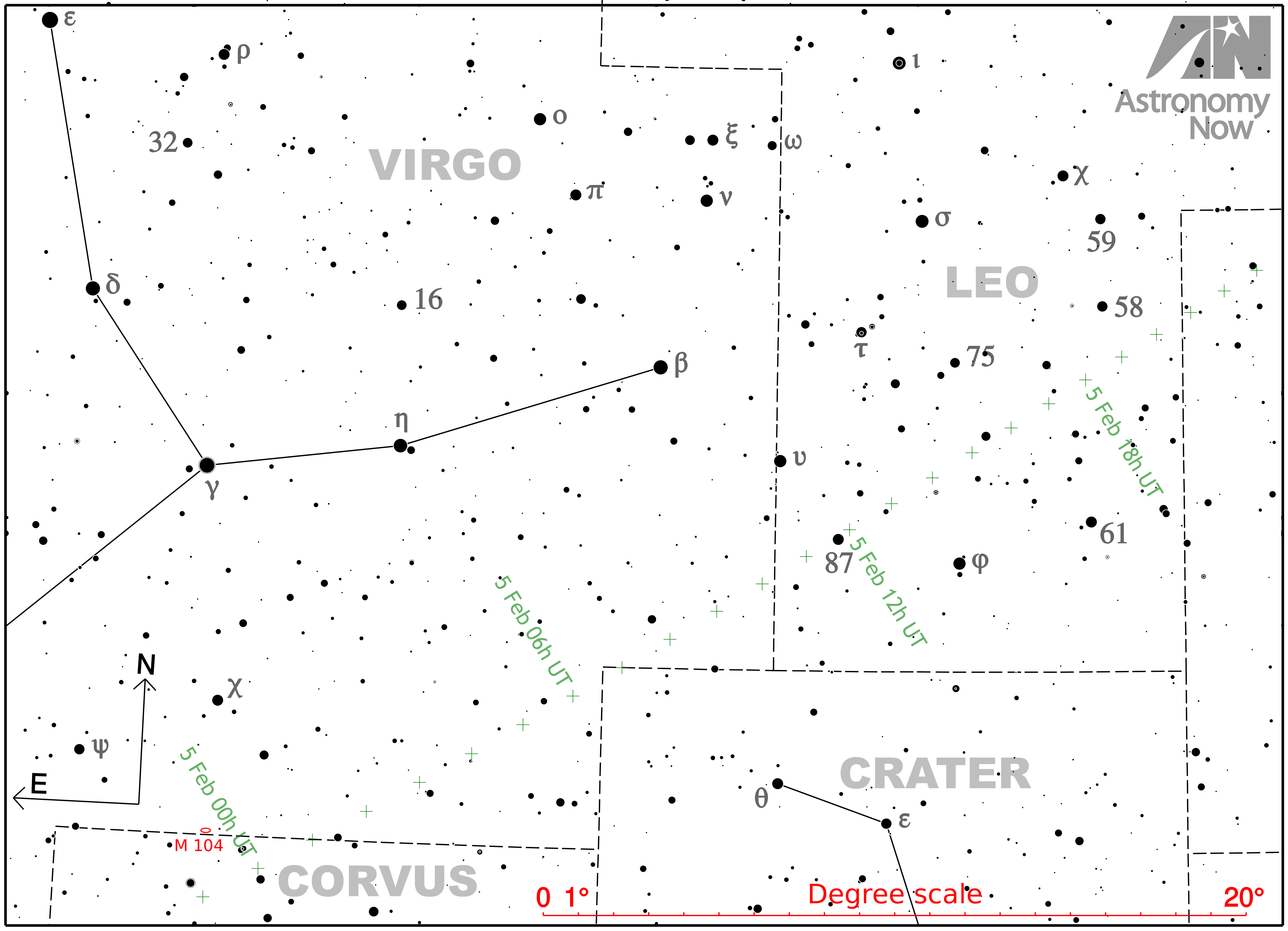 At 1am GMT on 5 February, 2002 AJ129 crosses the constellation border into Virgo and lies 2.9 degrees west of M104, so it is still possible to capture the magnitude +8 Sombrero Galaxy and magnitude +12.9 asteroid in the same field of view of a typical cropped-sensor DSLR by using a lens (or mirror) with a focal length less than 500mm (hint: you can use our online DSLR Calc to check various lens and camera combinations).
Observers bordering the Pacific Ocean can see 2002 AJ129 pass 1.8 degrees southwest of first-magnitude star Regulus in Leo shortly after 11h UT on 6 February. At this time, 6-inch (15-cm) telescopes and larger will show the star and asteroid in the same field of view at low magnifications of around 25x. Once located, you can switch to higher powers to see 2002 AJ129 moving in realtime against the background stars at a rate close to 18 degrees per day, or the apparent angular width of Jupiter every minute.