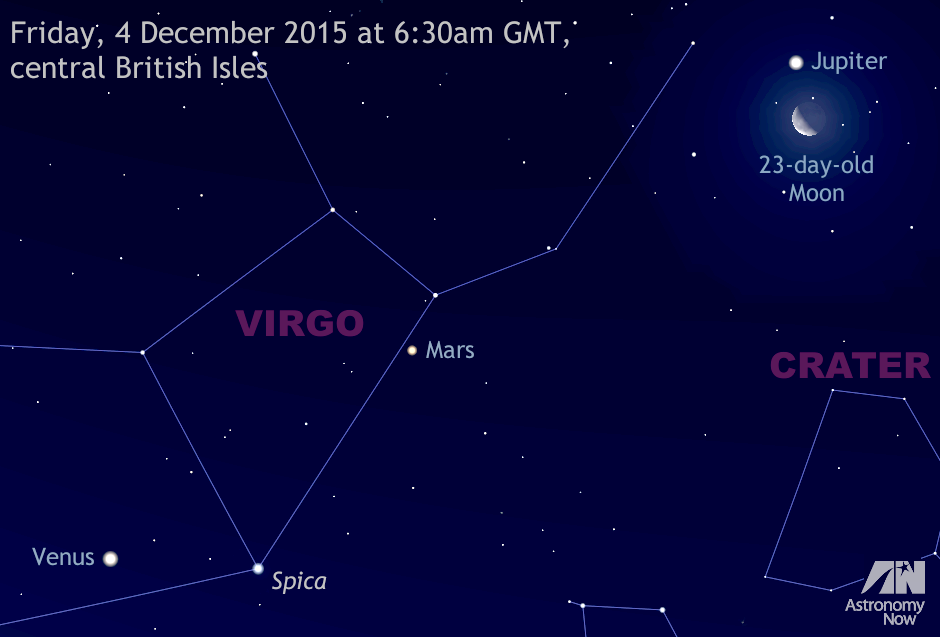 In the dawn twilight of Friday, 4 December observers in the British Isles and Western Europe can see the 23-day-old waning crescent Moon just 2.5 degrees (half a 10×50 binocular field of view) below largest planet Jupiter in the constellation Leo, a conjunction occurring high in the southern sky.
If you are a telescope owner and a particularly early riser on this day, you will see that the planet's four so-called Galilean moons Io, Europa, Ganymede and Callisto (in order of increasing physical distance from their parent planet) are on show, though the largest (Ganymede) is engaged in a game of hide and seek with Jupiter on this morning.
Ganymede events
At 1:52am, Jupiter's largest moon emerges from its parent planet's shadow. It can be identified as the nearest of the three Jovian moons on the western side of the planet (the other two, in order of increasing apparent distance from Jupiter, being Io and Europa). Callisto is the sole Galilean moon on the eastern side of the planet throughout the morning.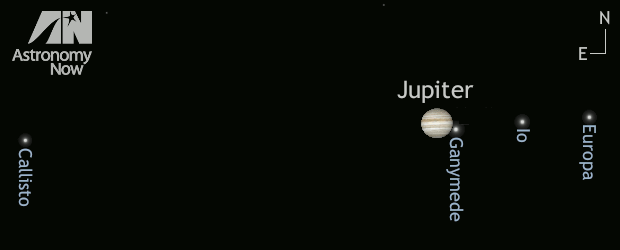 After emerging from eclipse, Ganymede remains in full sunlight for 1½ hours until, at 3:24am, it starts to disappear behind Jupiter. Ganymede reappears from occultation on the other side of Jupiter in growing twilight at 6:44am (all times in this post are GMT).
If you wish to find out when other phenomena of Jupiter's moons occur, or when the planet's Great Red Spot is on show, consult our online Almanac, ensuring that the checkbox marked 'Add phenomena of Jupiter?' is selected.
Other morning planets
Before dawn twilight gets too bright on Friday morning (~6:45am for the heart of the UK), do also take the time to locate planet Mars in the constellation Virgo situated midway between Jupiter and brightest planet Venus (also in Virgo) low to the southeast.
Mars has its own close encounter with the Moon in the pre-dawn hours of Sunday, 6 December. Then, the following morning, it's Venus' turn to get close to the slim crescent Moon. Clear skies!
---

Inside the magazine
You can find out more about this month's lunar and planetary events in the December edition of Astronomy Now in addition to a full guide to the night sky.
Never miss an issue by subscribing to the UK's biggest astronomy magazine. Also available for iPad/iPhone and Android devices.