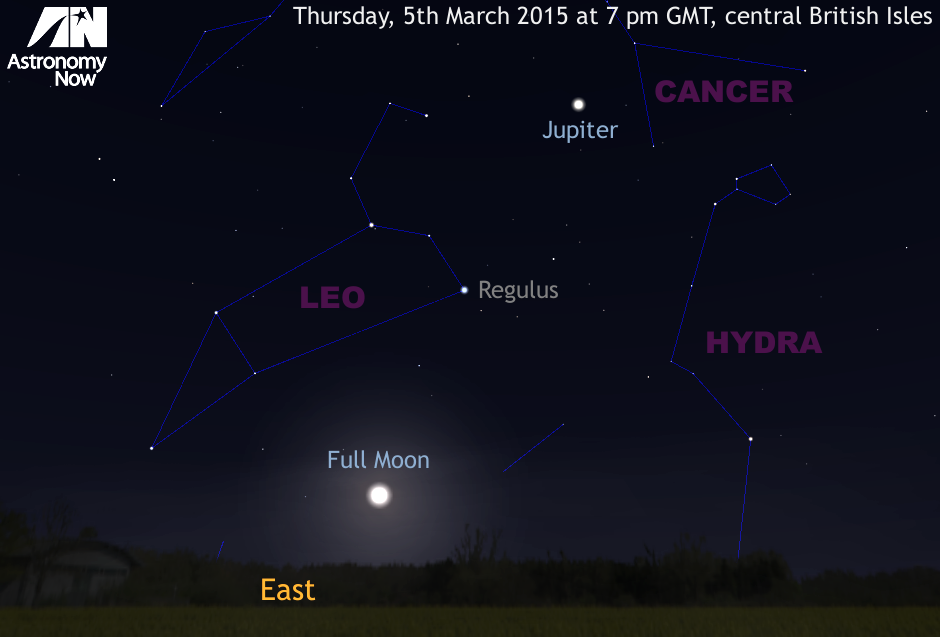 Tonight's Full Moon rises within a minute or two of sunset for most of the British Isles (see our Almanac for timings). As you gaze at the rising lunar orb in the east, if it seems slightly smaller than usual then you'd be right, for tonight we have a so-called Micromoon — the smallest Full Moon of 2015.
The Moon's decidedly elliptical orbit means that its distance from the Earth varies considerably over the course of a month. Consequently, both its size and phase wax and wane over the course of a lunation. When at its closest to Earth (perigee), the Moon has an apparent size that's up to 14% larger than when it's furthest away (apogee).
In terms of actual distances, the closest a lunar perigee can be is 221,500 miles (356,400 kilometres) and the furthest apogee is 252,700 miles (406,700 km). It so happens that an apogee of 252,517 miles (406387 km) occurred at 7:35 am GMT this morning, which explains why tonight's Full Moon at 6:05 pm GMT is the smallest of 2015 — the next smaller Full Moon doesn't occur until 27th January 2032.
(Of course, if one wishes to be really picky, the distances of perigee and apogee are geocentric, calculated between the centres of the Earth and Moon. The Moon at the zenith – something that we never see from the British Isles – would actually be nearly 4,000 miles closer owing to our observing position on the Earth's surface. Furthermore, we talk of the 'Moon orbiting the Earth', but they both orbit their common centre of mass, the barycentre – a point that lies about 1000 miles below the Earth's surface.)
Actually, today marks the second farthest apogee of the year, beaten only by that of the one-day-old Moon on September 14th at 252,570 miles (406,470 km) — which is why the Full Moon (and lunar eclipse) of 28th September will be a Supermoon.
So, if the weather's obliging and you catch a glimpse of the Full Moon when high in the sky (and consequently closer to the British Isles) around midnight, reflect on the fact that our nearest celestial neighbour will be 250,000 miles (402,300 km) away. To put that in perspective, if you set off in your car at 50 miles/hour and didn't stop for fuel or comfort breaks, you'd cover that distance in just under seven months. Clear skies!
---

Inside the magazine
You can find out more about phenomena of the Moon in the March edition of Astronomy Now in addition to a full observing guide to the night sky.
Never miss an issue by subscribing to the UK's biggest astronomy magazine. Also available for iPad/iPhone and Android devices.