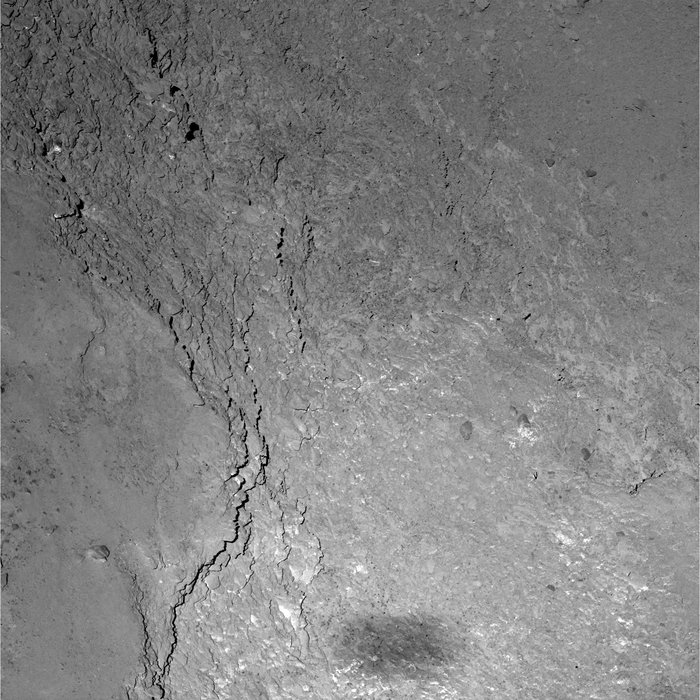 The sharp-eyed science camera on Europe's Rosetta comet orbiter caught a view of the probe's fuzzy shadow when controllers guided the spacecraft just a few miles over its subject's nucleus last month.
The OSIRIS camera was snapping away when spacecraft swooped in for the close brush with comet 67P/Churyumov-Gerasimenko, the tiny oddball world being explored for the first time by the European Space Agency's Rosetta mission.
The solar-powered orbiter flew within about 6 kilometres – or 3.7 miles – of the comet 14 February. The flyby was the closest Rosetta has come to comet 67P since it arrived there in August 2014.
The approach was timed when the Rosetta was positioned directly between the comet and the sun, giving the spacecraft's camera and science instruments perfect lighting to study the textures of the boulders and dust grains dotting the nucleus.
"Images taken from this viewpoint are of high scientific value," said Holger Sierks, OSIRIS principal investigator from the Max Planck Institute for Solar System Research in Germany. "This kind of view is key for the study of grain sizes."
The geometry also yielded a view of Rosetta's shadow on the comet, appearing as a diffuse darkening on the charcoal gray nucleus.
"The shadow is fuzzy and somewhat larger than Rosetta itself, measuring approximately 20 x 50 metres (65 x 164 feet). If the sun were a point source, the shadow would be sharp and almost exactly the same size as Rosetta," ESA wrote in a blog post. "However … the sun appeared as a disc about 0.2 degrees across (about 2.3 times smaller than on Earth), resulting in a fuzzy 'penumbra' around the spacecraft's shadow on the surface."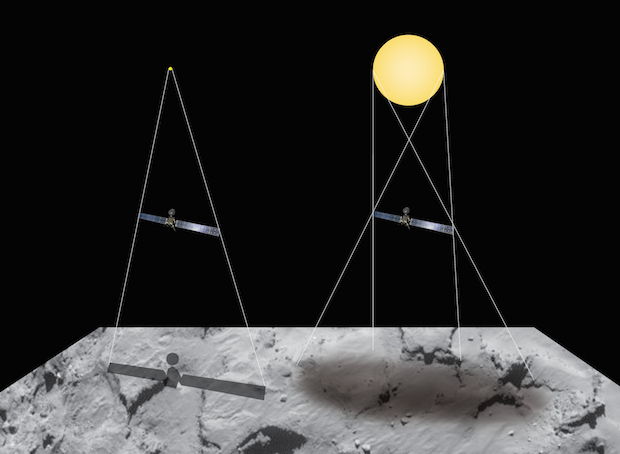 ESA says Rosetta and comet 67P were traveling about 347 million kilometers, or 215 million miles, from the sun during the Feb. 14 encounter. That is about 2.3 times farther than Earth's distance from the sun.
The image of Rosetta's shadow released Tuesday is the first from the flyby taken by the OSIRIS camera that scientists have shared. Rosetta's less-capable navigation camera also took images as the probe glided by the comet, and ESA posted those images a few days later.
Rosetta's mission continues for the rest of the year, and perhaps into 2016, to complete the most comprehensive survey ever made of a comet.
Follow Stephen Clark on Twitter: @StephenClark1.