If you have a clear sky at dusk tonight (~7 pm for the centre of the British Isles), I invite you to look low to the west in the constellation of Pisces where three planets are gathered within the same field of view of a typical binocular. Dazzling Venus and conspicuous Mars will be easy targets and require no optical aid to see, but the third — Uranus — will require a telescope since it will otherwise be lost in the glare of Venus since they are separated by just 0.1°.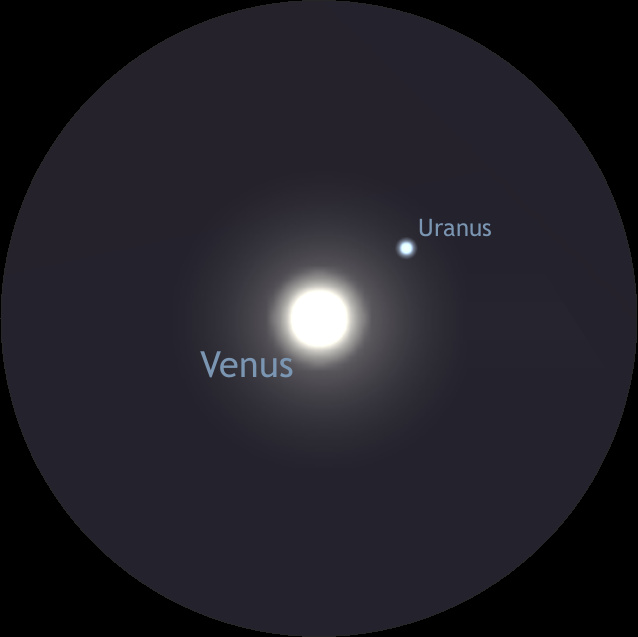 While it's often said that there are five naked-eye planets (Mercury, Venus, Mars, Jupiter and Saturn), outer gas giant Uranus can just be seen with the unaided eye from dark, moonless locations when favourably placed, but not tonight.
The close proximity of Venus makes finding Uranus spectacularly easy since they will be in the same telescopic field of view, but the difference in brightness — nearly ten magnitudes, or 9100 times — provides a striking contrast.
Both Venus and Mars are currently on the far side of the Sun as seen from Earth, so they display gibbous phases. Venus at magnitude -4.0 shows an 86% phase with an apparent size of 12.3 arccseconds and lies 1.37 astronomical units (127 million miles; 204 million kilometres) distant, while Mars at magnitude +1.3 shows a 98% phase and a tiny 4.2-arcsecond disc since it's 2.25 AU (209 million miles; 337 million kilometres) away.
Contrast this with gas giant Uranus, the third largest planet in the Solar System, that lies a staggering 20.85 astronomical units (1,938 million miles; 3,119 million kilometres) from Earth tonight — fifteen times further away than Venus! Uranus will appear as a tiny 3.4-arcsecond disc shining at magnitude +5.9.
If you get the chance to see Venus and Uranus together through a telescope, reflect on the contrast not only in the brightness of these worlds as seen from Earth, but their physical characteristics: Venus is a rocky, terrestrial planet with a dense atmosphere similar in size to the Earth, while Uranus is four times larger and gaseous in composition. Clear skies!
---

Inside the magazine
You can find out more about Venus, Mars and Uranus in the March edition of Astronomy Now in addition to a full observing guide to the night sky.
Never miss an issue by subscribing to the UK's biggest astronomy magazine. Also available for iPad/iPhone and Android devices.