Images of comet 67P/Churyumov–Gerasimenko from Rosetta's navigation camera have taken on a darker, more 'atmospheric' tone in recent days and the latest view is no exception.
This mosaic of four images was taken on 4 November from a distance of 31.8 km from the centre of the comet. Rosetta is orbiting the comet at a greater distance as it prepares to release the Philae lander on 12 November.
The smaller lobe of the comet, where Philae will land, is in the lower right. Between the two lobes a stream of gases can be seen escaping from the comet's nucleus.
---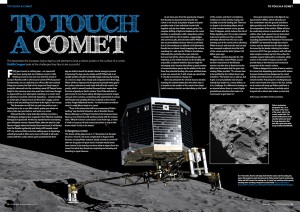 Inside the magazine
You can read more about the planned landing of Philae in the November issue of Astronomy Now. Never miss an issue by subscribing to the UK's longest running astronomy magazine.