Three months after launch atop a SpaceX Falcon 9 rocket, a commercially developed robotic moon lander – Hakuto-R – slipped into lunar orbit with a main engine rocket firing on 21 March that went off without a hitch.
If all goes well, the spacecraft will descend to the floor of Atlas crater in late April, becoming the first fully commercial lander to touch down on another world. Once on the surface, a small United Arab Emirates rover – Rashid – will be deployed along with an experimental baseball-size robot known as the Japanese Lunar Excursion Vehicle. Both will explore the region with cameras and other instruments.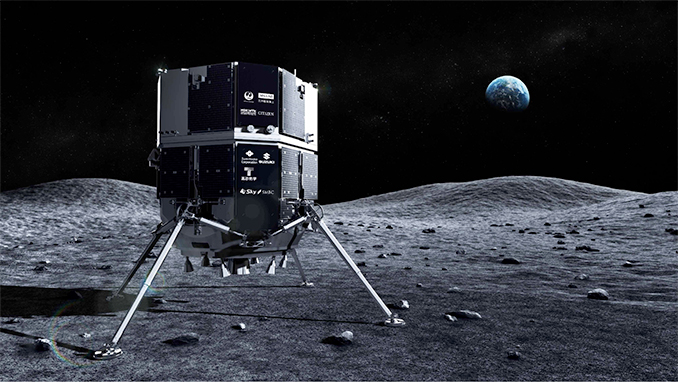 "In general, all orbital control operations for Mission 1 have been completed as planned following launch," ispace, the lander's building, said in a statement. "While the lander has performed multiple deep space manoeuvre operations, this manoeuvre represents the longest burn performed by the propulsion system during the mission."
Appropriately enough, Hakuto-R's launch last 11 December came on the 50th anniversary of the final Apollo moon landing in 1972 and just 10 hours before NASA's Artemis 1 Orion capsule returned to Earth after an unpiloted loop around the moon.
Hakuto-R is based on the design of a finalist in the Google Lunar X-Prize competition (the "R" stands for reboot). It was launched on a low-energy trajectory that carried it a million miles from Earth before entering the moon's gravitational influence and braking into orbit.
In its release, ispace said the spacecraft's performance during the long voyage to the moon confirms it "performs as designed and demonstrates the high operational capability of ispace engineers to perform long-term mission operations."
Takeshi Hakamada, founder and CEO of ispace, said before launch the company's goal is to help foster development of a lunar economy and infrastructure by providing rapid access to the surface of the moon, augmenting the NASA-led Artemis program.
"It's an honour to become the first launch and the first (privately funded) landing on the lunar surface," Hakamada said in an interview. "However, this is not our goal. Our goal is to create a sustainable ecosystem.
"We need to have at least several competitors in this market. Otherwise, there's no incentive to grow this industry. So I'm very happy to have other competitors … and growing this industry together with them."
Assuming Hakuto-R's landing goes well, ispace plans to launch Mission 2 in 2024, using another moon lander to deploy a rover on the surface for extended science observations.