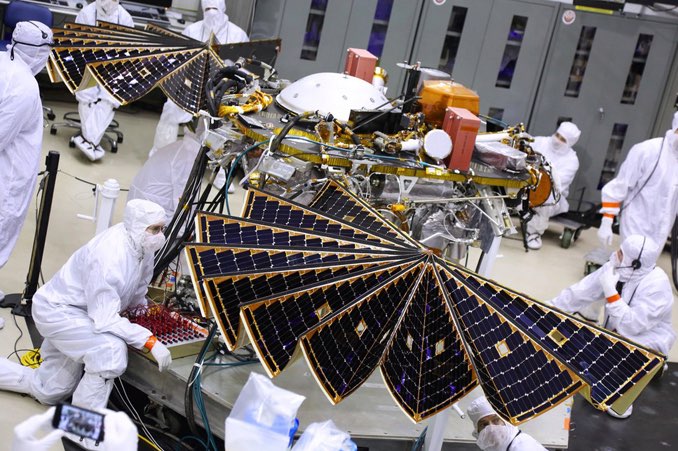 NASA's InSight Mars lander, scheduled for launch from California in early May, passed a key milestone 23 January when Lockheed Martin engineers deployed the spacecraft's two fan-like solar panels, showing the arrays will extend and lock in place as required after touchdown on the red planet in late November.
Scott Daniels, manager of Assembly, Test and Launch Operations for the spacecraft builder, said the test marked "the last time we will see the spacecraft in landed configuration" before its arrival at Mars.
"There are still many steps we have to take before launch, but this is a critical milestone before shipping to Vandenberg Air Force Base in California," he said.
InSight, an acronym for Interior Exploration using Seismic Investigations, Geodesy and Heat Transport,  is a stationary lander that will make a traditional rocket-powered descent to Elysium Planitia, a smooth plain near the martian equator about 600 kilometers north of the Curiosity rover. After spreading its solar arrays, InSight will begin at least one martian year (two Earth years) of science observations, studying the crust, mantle and core of Mars using a sensitive seismometer, a sub-surface temperature probe and a radio science experiment package.
The mission originally was scheduled for launch in 2015, but it was delayed to the 2018 Mars launch window because of small but persistent leaks in the vacuum housing of the ultra-sensitive seismometer instrument, supplied by CNES, the French space agency.
Along with testing the solar array deployment mechanism, technicians also attached a microchip to the lander that  is inscribed with more than 1.6 million names sent in by the public. It joins a chip attached in 2015 that contains another 827,000 names.
"It's a fun way for the public to feel personally invested in the mission," said Bruce Banerdt, InSight principle investigator at the Jet Propulsion Laboratory in Pasadena, California. "We're happy to have them along for the ride."