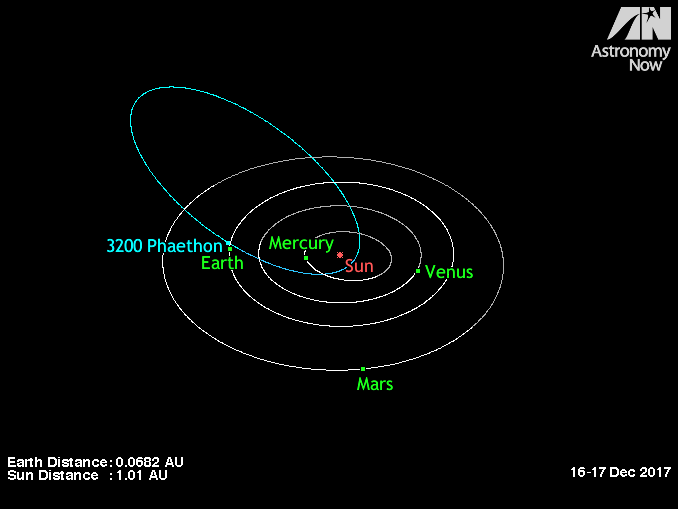 As shooting-star devotees prepare for the naked-eye spectacle of the Geminid meteor shower in mid-December, hopes are high that this active and consistent annual display will perform well under late evening skies unhindered by the light of a waning Moon. While one might expect a meteor per minute originating high in the southeast by midnight around the maximum on 14 December, owners of small telescopes can also witness the close passage of the meteors' parent body — a curious "rock comet" known as 3200 Phaethon.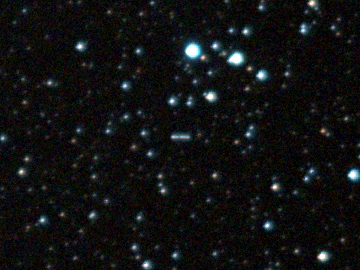 Phaethon and the Geminids
Discovered on 11 October 1983, 3200 Phaethon has a highly eccentric orbit with a period of 523½ days that brings it closer to the Sun than any other named asteroid. Geminid meteors originate from particles shed by Phaethon and spread along its orbit. This rocky debris enters our planet's atmosphere at speeds of around 35 kilometres (22 miles) per second, burning up in a flash of incandescence due to friction with the air. The Earth currently encounters Phaethon's debris cloud between 8 and 17 December, passing through the thickest concentrations of dust on Thursday, 14 December when rates of around 100 meteors per hour can be expected under clear skies away from light pollution.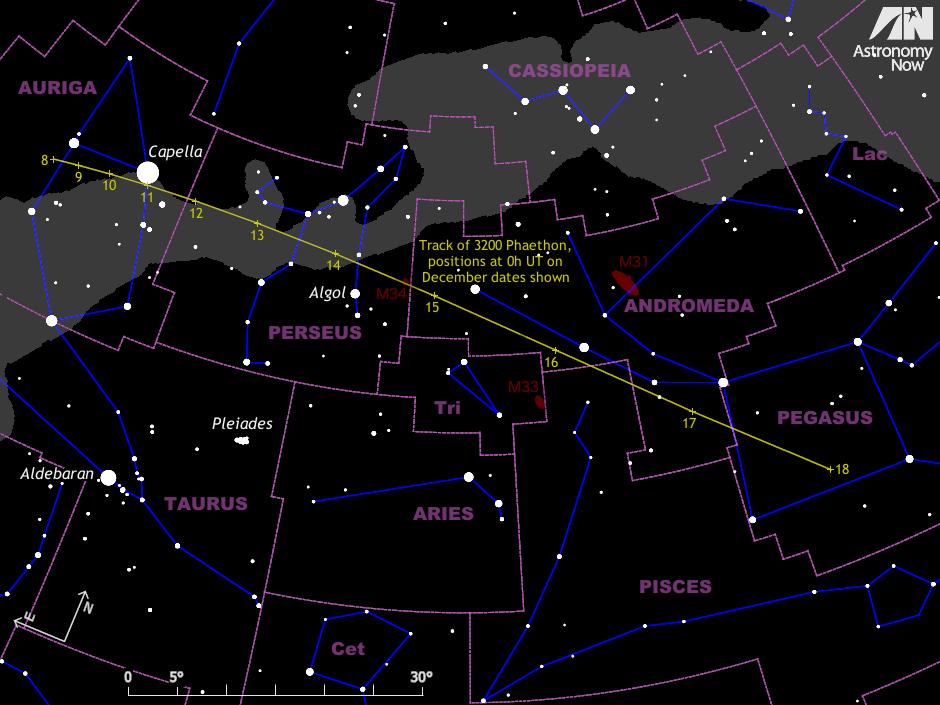 Phaethon passes just 0.069 astronomical units (10.3 million kilometres, or 6.4 million miles) from Earth at 23 UT (11pm GMT) on 16 December, making it a viable target for telescopes of 10cm (4-inch) aperture and larger. For ten nights starting 8 December, the Apollo asteroid is 12th-magnitude or brighter and well placed for Northern Hemisphere observers as it gallops through the constellations of Auriga, Perseus, Andromeda, Pisces and Pegasus at a rate of up to 15 degrees/day. It passes 1¼ degrees south of Capella at 21 UT (9pm GMT) on Sunday, 10 December when its predicted magnitude is +11.4. Phaethon also clips the southern edge of open cluster M34 in Perseus as darkness falls in the UK on Thursday, 14 December when the asteroid should be at its peak brightness of magnitude +10.7.
If you don't catch Phaethon this time around and wish to see it both closer and brighter, there's a 76-year wait. The asteroid attains magnitude +9.4 on 14 December 2093, when it lies 0.0198 astronomical units (2.96 million kilometres, 1.84 million miles or 7.7 lunar distances) from our planet against the northern constellation backdrop of Boötes, motoring across the sky at a rate exceeding 57 degrees/day.
---
Night 1: evening of 8 December to morning of 9 December (UK dates)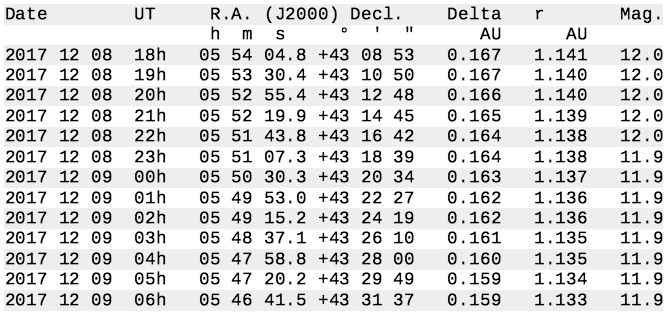 ---
Night 2: evening of 9 December to morning of 10 December (UK dates)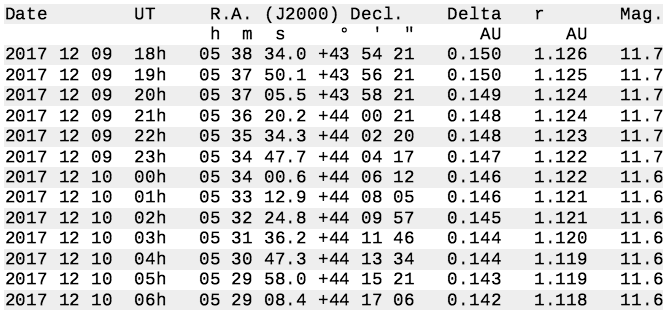 ---
Night 3: evening of 10 December to morning of 11 December (UK dates)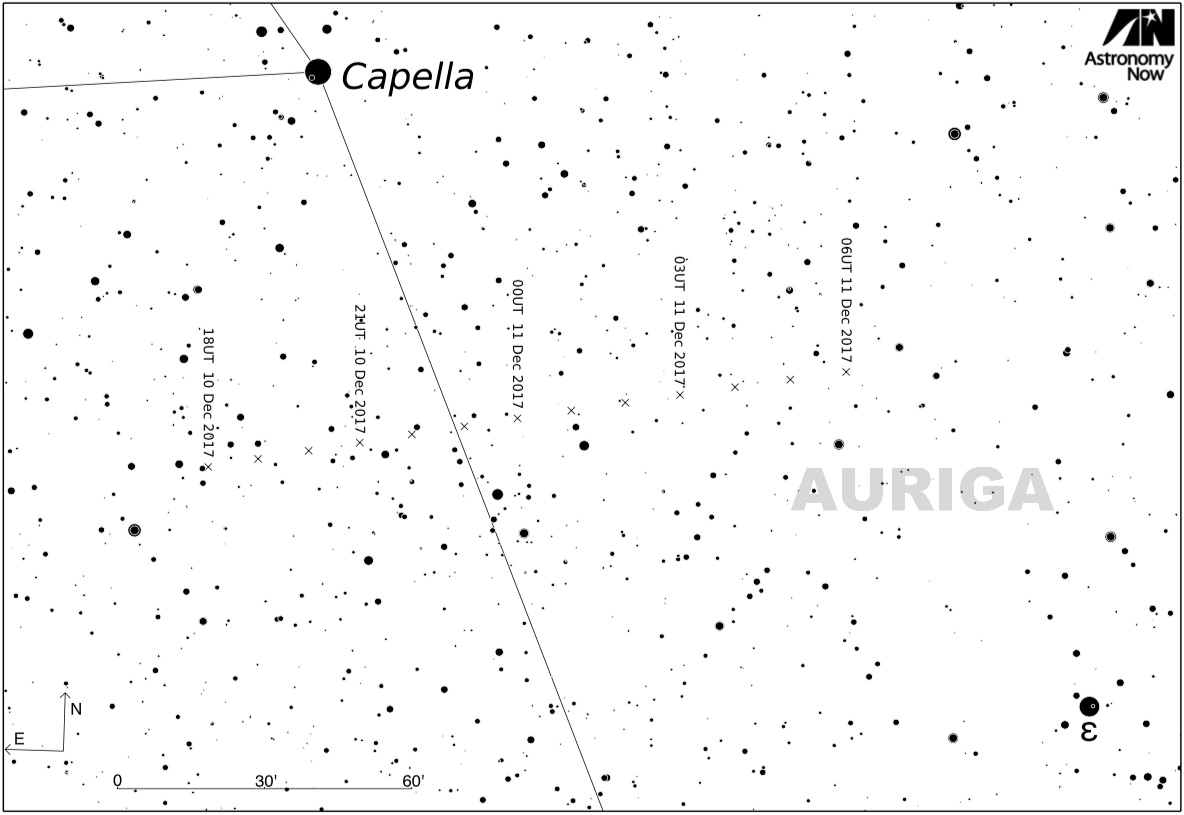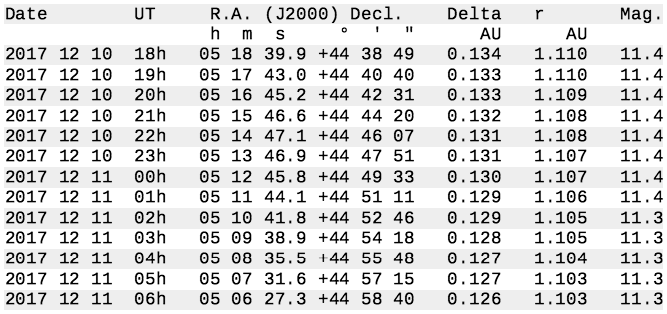 ---
Night 4: evening of 11 December to morning of 12 December (UK dates)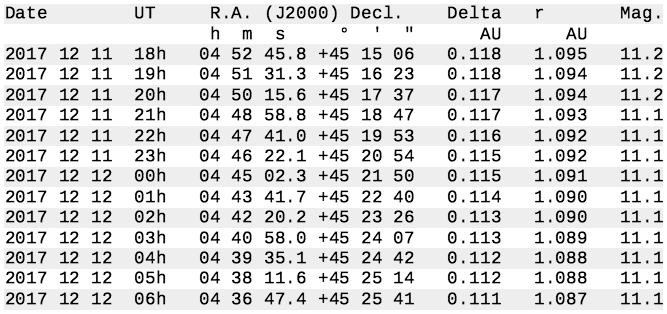 ---
Night 5: evening of 12 December to morning of 13 December (UK dates)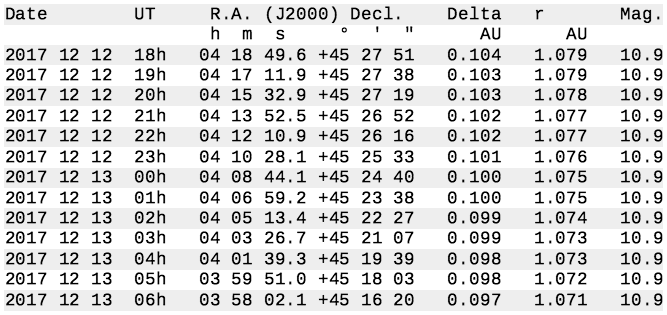 ---
Night 6: evening of 13 December to morning of 14 December (UK dates)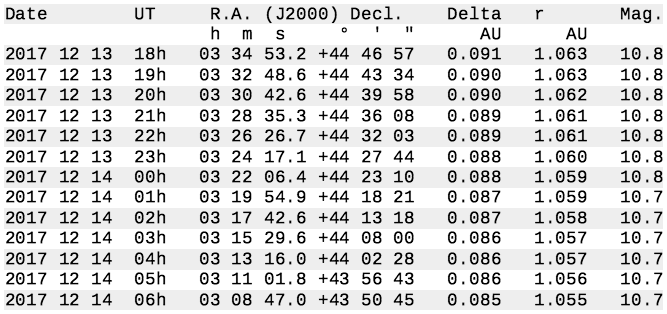 ---
Night 7: evening of 14 December to morning of 15 December (UK dates)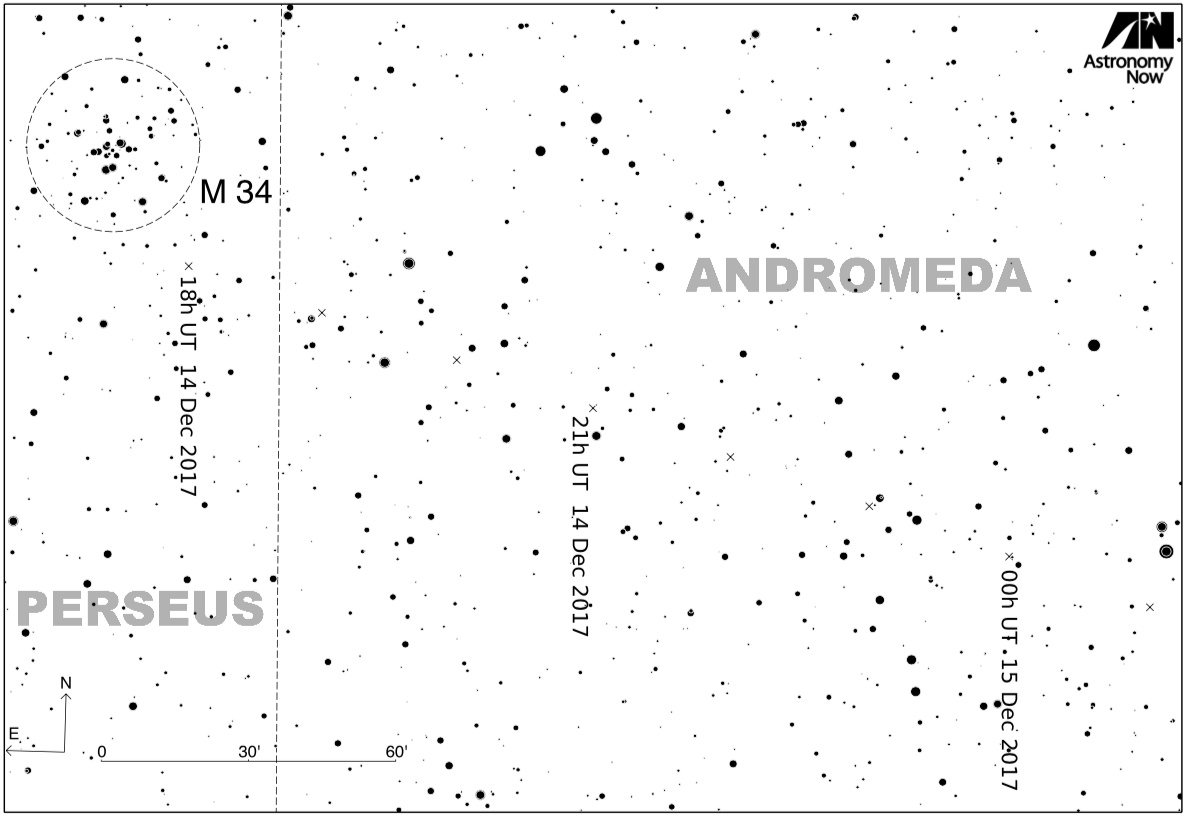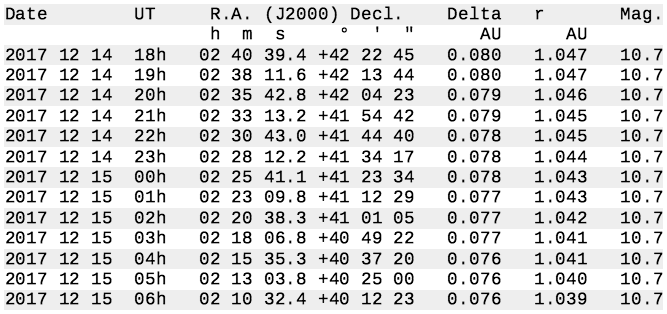 ---
Night 8: evening of 15 December to morning of 16 December (UK dates)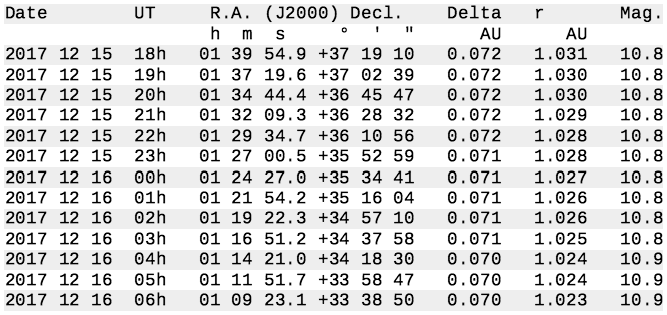 ---
Night 9: evening of 16 December to morning of 17 December (UK dates)

---
Night 10: evening of 17 December to morning of 18 December (UK dates)

---
Night 11: evening of 18 December to morning of 19 December (UK dates)