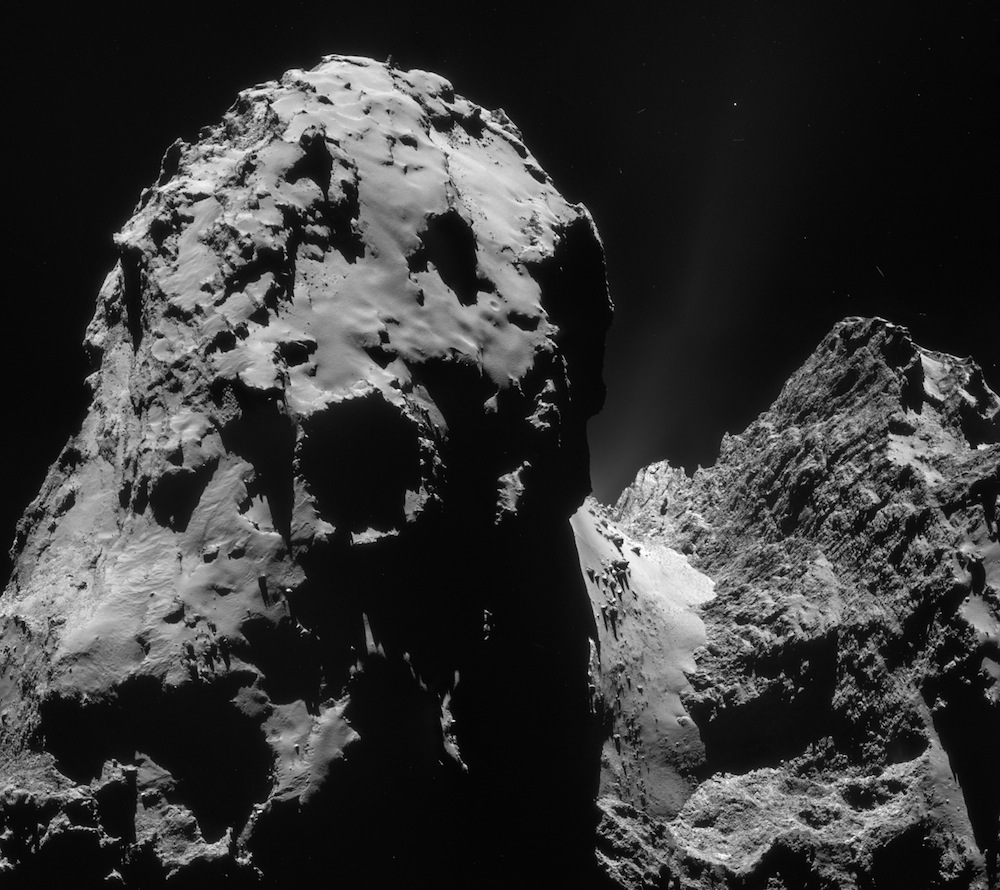 Optimistic Europe's hibernating Philae comet lander can be revived, mission controllers plan to try and contact the spacecraft as soon as January as the search narrows for the probe's final resting place — an unlikely site within arm's reach of pristine ice and organic matter scientists are eager to analyze if the mission gets a new lease on life.
Officials have triangulated Philae's location to within an error of 100 meters — about 330 feet — by analyzing radio signals exchanged between the lander and the Rosetta orbiter once the craft settled on the surface of comet 67P/Churyumov-Gerasimenko.
Hoping to re-establish communications with the lander next year, scientists have tasked Rosetta's main camera to survey the region where Philae ended up Nov. 12 after bouncing across the comet for nearly two hours.
Finding Philae is a matter of time, officials said in a Dec. 17 press briefing at the American Geophysical Union's fall meeting in San Francisco.
"It's a bit like waiting for Christmas presents," said Matt Taylor, Rosetta's project scientist from the European Space Agency.
Once they identify the location of the lander, scientists will start regularly pinging Philae and listening for a response, according to Jean-Pierre Bibring, Philae's lead scientist from the Institut d'Astrophysique Spatiale in Orsay, France.
Philae is wedged against a cliff or boulder that eclipses much of the light and heat coming from the sun, but measurements from the lander's instruments soon after the Nov. 12 landing showed temperatures should not get cold enough to damage the probe's sensitive electronic innards.
Comet 67P/Churyumov-Gerasimenko is racing into the inner solar system, with its closest brush with the sun expected in August 2015. As the comet closes in on the sun, temperatures on its surface will rise and sunlight will grow more intense, allowing Philae's solar panels to generate more electricity.
Bibring said the lander needs another 5 to 7 watts of electricity beyond its current power load to execute a science sequence, and guessing when Philae will have the required power depends on exactly where the craft is situated.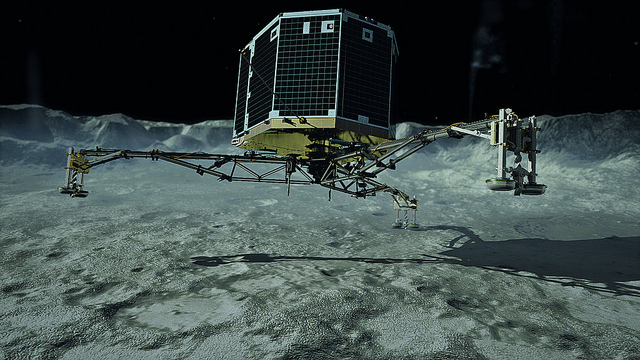 Rosetta's OSIRIS camera took a series of images of Philae's suspected final landing site from Dec. 12 to Dec. 14, according to Holger Sierks, the OSIRIS imager's principal investigator from the Max Planck Institute for Solar System Research in Gottingen, Germany.
Sierks says the lander will certainly be in the latest OSIRIS images. Assuming it is illuminated by the sun, Philae should be found.
"The question is how much power we get is really a function of where we are," Bibring said. "That's why we are desperately trying to have OSIRIS locate us now. We have done all we could with the data we have now.
Philae's solar panels only catch sunlight for a fraction of the comet's 12.4-hour day
"The next question is do we have the survival capability to wait until February or so," Bibring said. "This has to do with the temperature inside. We have been qualified for a temperature which is typically minus 65 (degrees Celsius), with a margin of 10 degrees. That means that probably down to minus 75 or minus 80 (degrees), we are in good shape."
Philae has thermal insulation designed to keep its internal avionics at a comfortable temperature, and the lander weathered cold temperatures during years of hibernation while riding piggyback on its Rosetta mothership from Earth to the comet.
"The question is whether or not some of the electronics suffer from the cold," Bibring said. "A lot of our systems were designed to sustain very low temperatures. We knew that we would have to operate in a very low temperature envrionment. The only question really is the inside."
"When putting all that together, I think that within the team there is no doubt that we will wake up, and the question is in what shape," Bibring said. "My suspicion is that we will be in good shape."
Stephan Ulamec, the lander's manager from Germany, agrees prospects are good for Philae's resurrection.
"I'm quite confident it will wake up again when we are closer to the sun," Ulamec said in an interview with Spaceflight Now. "What will be very interesting is if it gets warm enough to recharge the battery and really do experimental runs. This we can only answer if we have a better feeling on the actual position because we can estimate the illumination when the seasons change."
The proof will come if Philae calls home, and the lander's exact state will not be known until scientists hear from it.
"This we will know only when we turn on the system," Bibring said. "As soon as we know where we are, we will try, and that might be as early as January of next year."
Exactly when Philae will wake up and radio home is also unclear. Bibring estimates the probe will have sufficient power to switch on in the first half of 2015 — after Easter (April 5) in the most "pessimistic" scenario, or as soon as February or March if things go better.
Ulamec, who is based at DLR's lander control center in Cologne, says Philae is somewhere near a crater rim on the smaller lobe of Churyumov-Gerasimenko — based on radio ranging data between Philae and Rosetta. The comet is made of two parts separated by a neck, resembling the head and body of a duck.
"We expect to be somewhere at the crater rim," Ulamec said in an interview with Spaceflight Now. "That's quite clear, but it's not 100 percent clear whether it's a little bit inside or a little bit outside of this rim of the major crater on the head of the duck."
As scientists look for the lander with Rosetta, a detailed analysis of imagery captured by Philae shows the craft ended up at a site ripe for study.
Blocks of blackened cryogenic water ice covered with a dark dusting of organic matter were seen within feet — tens of centimeters — of the lander, Bibring said.
"We're in a hole, in the shadow of something, so essentially you have these blocks of pristine material still there," Bibring said. "We have a large diversity of materials ahead of us, much larger than we hoped actually. Probably, these are the pristine building blocks (of life) with a lot of ice loaded with organics. These are the materials we were desperately looking for."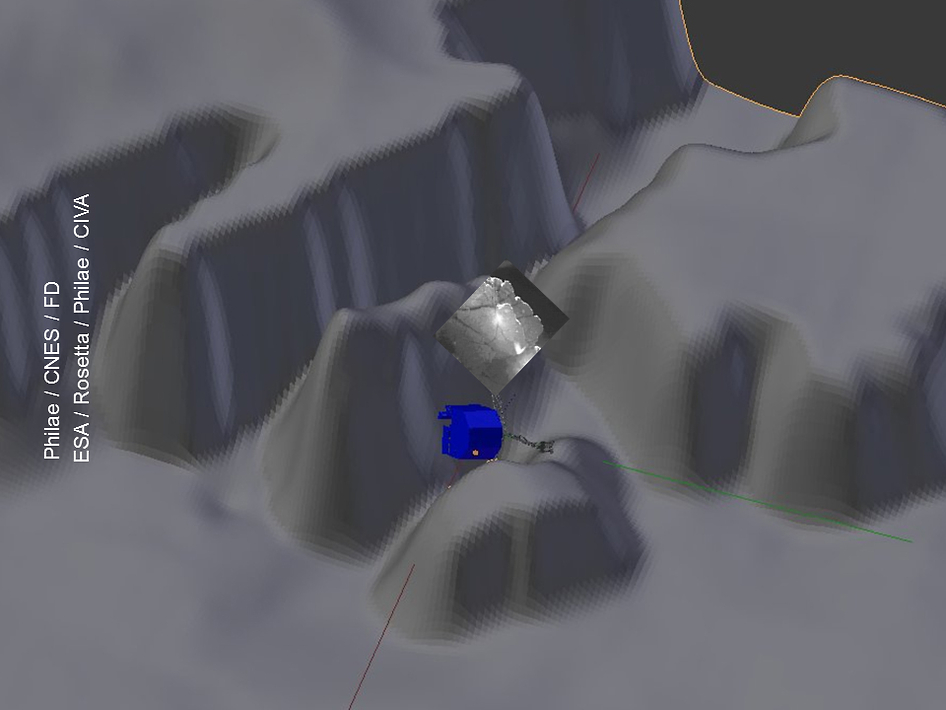 Philae collected 16 megabytes of data — about 90 percent of its planned initial data cache — in a feverish two-day science campaign before running out of battery power, Ulamec said.
Scientists activated all 10 of Philae's science instruments before the lander shut down. But Bibring says the lander's drill — despite deploying and functioning as designed — may not have collected a sample for delivery into the probe's miniaturized on-board laboratory for analysis.
Evidence indicates an oven inside one of Philae's instruments apparently did not receive a specimen from the drill, according to Bibring. The device was supposed to heat up the sample and measure vapors coming off the dust and ice to determine its chemical make-up.
If the lander does come back to life — as predicted — Ulamec hopes Philae will function for several months. After worrying about the lander overheating as the comet flies into a warmer environment next year, Ulamec says Philae's shadowed surroundings could keep the probe cool enough to survive perihelion, the point where the Churyumov-Gerasimenko comes closest to the sun.
"Our fear was overheating in the March-April timeframe, but now it's not overheating that is the problem," Ulamec said. "It's the hope that we get warm enough, but the chances are good."
Philae is about the size of a kitchen oven or dishwasher, and its cost spread across Europe's national space agencies — led by Germany's DLR — was approximately 220 million euros, or $270 million. It launched from Earth with ESA's Rosetta mission in March 2004 and arrived in the vicinity of the comet in August 2014.
After its release from Rosetta, Philae descended to the comet for seven hours before touching down near the lander's target, a relatively smooth region selected to maximize the probe's chances of achieving a successful landing and collecting enough sunlight for an extended mission.
But two of Philae's landing systems failed.
A thruster designed to push the lander into the comet's surface did not pressurize before Philae's separation from Rosetta, then two harpoons that were supposed to fire to anchor the spacecraft to the comet failed to engage. Taylor said ESA will soon begin an investigation into why the landing aids misfired.
The comet's crust also turned out to be more rigid than expected, causing Philae to bounce hundreds of feet back into space before finally coming to a stop after a two-hour tumble across the comet nucleus.
In a presentation at the AGU meeting in San Francisco last week, Bibring showed a blurred image from Philae's camera captured during the lander's bounce. He said the science team was shocked by the photo, which was received as mission control was still in the fog of figuring out what happened to the spacecraft.
Officials worried whether the lander had rebounded into space and was lost forever.
"At that time, which was only a few minutes or an hour after we landed, it was terrible because we did not know at that time whether or not the ejection velocity was higher or lower than the escape velocity," Bibring said.
Churyumov-Gerasimenko's gravity is so weak that the Philae landing craft, which measured 220 pounds on Earth, only weighs as much as a paperclip on the comet. If the lander bounced hard enough, it could have had enough speed to break free of the comet's feeble gravity and fly away into space, never to return.
The events made for a "nightmare night," Bibring said.
"It was very acrobatic," Bibring said. "It was not obvious that we would make it, but we did make it. We are in a place that was almost impossible to reach. Of course, you can't land close to a cliff, but we are there now."
Follow Stephen Clark on Twitter: @StephenClark1.