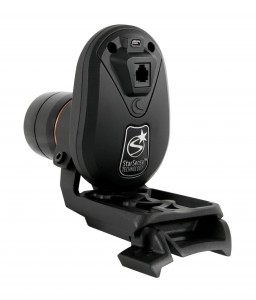 Developed from technology first seen in Celestron's revolutionary SkyProdigy range of telescopes, the release of StarSense AutoAlign (SSA) in 2013 brought reliable and easy-to-use auto-alignment technology to most of the company's other computerised telescope mounts. After months of exhaustive development and testing, SSA receives a major software update.
StarSense Firmware 1.12.14310, released to beta testers on November 8th, brings the much anticipated All-Star Polar Align (ASPA) feature to Celestron German equatorials. (Celestron engineers are still working on ASPA for wedge-mounted alt-azimuths.*) Observers with obstructed views of the celestial poles can now achieve accurate polar alignment quickly and easily without resorting to time-consuming drift align methods, meaning faster setup times and vastly improved tracking for both astrophotography and visual use.
StarSense AutoAlign users can obtain cutting-edge software updates by becoming a member of TeamCelestron.com. (The current public SSA firmware release is 1.12.14178 if you prefer to stick to release candidate software without ASPA.) Whichever route you take, a Celestron programming cable, USB-to-serial adaptor, Mini USB cable and Celestron's Java-based (PC/Mac/Linux) CFM software is required to fully update your StarSense hand controller and StarSense AutoAlign camera.
* Update: StarSense Firmware 1.12.14318 was released 17th November. This offers a fix for wedge pointing with StarSense Auto.
For further information:
http://www.celestron.uk.com/