Phoenix in "precarious times" following power fault
BY DR EMILY BALDWIN
ASTRONOMY NOW

Posted: October 30, 2008
NASA's Phoenix Mars Lander tripped into safe mode yesterday in response to a low-power fault, and unexpectedly switched on to the 'B-Side' of its redundant electronics, shutting down one of its two batteries in the process.

During safe mode, the lander stops non-critical activities and awaits further instructions from the mission team. Engineers were able to kick start battery charging by sending commands from Earth to the failing lander, but the harsh weather conditions are taking their toll.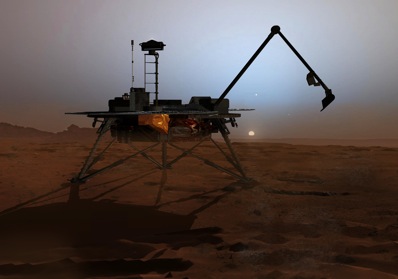 NASA's Mars Phoenix Lander is slowly shutting down as winter sets in. The mission, already in its fifth month of a 90 day mission, suffered a fault yesterday due to the
deteriorating weather conditions. Image: NASA/JPL-Calech/University of Arizona.
"This is a precarious time for Phoenix," says Phoenix Project Manager Barry Goldstein. "We're in the bonus round of the extended mission, and we're aware that the end could come at any time. The engineering team is doing all it can to keep the spacecraft alive and collecting science, but at this point survivability depends on some factors out of our control, such as the weather and temperatures on Mars."
Phoenix has recorded the lowest temperatures yet, dipping to -96 degrees Celsius at night and barely rising above -45 degrees Celsius in the day. Dust-storms and water-ice clouds add additional challenges, reducing the amount of sunlight reaching Phoenix's solar panels, thereby restricting the amount of power the lander can generate. On Tuesday, low temperatures triggered Phoenix's emergency battery heaters into action, creating another drain on precious power supplies.
"It could be a matter of days, or weeks, before the daily power generated by Phoenix is less than needed to operate the spacecraft," says JPL mission manager Chris Lewicki. "We have only a few options left to reduce the energy usage."
Only this week did mission leaders announce plans to turn off four heaters, one at a time, in an effort to preserve power. The faults experienced yesterday forced the engineers to shut down two heaters instead of one as originally planned, ceasing operations of the robotic arm, robotic arm camera and the thermal and evolved-gas analyser. The second heater served the lander's pyrotechnic initiation unit, which hasn't been used since landing.
Science activities will remain on hold for the rest of the week to allow the spacecraft to recharge and conserve power. It is still hoped that Phoenix will be able to perform meteorological observations at the very least, for some weeks to come.

Related Stories

Oct 29 Falling power forces heater shutdown read more
Oct 22 Phoenix completes soil delivery read more
Oct 08 Phoenix digs into darkness read more
Sep 30 Phoenix sees falling snow read more
Sep 29 Phoenix peeks under a rock read more
Sep 12 Dust devils pay visit to Phoenix read more
Sep 05 Phoenix's vapour quandary read more
Aug 26 Phoenix digs into extended mission... read more
Aug 06 Martian salts analysed for habitability... read more
Aug 01 Phoenix tastes water on Mars read more
Jul 29 Sticky situation for Phoenix read more
Jul 22 Phoenix in 24-hour monitoring assignment read more
Jul 17 Phoenix rasps frozen layer... read more
Jul 11 First success with Phoenix soil probe... read more
Jul 10 Phoenix struggling with icy payload read more
Jul 03 Next Phoenix bake could be last read more
Jun 30 Phoenix soil could support life read more
Jun 23 Frozen water confirmed on Mars read more
Jun 19 Bright chunks must have been ice read more
Jun 17 First results from Phoenix bakery read more
Jun 12 An oven full of sand read more
Jun 10 Clumpy Martian soil challenges Phoenix read more
Jun 06 Closest view ever of Mars sand read more
Jun 03 Phoenix scoops up Martian soil read more
Jun 02 Phoenix sees possible ice read more
May 30 Phoenix flexes robotic arm read more
May 28 HiRISE captures Phoenix descent read more
May 26 Spectacular new colour view of Mars read more
May 23 Phoenix prepares for Mars landing read more