Sticky situation for Phoenix
BY DR EMILY BALDWIN
ASTRONOMY NOW

Posted: July 29, 2008
After two failed attempts to deliver a sample of icy soil to Phoenix's TEGA oven over the weekend, it's back to the drawing board to figure out a way to get this surprisingly sticky soil out of the robotic scoop.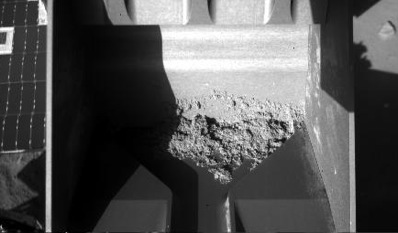 The stubborn Martian soil remains stuck in Phoenix's robotic arm scoop. Image: NASA/JPL-Caltech/University of Arizona/Max Planck Institute.
"It has really been a science experiment just learning how to interact with the icy soil on Mars, how it reacts with the scoop, its stickiness, whether it's better to have it in the shade or the sunlight," says Phoenix Principal Investigator Peter Smith of the University of Arizona.
The team tried two methods over the weekend to pick up and deliver a sample of icy soil to one of Phoenix's laboratory ovens, but in both cases most of the sample stuck firmly inside the lander's inverted scoop. In the second attempt, Phoenix was instructed to leave the scoop upside down for longer and to vibrate it for longer, and although images showed a small amount of soil reached the open oven doors, not enough was received to initiate analysis of the soil's composition.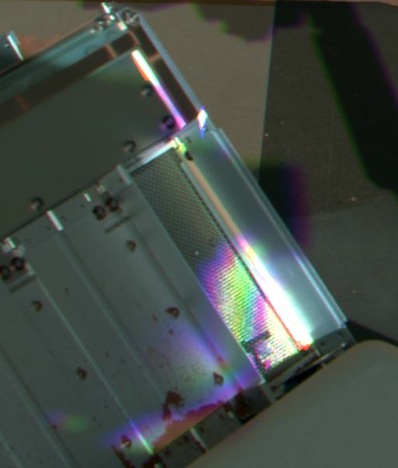 False colour image of the oven doors after the failed soil delivery attempts this weekend. The soil appears as a red-brown colour and it can be seen that hardly any soil has reached the far, open, oven for analysis and that some of soil is lying at the bottom of the adjacent doors. Image: NASA/JPL-Caltech/University of Arizona/Texas A&M University.
The samples are believed to contain water ice mixed in with the soil so it is with much eagerness that the Phoenix team are continuing to test out different delivery techniques while the lander continues with other planned studies of the soil and the atmosphere.
"While we continue with determining the best way to get an icy sample, we intend to proceed with analysing dry samples that we already know how to deliver," says Smith.


Related Stories

Jul 22 Phoenix in 24-hour monitoring assignment read more
Jul 17 Phoenix rasps frozen layer... read more
Jul 11 First success with Phoenix soil probe... read more
Jul 10 Phoenix struggling with icy payload read more
Jul 03 Next Phoenix bake could be last read more
Jun 30 Phoenix soil could support life read more
Jun 23 Frozen water confirmed on Mars read more
Jun 19 Bright chunks must have been ice read more
Jun 17 First results from Phoenix bakery read more
Jun 12 An oven full of sand read more
Jun 10 Clumpy Martian soil challenges Phoenix read more
Jun 06 Closest view ever of Mars sand read more
Jun 03 Phoenix scoops up Martian soil read more
Jun 02 Phoenix sees possible ice read more
May 30 Phoenix flexes robotic arm read more
May 28 HiRISE captures Phoenix descent read more
May 26 Spectacular new colour view of Mars read more
May 23 Phoenix prepares for Mars landing read more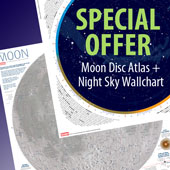 Hubble Reborn

Hubble Reborn takes the reader on a journey through the Universe with spectacular full-colour pictures of galaxies, nebulae, planets and stars as seen through Hubble's eyes, along the way telling the dramatic story of the space telescope, including interviews with key scientists and astronauts.


U.K. STORE


E.U. STORE


U.S. & WORLDWIDE STORE


The Planets

From tiny Mercury to distant Neptune and Pluto, The Planets profiles each of the Solar System's members in depth, featuring the latest imagery from space missions. The tallest mountains, the deepest canyons, the strongest winds, raging atmospheric storms, terrain studded with craters and vast worlds of ice are just some of the sights you'll see on this 100-page tour of the planets.


U.K. STORE


E.U. STORE


U.S. & WORLDWIDE STORE


3D Universe

Witness the most awesome sights of the Universe as they were meant to be seen in this 100-page extravaganza of planets, galaxies and star-scapes, all in 3D!


U.K. STORE


E.U. STORE


U.S. & WORLDWIDE STORE