Top Stories





Organic cemeteries could dominate ancient Mars

...two complementary studies support the popular theory that the Red Planet once hosted vast lakes, flowing rivers and a variety of other wet environments that had the potential to support life...

XMM detects nova everyone else missed

...it was one of the brightest nova events of the decade and clearly visible to the naked eye, yet no one but the XMM-Newton space telescope was there for the party...

'No organics' zone circles Pinwheel galaxy

...the Pinwheel galaxy has been observed through Spitzer's infrared eyes, revealing a zone in which organic molecules suddenly disappear...



Spaceflight Now +





Subscribe to Spaceflight Now Plus for access to our extensive video collections!
How do I sign up?
Video archive

STS-120 day 2 highlights

Flight Day 2 of Discovery's mission focused on heat shield inspections. This movie shows the day's highlights.

Play

STS-120 day 1 highlights

The highlights from shuttle Discovery's launch day are packaged into this movie.

Play

STS-118: Highlights

The STS-118 crew, including Barbara Morgan, narrates its mission highlights film and answers questions in this post-flight presentation.

Full presentation
Mission film

STS-120: Rollout to pad

Space shuttle Discovery rolls out of the Vehicle Assembly Building and travels to launch pad 39A for its STS-120 mission.

Play

Dawn leaves Earth

NASA's Dawn space probe launches aboard a Delta 2-Heavy rocket from Cape Canaveral to explore two worlds in the asteroid belt.

Full coverage

Dawn: Launch preview

These briefings preview the launch and science objectives of NASA's Dawn asteroid orbiter.

Launch | Science

Become a subscriber
More video







Phoenix in 24-hour monitoring assignment
BY DR EMILY BALDWIN
ASTRONOMY NOW

Posted: July 22, 2008
To coordinate with observations made by the Mars Reconnaissance Orbiter flying repeatedly overhead, NASA's Phoenix Mars Lander stayed up all night for the first time on Monday to make simultaneous measurements of the atmosphere and ground.
On Monday evening, Phoenix used its weather station, stereo camera and thermal and conductivity probe to monitor changes in the lower atmosphere and ground surface at the same time NASA's Mars Reconnaissance Orbiter studied the atmosphere and ground from above, in order to track and monitor any time-of-day changes in the local environment. These changes could come in the form of ice trapped in the soil by-passing its liquid phase and sublimating directly into a vapour, entering the atmosphere directly from the soil.
"We are looking for patterns of movement and phase change," says Michael Hecht, lead scientist for Phoenix's Microscopy, Electrochemistry and Conductivity Analyser (MECA), which includes the conductivity probe. "The probe is working great. We see some changes in soil electrical properties, which may be related to water, but we're still chewing on the data."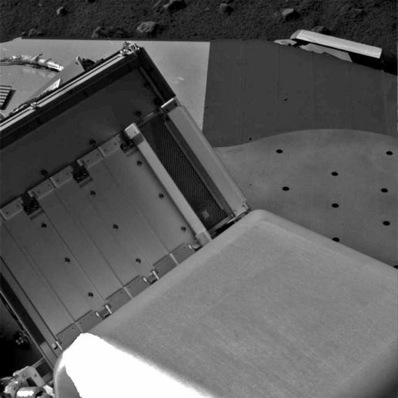 The double doors of oven number zero on the right hand side of the TEGA instrument are open and ready to gobble up a sample of icy soil. The doors are about 10 centimetres tall. Image NASA/JPL-Caltech/University of Arizona/Texas A&M University.
But there will be no rest following Phoenix's 24-hour assignment; the busy lander continues to test techniques for collecting a sample of icy soil to be delivered into an oven of the Thermal and Evolved-Gas Analyser (TEGA). Over the weekend, images from the Surface Stereo Camera confirmed that the doors of the oven chosen to get the first icy sample – oven zero – are wide open and ready for procedures to begin. This is the third oven to be opened since Phoenix landed on Martian soil almost two months ago, and the first time that both doors of an oven have successfully opened to their full extent.


Related Stories

Jul 17 Phoenix rasps frozen layer... read more
Jul 11 First success with Phoenix soil probe... read more
Jul 10 Phoenix struggling with icy payload read more
Jul 03 Next Phoenix bake could be last read more
Jun 30 Phoenix soil could support life read more
Jun 23 Frozen water confirmed on Mars read more
Jun 19 Bright chunks must have been ice read more
Jun 17 First results from Phoenix bakery read more
Jun 12 An oven full of sand read more
Jun 10 Clumpy Martian soil challenges Phoenix read more
Jun 06 Closest view ever of Mars sand read more
Jun 03 Phoenix scoops up Martian soil read more
Jun 02 Phoenix sees possible ice read more
May 30 Phoenix flexes robotic arm read more
May 28 HiRISE captures Phoenix descent read more
May 26 Spectacular new colour view of Mars read more
May 23 Phoenix prepares for Mars landing read more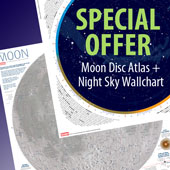 The Planets


From tiny Mercury to distant Neptune and Pluto, The Planets profiles each of the Solar System's members in depth, featuring the latest imagery from space missions. The tallest mountains, the deepest canyons, the strongest winds, raging atmospheric storms, terrain studded with craters and vast worlds of ice are just some of the sights you'll see on this 100-page tour of the planets.


GET YOUR COPY


Hubble Reborn


Hubble Reborn takes the reader on a journey through the Universe with spectacular full-colour pictures of galaxies, nebulae, planets and stars as seen through Hubble's eyes, along the way telling the dramatic story of the space telescope, including interviews with key scientists and astronauts.


GET YOUR COPY


3D Universe


Witness the most awesome sights of the Universe as they were meant to be seen in this 100-page extravaganza of planets, galaxies and star-scapes, all in 3D!


GET YOUR COPY