Phoenix peeks under a rock
BY DR EMILY BALDWIN
ASTRONOMY NOW

Posted: September 26, 2008
Earlier this week Phoenix used its robotic arm to slide a rock away from an area of soil that could shed light on the processes that effect the presence of ice on Mars.
Phoenix had enlarged the trench near the videotape-sized rock –- nicknamed "Headless" – two days earlier in preparation for the ground moving maneuver to slip the rock into the trench. The ground surface between the rock's prior position and the lip of the trench had a slope of about three degrees downward toward the trench.
"The rock ended up exactly where we intended it to," says Matt Robinson of NASA's Jet Propulsion Laboratory.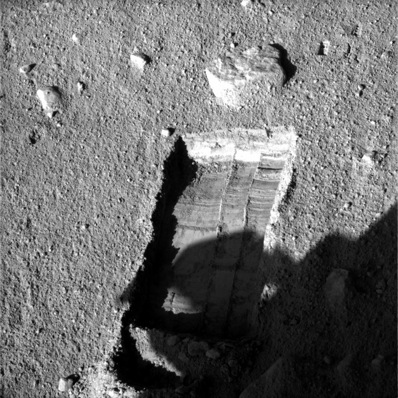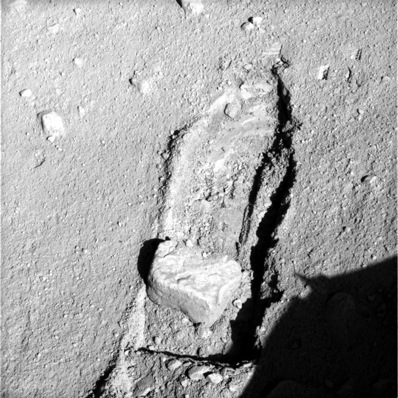 Phoenix slipped the "Headless" rock (originally located just above the trench in the top image) into a trench earlier this week (bottom image), in order to study the soil underneath the original location of the videotape-sized rock. Image: NASA/JPL-Caltech/University of Arizona/Texas A&M University.
Although the robotic arm was not designed to heave rocks around the Phoenix workspace, the motivation was in the layer of hard, icy material discovered around the landing site. Excavating down to that hard layer underneath a rock might provide clues about processes affecting the ice.
"The appeal of studying what's underneath is so strong we have to give this a try," says Michael Mellon, a Phoenix science team member at the University of Colorado. "The rocks are darker than the material around them, and they hold heat. In theory, the ice table should deflect downward under each rock. If we checked and saw this deflection, that would be evidence the ice is probably in equilibrium with the water vapour in the atmosphere."
The scientists also speculate that if the icy layer were found closer to the surface under a rock, it could be that the rock is collecting moisture from the atmosphere, with the moisture becoming part of the icy layer.
Whatever new findings are derived from the study of the soil underneath the rock, scientists will be given a fresh insight into the ways in which the Martian atmosphere and surface are intimately linked.


Related Stories

Sep 12 Dust devils pay visit to Phoenix read more
Sep 05 Phoenix's vapour quandary read more
Aug 26 Phoenix digs into extended mission... read more
Aug 06 Martian salts analysed for habitability... read more
Aug 01 Phoenix tastes water on Mars read more
Jul 29 Sticky situation for Phoenix read more
Jul 22 Phoenix in 24-hour monitoring assignment read more
Jul 17 Phoenix rasps frozen layer... read more
Jul 11 First success with Phoenix soil probe... read more
Jul 10 Phoenix struggling with icy payload read more
Jul 03 Next Phoenix bake could be last read more
Jun 30 Phoenix soil could support life read more
Jun 23 Frozen water confirmed on Mars read more
Jun 19 Bright chunks must have been ice read more
Jun 17 First results from Phoenix bakery read more
Jun 12 An oven full of sand read more
Jun 10 Clumpy Martian soil challenges Phoenix read more
Jun 06 Closest view ever of Mars sand read more
Jun 03 Phoenix scoops up Martian soil read more
Jun 02 Phoenix sees possible ice read more
May 30 Phoenix flexes robotic arm read more
May 28 HiRISE captures Phoenix descent read more
May 26 Spectacular new colour view of Mars read more
May 23 Phoenix prepares for Mars landing read more