Martian salts analysed for habitability potential
BY DR EMILY BALDWIN
ASTRONOMY NOW

Posted: August 6, 2008
Phoenix mission scientists are currently investigating perchlorate salts detected in soil analysed by the wet chemistry laboratory, but the jury is still out as to the importance of the discovery for life on Mars.
Perchlorate consists of an atom of chlorine surrounded by four oxygen atoms, and was discovered in two separate samples by the MECA (Microscopy, Electrochemistry and Conductivity Analyser) suite of instruments, which includes the wet chemistry lab that studies soluble chemicals in soil samples by mixing the soil with a water-based solution. Perchlorate is also an oxidant, which means it can release oxygen, albeit rather weakly, and it plays an important role in fueling some microorganisms on Earth, as well as occurring naturally in arid desert conditions.
"Finding perchlorates is neither good nor bad for life, but it
does make us reassess how we think about life on Mars," says Michael Hecht, lead scientist for MECA, "because different types of perchlorate salts have interesting properties that may bear on the way things work on Mars if – and that's a big if – the results from our two teaspoons of soil are representative of all of Mars, or at least a significant portion of the planet."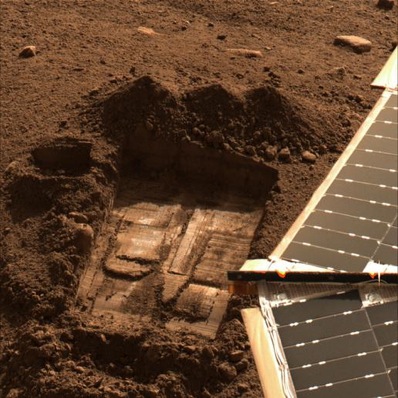 Two samples were delivered to the wet chemistry lab on 25 June and 6 July, and showed evidence for perchlorate salts. The first sample was taken from the surface area just left of the trench and the second sample from the centre of the Snow White trench. Image: NASA/JPL-Caltech/University of Arizona/Texas A&M University.
The Phoenix team have taken an unusual step in reporting on these results half way through the investigation, following claims in the press that a major finding regarding habitability on Mars was being held back.
"We are committed to following a rigorous scientific process. While we have not completed our process on these soil samples, we have very interesting intermediate results," says Peter Smith, Phoenix principal investigator. "We decided to show the public science in action because of the extreme interest in the Phoenix mission, which is searching for a habitable environment on the northern plains of Mars. Initial MECA analyses suggested Earth-like soil. Further analysis has revealed un-Earthlike aspects of the soil chemistry."
The scientists are still at the stage where they are examining multiple hypotheses resulting from the wet chemistry experiments and the TEGA analysis, which detected a release of oxygen, but no sign of chlorine. According to the mission chemists, perchlorate could be one of several possible sources of this oxygen.
"Had we seen it [chlorine], the identification of perchlorate would be absolutely clear, but in this run we did not see any chlorine gas," says TEGA lead scientist William Boynton. "We may have been analysing a perchlorate salt that doesn't release chlorine gas upon heating, but there's nothing in the TEGA data that contradicts MECA's finding of perchlorates."
As the Phoenix team continues its investigation of the arctic soil, the TEGA instrument will attempt to validate the perchlorate discovery and determine its concentration and properties, as well as totally exonerate any possible terrestrial contamination.


Related Stories

Aug 01 Phoenix tastes water on Mars read more
Jul 29 Sticky situation for Phoenix read more
Jul 22 Phoenix in 24-hour monitoring assignment read more
Jul 17 Phoenix rasps frozen layer... read more
Jul 11 First success with Phoenix soil probe... read more
Jul 10 Phoenix struggling with icy payload read more
Jul 03 Next Phoenix bake could be last read more
Jun 30 Phoenix soil could support life read more
Jun 23 Frozen water confirmed on Mars read more
Jun 19 Bright chunks must have been ice read more
Jun 17 First results from Phoenix bakery read more
Jun 12 An oven full of sand read more
Jun 10 Clumpy Martian soil challenges Phoenix read more
Jun 06 Closest view ever of Mars sand read more
Jun 03 Phoenix scoops up Martian soil read more
Jun 02 Phoenix sees possible ice read more
May 30 Phoenix flexes robotic arm read more
May 28 HiRISE captures Phoenix descent read more
May 26 Spectacular new colour view of Mars read more
May 23 Phoenix prepares for Mars landing read more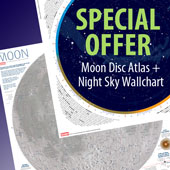 The Planets


From tiny Mercury to distant Neptune and Pluto, The Planets profiles each of the Solar System's members in depth, featuring the latest imagery from space missions. The tallest mountains, the deepest canyons, the strongest winds, raging atmospheric storms, terrain studded with craters and vast worlds of ice are just some of the sights you'll see on this 100-page tour of the planets.


GET YOUR COPY


Hubble Reborn


Hubble Reborn takes the reader on a journey through the Universe with spectacular full-colour pictures of galaxies, nebulae, planets and stars as seen through Hubble's eyes, along the way telling the dramatic story of the space telescope, including interviews with key scientists and astronauts.


GET YOUR COPY


3D Universe


Witness the most awesome sights of the Universe as they were meant to be seen in this 100-page extravaganza of planets, galaxies and star-scapes, all in 3D!


GET YOUR COPY