Top Stories





Identical twin stars reveal surprising differences

..a new study of a pair of seemingly identical stellar twins has revealed such surprising differences that astronomers will need to re-examine the ways in which stars form...

Black holes have simple feeding habits ...the results of a massive observing campaign of spiral galaxy M81 have shed light on the feeding habits of different sized black holes, and provide a benchmark for predicting the properties of a new class of black hole...

Bright chunks dug up by Phoenix must have been ice

...dice-size crumbs of bright material have vanished from inside a trench, convincing scientists that the material was frozen water that vaporized after digging exposed it....






Spaceflight Now +





Subscribe to Spaceflight Now Plus for access to our extensive video collections!
How do I sign up?
Video archive

STS-120 day 2 highlights

Flight Day 2 of Discovery's mission focused on heat shield inspections. This movie shows the day's highlights.

Play

STS-120 day 1 highlights

The highlights from shuttle Discovery's launch day are packaged into this movie.

Play

STS-118: Highlights

The STS-118 crew, including Barbara Morgan, narrates its mission highlights film and answers questions in this post-flight presentation.

Full presentation
Mission film

STS-120: Rollout to pad

Space shuttle Discovery rolls out of the Vehicle Assembly Building and travels to launch pad 39A for its STS-120 mission.

Play

Dawn leaves Earth

NASA's Dawn space probe launches aboard a Delta 2-Heavy rocket from Cape Canaveral to explore two worlds in the asteroid belt.

Full coverage

Dawn: Launch preview

These briefings preview the launch and science objectives of NASA's Dawn asteroid orbiter.

Launch | Science

Become a subscriber
More video







Frozen water confirmed on Mars
BY DR EMILY BALDWIN
ASTRONOMY NOW
Posted: June 23, 2008
"It is with great pride and a lot of joy that I announce today that we have found proof that this hard bright material is really water ice and not some other substance," says Phoenix Principal Investigator Peter Smith of The University of Arizona, speaking at a press conference on Friday.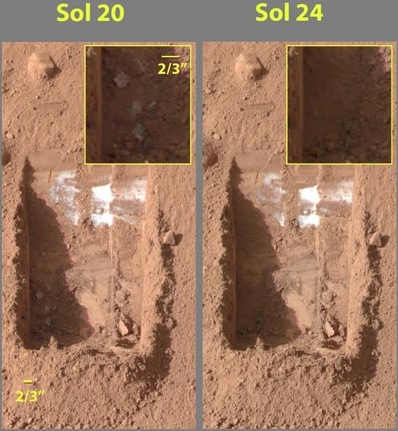 These colour images were acquired on Martian days (sols) 20 and 24 and show the sublimation of ice in the Dodo-Goldilocks trench. The insets show lumps in the bottom left hand corner of the trench that have disappeared after four days of being exposed at the surface. Image: NASA/JPL-Caltech/University of Arizona/Texas A&M University.
The key new evidence is that chunks of bright material exposed by digging on June 15 and still present on June 16 had vapourised by June 19. "This tells us we've got water ice within reach of the arm, which means we can continue this investigation with the tools we brought with us," says Mark Lemmon, the lead scientist for Phoenix's Surface Stereo Imager camera. The scientists say that the white chunks of material could not have been carbon-dioxide ice because that material would not have been stable at the local temperatures as a solid for even one day.
The disappearing chunks were noticed in a trench to the northwest of the lander. A hard material, possibly more ice, but darker than the bright material in the first trench, has been detected in a second trench, to the northeast of the lander. Phoenix will soon be directed to collect and analyse surface soil from a third trench near the second one, and later to mechanically probe and sample the hard layer. The science team anticipate even bigger discoveries from the robotic mission in the weeks ahead.
"The truth we're looking for is not just looking at ice. It is in finding out the minerals, chemicals and hopefully the organic materials associated with these discoveries," says Smith.
Phoenix will use an arsenal of instruments to dig, scrape, heat and probe the soil and ice to determine whether the local environment just below the surface of the north polar region has ever been favorable for microbial life. Key factors are whether the water ever becomes available as a liquid and whether organic compounds are present that could provide chemical building blocks and energy for life.
"These latest developments are a major accomplishment and validation of the Mars program's 'follow-the-water' exploration framework," says Doug McCuistion at NASA Headquarters, director of the space agency's Mars Program. "This specific discovery is the result of an outstanding team working with a robust spacecraft that has allowed them to work ahead of their original science schedule."



Related Stories

Jun 19 Bright chunks must have been ice read more
Jun 17 First results from Phoenix bakery read more
Jun 12 An oven full of sand read more
Jun 10 Clumpy Martian soil challenges Phoenix read more
Jun 6 Closest view ever of Mars sand read more
Jun 3 Phoenix scoops up Martian soil read more
Jun 2 Phoenix sees possible ice read more
May 30 Phoenix flexes robotic arm read more
May 28 HiRISE captures Phoenix descent read more
May 26 Spectacular new colour view of Mars read more
May 23 Phoenix prepares for Mars landing read more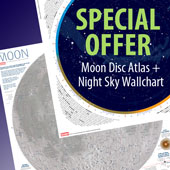 The Planets


From tiny Mercury to distant Neptune and Pluto, The Planets profiles each of the Solar System's members in depth, featuring the latest imagery from space missions. The tallest mountains, the deepest canyons, the strongest winds, raging atmospheric storms, terrain studded with craters and vast worlds of ice are just some of the sights you'll see on this 100-page tour of the planets.


GET YOUR COPY


Hubble Reborn


Hubble Reborn takes the reader on a journey through the Universe with spectacular full-colour pictures of galaxies, nebulae, planets and stars as seen through Hubble's eyes, along the way telling the dramatic story of the space telescope, including interviews with key scientists and astronauts.


GET YOUR COPY


3D Universe


Witness the most awesome sights of the Universe as they were meant to be seen in this 100-page extravaganza of planets, galaxies and star-scapes, all in 3D!


GET YOUR COPY