Top Stories





Small fraction of Sun-like stars produce planets

...fewer than 10 percent of stars in the Orion Nebula have enough dust to make Jupiter-sized planets or larger, suggesting that Sun-like stars have a low probability of forming planets...

New research puts asteroids in a spin

....according to new research, the answer to binary asteroid formation lies in the Sun...

STFC announces bitter-sweet funding programme

...The Science and Technology Facilities Council (STFC) have announced a three year £1.906 billion funding programme for UK physics and astronomy, but at the cost of several major projects in an attempt to recoup some of its £80 million shortfall...






Spaceflight Now +





Subscribe to Spaceflight Now Plus for access to our extensive video collections!
How do I sign up?
Video archive

STS-120 day 2 highlights

Flight Day 2 of Discovery's mission focused on heat shield inspections. This movie shows the day's highlights.

Play

STS-120 day 1 highlights

The highlights from shuttle Discovery's launch day are packaged into this movie.

Play

STS-118: Highlights

The STS-118 crew, including Barbara Morgan, narrates its mission highlights film and answers questions in this post-flight presentation.

Full presentation
Mission film

STS-120: Rollout to pad

Space shuttle Discovery rolls out of the Vehicle Assembly Building and travels to launch pad 39A for its STS-120 mission.

Play

Dawn leaves Earth

NASA's Dawn space probe launches aboard a Delta 2-Heavy rocket from Cape Canaveral to explore two worlds in the asteroid belt.

Full coverage

Dawn: Launch preview

These briefings preview the launch and science objectives of NASA's Dawn asteroid orbiter.

Launch | Science

Become a subscriber
More video







Phoenix struggling with
icy payload
BY DR EMILY BALDWIN
ASTRONOMY NOW

Posted: July 10, 2008
NASA's Phoenix Mars Lander's science and engineering teams are still testing methods to get an icy sample into the Robotic Arm scoop for delivery to the Thermal and Evolved Gas Analyser (TEGA).
The hard, icy Martian surface that Phoenix has uncovered is proving to be a difficult target to scoop up. "We expected ice and icy soil to be very strong because of the cold temperatures," says Ray Arvidson of Washington University. "It certainly looks like this is the case and we are getting ready to use the rasp to generate the fine icy soil and ice particles needed for delivery to TEGA."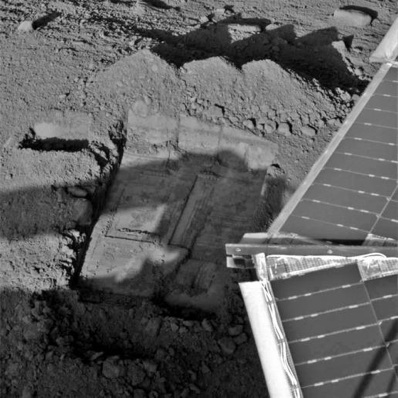 This image was acquired on Sol 44 of the Phoenix mission (July 7) and shows the current status of scraping in the Snow White trench. Image: NASA/JPL-Caltech/ University of Arizona/Texas A&M University.
Phoenix has three tools on the scoop that can help access the icy soil – a backhoe with a titanium blade, a tungsten carbide blade, and a high-speed rasp – but so far just the scraping tools have been tested as a possible technique for collecting up an ice-rich sample for analysis. Even though Phoenix piled up two sets of 50 scrapes into small piles at the bottom of the 'Snow White' trench on Monday, it could not get the material into its scoop, images returned from Mars on Monday night confirmed.
"It's like trying to pick up dust with a dustpan, but without a broom," says Richard Volpe, an engineer from NASA's Jet Propulsion Laboratory on Phoenix's robotic arm team.
The engineers are now focusing on the use of the motorized rasp within the robotic arm scoop to access the hard icy soil and ice deposits. They are conducting tests on Phoenix's engineering model at The University of Arizona to determine the optimum ways to rasp the hard surfaces and acquire the particulate material produced during the rasping, with the ultimate aim of delivering this material quickly to TEGA before the ice's composition changes once it is exposed to the Martian atmosphere.


Related Stories

Jul 03 Next Phoenix bake could be last read more
Jun 30 Phoenix soil could support life read more
Jun 23 Frozen water confirmed on Mars read more
Jun 19 Bright chunks must have been ice read more
Jun 17 First results from Phoenix bakery read more
Jun 12 An oven full of sand read more
Jun 10 Clumpy Martian soil challenges Phoenix read more
Jun 06 Closest view ever of Mars sand read more
Jun 03 Phoenix scoops up Martian soil read more
Jun 02 Phoenix sees possible ice read more
May 30 Phoenix flexes robotic arm read more
May 28 HiRISE captures Phoenix descent read more
May 26 Spectacular new colour view of Mars read more
May 23 Phoenix prepares for Mars landing read more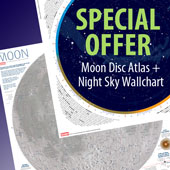 The Planets


From tiny Mercury to distant Neptune and Pluto, The Planets profiles each of the Solar System's members in depth, featuring the latest imagery from space missions. The tallest mountains, the deepest canyons, the strongest winds, raging atmospheric storms, terrain studded with craters and vast worlds of ice are just some of the sights you'll see on this 100-page tour of the planets.


GET YOUR COPY


Hubble Reborn


Hubble Reborn takes the reader on a journey through the Universe with spectacular full-colour pictures of galaxies, nebulae, planets and stars as seen through Hubble's eyes, along the way telling the dramatic story of the space telescope, including interviews with key scientists and astronauts.


GET YOUR COPY


3D Universe


Witness the most awesome sights of the Universe as they were meant to be seen in this 100-page extravaganza of planets, galaxies and star-scapes, all in 3D!


GET YOUR COPY