Top Stories





Galactic baby boom in distant Universe

...astronomers have found a rare galaxy located in the remote Universe that is pumping out stars at a rate of up to 4,000 per year, defying the most common theory of galaxy formation...

Small fraction of Sun-like stars produce planets

...fewer than 10 percent of stars in the Orion Nebula have enough dust to make Jupiter-sized planets or larger, suggesting that Sun-like stars have a low probability of forming planets...

New research puts asteroids in a spin

....according to new research, the answer to binary asteroid formation lies in the Sun...



Spaceflight Now +





Subscribe to Spaceflight Now Plus for access to our extensive video collections!
How do I sign up?
Video archive

STS-120 day 2 highlights

Flight Day 2 of Discovery's mission focused on heat shield inspections. This movie shows the day's highlights.

Play

STS-120 day 1 highlights

The highlights from shuttle Discovery's launch day are packaged into this movie.

Play

STS-118: Highlights

The STS-118 crew, including Barbara Morgan, narrates its mission highlights film and answers questions in this post-flight presentation.

Full presentation
Mission film

STS-120: Rollout to pad

Space shuttle Discovery rolls out of the Vehicle Assembly Building and travels to launch pad 39A for its STS-120 mission.

Play

Dawn leaves Earth

NASA's Dawn space probe launches aboard a Delta 2-Heavy rocket from Cape Canaveral to explore two worlds in the asteroid belt.

Full coverage

Dawn: Launch preview

These briefings preview the launch and science objectives of NASA's Dawn asteroid orbiter.

Launch | Science

Become a subscriber
More video







First success with Phoenix soil probe and atomic
force microscope
BY DR EMILY BALDWIN
ASTRONOMY NOW

Posted: July 11, 2008
NASA's Phoenix Mars Lander has prodded Martian soil with its Thermal and Electrical Conductivity Probe (TECP) for the first time, and has begun using a microscope that examines the shapes of tiny soil particles by touching them.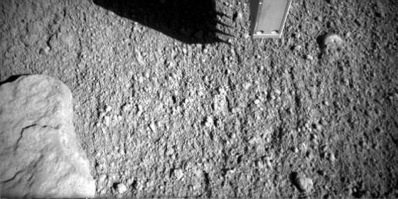 The four spikes of the TECP instrument near the Martian soil appear as shadows in this image taken on July 8. The spikes are 1.5 centimetres long and will assess how easily heat and electricty move through the soil. Image: NASA/JPL-Caltech/University of Arizona/Max Planck Institute.
Held up in the air, the TECP has already provided assessment of water vapour in the Martian atmosphere, but for the first time in the mission its 1.5 centimetre long fork-like probes were pushed into undisturbed soil this week, as a validation test of the insertion procedure, which will be followed up with 'real' experiments over the next few days. The TECP will be used to assess how easily heat and electricity move through the soil from one of the probe's spikes to another, which will provide information about the nature of frozen or unfrozen water in the soil.
Phoenix has also returned the first image from its Swiss-made atomic force microscope, which can provide details of soil particle shapes as small as about 100 nanometers, less than one-hundredth the width of a human hair and about 20 times smaller than what can be resolved with Phoenix's optical microscope, which has already provided much higher magnification imaging than anything ever before seen on Mars. The TECP builds an image of the surface of a soil particle through its sensor, which rides up and down following the contour of the particle's surface, thus providing information about the target's shape.
"The same day we first touched a target with the thermal and electrical conductivity probe, we first touched another target with a needle about three orders of magnitude smaller - one of the tips of our atomic force microscope," says Michael Hecht of NASA's Jet Propulsion Laboratory, lead scientist for the suite of instruments on Phoenix that includes both the conductivity probe and the microscopy station.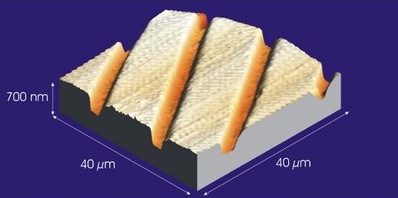 This callibration image presents three-dimensional data from the atomic force microscope, showing details of a grooved substrate on the microscope station's sample wheel. It will be used as an aid for interpreting later images that will show shapes of tiny Martian soil particles. The 40 by 40 micron surface is small enough to fit on an eyelash. Image: NASA/JPL-Caltech/University of Arizona/University of Neuchatel.
The microscope's first test touch this week was of the grooved substrate of the microscopy station's sample wheel, which will be used to hold soil particles in place for inspection by the microscope.
"It's just amazing when you think that the entire area in this image fits on an eyelash," says Hecht. "I'm looking forward to exciting things to come."
Phoenix has now put to use all the capabilities of its Microscopy, Electrochemistry and Conductivity Analyser (MECA) suite of instruments. Researchers have already begun analysing data from the second sample of soil tested by MECA's wet chemistry laboratory, and are still working on the best method to gather a sample of Martian ice to analyse using the lander's Thermal and Evolved-Gas Analyser, which heats samples to sniff out the vapours contained within the sample.


Related Stories

Jul 10 Phoenix struggling with icy payload read more
Jul 03 Next Phoenix bake could be last read more
Jun 30 Phoenix soil could support life read more
Jun 23 Frozen water confirmed on Mars read more
Jun 19 Bright chunks must have been ice read more
Jun 17 First results from Phoenix bakery read more
Jun 12 An oven full of sand read more
Jun 10 Clumpy Martian soil challenges Phoenix read more
Jun 06 Closest view ever of Mars sand read more
Jun 03 Phoenix scoops up Martian soil read more
Jun 02 Phoenix sees possible ice read more
May 30 Phoenix flexes robotic arm read more
May 28 HiRISE captures Phoenix descent read more
May 26 Spectacular new colour view of Mars read more
May 23 Phoenix prepares for Mars landing read more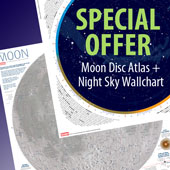 The Planets


From tiny Mercury to distant Neptune and Pluto, The Planets profiles each of the Solar System's members in depth, featuring the latest imagery from space missions. The tallest mountains, the deepest canyons, the strongest winds, raging atmospheric storms, terrain studded with craters and vast worlds of ice are just some of the sights you'll see on this 100-page tour of the planets.


GET YOUR COPY


Hubble Reborn


Hubble Reborn takes the reader on a journey through the Universe with spectacular full-colour pictures of galaxies, nebulae, planets and stars as seen through Hubble's eyes, along the way telling the dramatic story of the space telescope, including interviews with key scientists and astronauts.


GET YOUR COPY


3D Universe


Witness the most awesome sights of the Universe as they were meant to be seen in this 100-page extravaganza of planets, galaxies and star-scapes, all in 3D!


GET YOUR COPY