Top Stories





First measurements of the termination shock

...as intrepid Voyager 2 passed through the solar wind termination shock, the local STEREO spacecraft detected particles emanating from the same distant location...

The stars and stripes of the Universe

...a delicate ribbon of gas floats eerily in the Milky Way, a ghostly reminder of a supernova explosion that occurred over 1,000 years ago...

Cluster listens to the sounds of the Earth

...Cluster has been tuning into the Earth's aurora, listening out for a signal that may help in the search for alien worlds...






Spaceflight Now +





Subscribe to Spaceflight Now Plus for access to our extensive video collections!
How do I sign up?
Video archive

STS-120 day 2 highlights

Flight Day 2 of Discovery's mission focused on heat shield inspections. This movie shows the day's highlights.

Play

STS-120 day 1 highlights

The highlights from shuttle Discovery's launch day are packaged into this movie.

Play

STS-118: Highlights

The STS-118 crew, including Barbara Morgan, narrates its mission highlights film and answers questions in this post-flight presentation.

Full presentation
Mission film

STS-120: Rollout to pad

Space shuttle Discovery rolls out of the Vehicle Assembly Building and travels to launch pad 39A for its STS-120 mission.

Play

Dawn leaves Earth

NASA's Dawn space probe launches aboard a Delta 2-Heavy rocket from Cape Canaveral to explore two worlds in the asteroid belt.

Full coverage

Dawn: Launch preview

These briefings preview the launch and science objectives of NASA's Dawn asteroid orbiter.

Launch | Science

Become a subscriber
More video







Next Phoenix bake could be last
BY DR EMILY BALDWIN
ASTRONOMY NOW

Posted: July 3, 2008
After a busy weekend of scraping up piles of icy soil, Phoenix is preparing its ovens to sniff out the ingredients of this precious material, but a short circuit problem could make this the last trip to the Phoenix bakery.
The well-studied Snow White Trench, Phoenix's current active digging area, is now about 33 centimetres long, 24 centimetres wide and 5 centimetres deep. The cross-cutting grid of grooves are about 2 millimetres deep and were made by the scraping tool. Image: NASA/JPL-Caltech/University of Arizona/Max Planck Institute.
On the 33rd Martian day, or sol, of the mission, Phoenix's robotic blade made 50 scrapes in the ice layer buried under the surface soil in the Snow White trench, and heaped the scrapings into desert spoon sized piles. Mission scientists agreed that they had "almost perfect samples of the interface of ice and soil," and commanded the robotic arm to pick up the scrapings, which will soon be heated up in one of the Thermal and Evolved Gas Analyser (TEGA) ovens to sniff out volatile ingredients and determine the melting point of the ice.
However, engineers and scientists have discovered a short circuit in the instrument, likely caused by the lengthy vibration techniques employed to break up clumpy soil earlier in the mission to allow that particular sample to enter into one of the ovens. Delivery to any oven causes a vibration action and it is feared that the next attempt could trigger a further short circuit.
"Since there is no way to assess the probability of another short circuit occurring, we are taking the most conservative approach and treating the next sample to TEGA as possibly our last," says Peter Smith, Phoenix's principal investigator.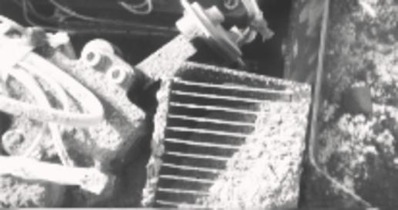 This picture documents the delivery of soil to one of four Wet Chemistry Laboratory (WCL) cells on the 30th Martian sol. WCL is part of the Microscopy, Electrochemistry and Conductivity Analyser (MECA) instrument suite onboard Phoenix. Image: NASA/JPL-Caltech/University of Arizona/Max Planck Institute.
A sample which remains in the robotic arm has now likely dried out, so this will be analysed by the optical microscope and Wet Chemistry Laboratory (WCL) instead. The new ice sample must be transferred quickly to TEGA after being exposed at the surface, to ensure that the materials do not change from a solid to a vapour during the delivery process.

And while mission teams mark Independence Day with a few days holiday, Phoenix will operate from pre-programmed science commands, such as taking atmospheric readings and panoramic images, under the watchful eye of a skeleton team. As well as establishing climatic conditions in the north polar region of Mars, Phoenix's ultimate goal is to determine the history of water in the arctic regions and to discover if this frigid soil could ever support life.


Related Stories

Jun 30 Phoenix soil could support life read more
Jun 23 Frozen water confirmed on Mars read more
Jun 19 Bright chunks must have been ice read more
Jun 17 First results from Phoenix bakery read more
Jun 12 An oven full of sand read more
Jun 10 Clumpy Martian soil challenges Phoenix read more
Jun 06 Closest view ever of Mars sand read more
Jun 03 Phoenix scoops up Martian soil read more
Jun 02 Phoenix sees possible ice read more
May 30 Phoenix flexes robotic arm read more
May 28 HiRISE captures Phoenix descent read more
May 26 Spectacular new colour view of Mars read more
May 23 Phoenix prepares for Mars landing read more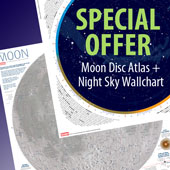 The Planets


From tiny Mercury to distant Neptune and Pluto, The Planets profiles each of the Solar System's members in depth, featuring the latest imagery from space missions. The tallest mountains, the deepest canyons, the strongest winds, raging atmospheric storms, terrain studded with craters and vast worlds of ice are just some of the sights you'll see on this 100-page tour of the planets.


GET YOUR COPY


Hubble Reborn


Hubble Reborn takes the reader on a journey through the Universe with spectacular full-colour pictures of galaxies, nebulae, planets and stars as seen through Hubble's eyes, along the way telling the dramatic story of the space telescope, including interviews with key scientists and astronauts.


GET YOUR COPY


3D Universe


Witness the most awesome sights of the Universe as they were meant to be seen in this 100-page extravaganza of planets, galaxies and star-scapes, all in 3D!


GET YOUR COPY