Phoenix sees falling snow
BY DR EMILY BALDWIN
ASTRONOMY NOW

Posted: September 30, 2008

Phoenix's laser instrument has sensed snow falling from Martian clouds, while soil experiments have strengthened the case for past interactions between minerals and liquid water, mimicking conditions on the Earth.
"Nothing like this view has ever been seen on Mars," says Jim Whiteway, lead scientist for the Canadian-supplied Meteorological Station on Phoenix. "We'll be looking for signs that the snow may even reach the ground."
So far, the snow has been detected to fall from clouds at an altitude of four kilometres, although it vapourised before reaching the ground.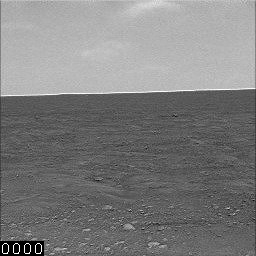 This sequence combines 32 images of clouds moving eastward across the horizon over a period of around half an hour. The clouds contain water-ice particles, just like cirrus clouds on Earth. Image: NASA/JPL-Caltech/University of Arizona/Texas A&M University
Surface experiments have provided clues for the presence of calcium carbonate, the main composition of chalk, and particles that could be clay, materials that on Earth only form in the presence of liquid water. The evidence came from experiments conducted by both the Thermal and Evolved Gas Analyser (TEGA) and the wet chemistry laboratory of the Microscopy, Electrochemistry and Conductivity Analyser (MECA).
"We have found carbonate," says William Boynton of the University of Arizona, lead scientist for the TEGA. "This points toward episodes of interaction with water in the past."
TEGA's evidence for calcium carbonate came from the release of carbon dioxide gas at a temperature known to decompose the substance. The MECA evidence came from a buffering effect characteristic of calcium carbonate assessed in wet chemistry analysis of the soil. The measured concentration of calcium was exactly what would be expected for a solution buffered by calcium carbonate.
Both instruments also suggest the presence of a clay-like substance. "We are seeing smooth-surfaced, platy particles with the atomic-force microscope, not inconsistent with the appearance of clay particles," says Michael Hecht, MECA lead scientist at NASA's Jet Propulsion Laboratory.
"We are still collecting data and have lots of analysis ahead, but we are making good progress on the big questions we set out for ourselves," says Phoenix Principal Investigator Peter Smith.
The Phoenix mission, originally planned for three months, is now in its fifth month, but faces a decline in solar energy from permanent sunshine at the start of the mission to currently over four hours of darkness each night. Mission scientists predict that there will not be enough power to operate the robotic arm after the end of October, and all operations will have ceased by the end of the year.

Related Stories

Sep 29 Phoenix peeks under a rock read more
Sep 12 Dust devils pay visit to Phoenix read more
Sep 05 Phoenix's vapour quandary read more
Aug 26 Phoenix digs into extended mission... read more
Aug 06 Martian salts analysed for habitability... read more
Aug 01 Phoenix tastes water on Mars read more
Jul 29 Sticky situation for Phoenix read more
Jul 22 Phoenix in 24-hour monitoring assignment read more
Jul 17 Phoenix rasps frozen layer... read more
Jul 11 First success with Phoenix soil probe... read more
Jul 10 Phoenix struggling with icy payload read more
Jul 03 Next Phoenix bake could be last read more
Jun 30 Phoenix soil could support life read more
Jun 23 Frozen water confirmed on Mars read more
Jun 19 Bright chunks must have been ice read more
Jun 17 First results from Phoenix bakery read more
Jun 12 An oven full of sand read more
Jun 10 Clumpy Martian soil challenges Phoenix read more
Jun 06 Closest view ever of Mars sand read more
Jun 03 Phoenix scoops up Martian soil read more
Jun 02 Phoenix sees possible ice read more
May 30 Phoenix flexes robotic arm read more
May 28 HiRISE captures Phoenix descent read more
May 26 Spectacular new colour view of Mars read more
May 23 Phoenix prepares for Mars landing read more