NASA's Galileo spacecraft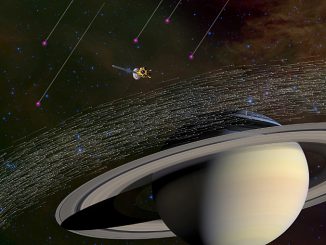 NASA's Cassini spacecraft has been in orbit around Saturn since 2004, studying the giant planet, its rings and its moons. Among the myriad microscopic grains collected by Cassini, a special three dozen stand out from the crowd. Scientists conclude these specks of material came from interstellar space — the space between the stars.
Jupiter's moon Io is the most volcanically active world in the solar system, with hundreds of volcanoes, some erupting lava fountains up to 250 miles high. New NASA research suggests that tides flowing in a subsurface ocean of molten rock, or magma, could explain why Io's volcanoes appear in the "wrong" place compared to models that predict how the moon's interior is heated.