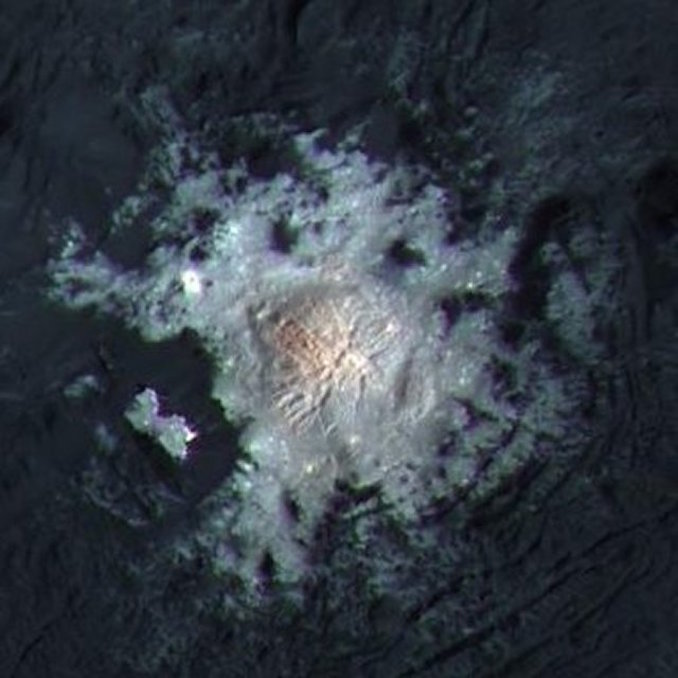 The Dawn spacecraft has finally been able to get a good look at the famous bright spot on the surface of Ceres, with NASA releasing new high-resolution images at the Lunar and Planetary Science Conference in Texas this week.
The images, taken from an altitude of 385 kilometres, show the bright spot – believed to be salt deposits – within the 92-kilometre wide Occator Crater. It is an example of a central pit crater, which is a kind of crater that often forms on icy bodies and which, as the name suggests, features a pit in the centre of the crater. Occator's central pit contains a dome-shaped peak and the salt deposits appear to be spread across this dome, which is lined by criss-crossing fractures that seem to mostly radiate outwards from the centre.
"The intricate geometry of the crater interior suggests geologic activity in the recent past, but we will need to complete detailed geologic mapping of the crater in order to test hypotheses for its formation," says Ralf Jaumann, who is a co-investigator on the Dawn mission from the German Aerospace Centre (DLR).
One puzzle that has yet to be solved is why the salt deposits look so fresh. Previously, Dawn had  detected water vapour over Occator when the spacecraft first arrived at the dwarf planet, and the suspicion is that fresh material has been welling up from beneath the surface even though the crater was formed 80 million years ago.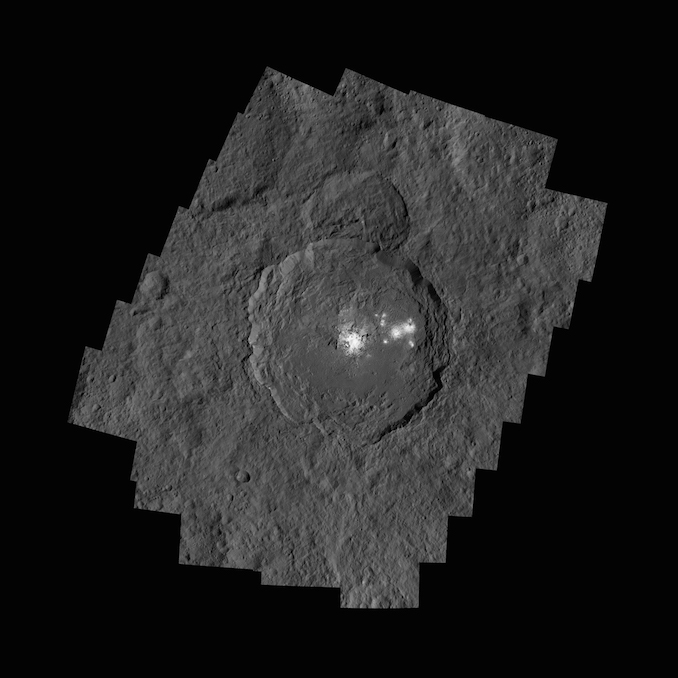 Before Dawn arrived at Ceres, which is the largest object in the Asteroid Belt between Mars and Jupiter and is believed to be a proto-planet leftover from the birth of the Solar System, it had been suspected that Ceres would contain plenty of water-ice just beneath its surface. To test this, Dawn comes equipped with an instrument called the Gamma Ray and Neutron Detector (GRaND).
When high-energy cosmic rays strike Ceres's airless, exposed ground, they interact with whatever surface materials are present to release neutrons and gamma rays. The energies of the neutrons and gamma rays depend on what atoms and molecules the cosmic rays are interacting with on and just below the surface down to a depth of about a metre. The different energies act like fingerprints that GRaND can measure and identify.
GRaND has discovered that neutrons emitted from cosmic rays interacting with hydrogen are more often found at higher latitudes rather than at Ceres' equator. Hydrogen is a vital component of water molecules, so GRaND's results are indicating that Ceres' largest stores of water-ice appear to be in its polar regions. This ice could have been present on Ceres for billions of years, says Tom Prettyman of the Planetary Science Institute on Arizona, who is the Principal Investigator on the GRaND instrument.