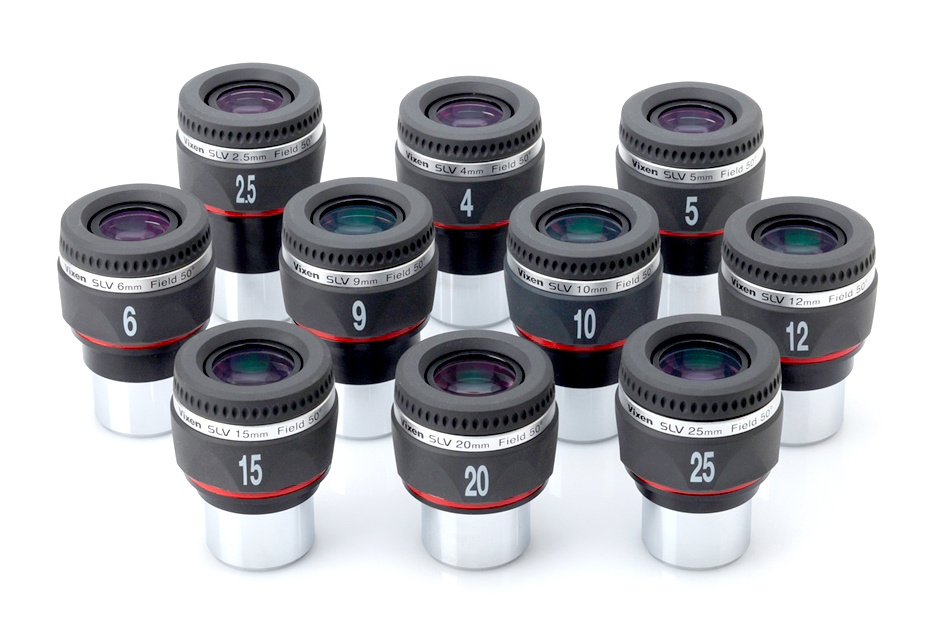 The introduction of a new eyepiece design is always to be welcomed, as each brings with it new approaches and innovations that ultimately benefit all observational astronomers. But first, a history lesson. The optical need for (ED) glasses of low dispersion and high refraction was initially dealt with by doping glass with thorium dioxide, but its inherent radio-activity makes its use today rather undesired (collectors of vintage eyepieces, take note!). Happily the silica cooks now brewing these glassy broths have since found that the rare earth Lanthanum does the same trick, hence its introduction to commercial optical products in the 1930s – and latterly, within the Vixen LV eyepieces introduced in the 1990s.
Continued improvement of this inheritance now brings us the range of Vixen SLV eyepieces. This latest player on the astronomy stage uses high quality Lanthanum glass to provide exceptional clarity and contrast across a 45°—50° field. A 50° apparent field may seem mediocre by today's cavernous standards, but not when you consider the highly corrected result achieved via its rare earth components.
The all-metal construction ensures a lifetime service, indeed, long service is actually a designed-in feature; for its rubberised sheath has been moulded into a polygonal shape specifically to prevent the eyepiece rolling to an untimely doom! I may be corrected, but this could be the first eyepiece kitted out with an 'anti-roll' mechanism! In ten focal lengths from 2.5mm to 25mm, it also features an improved twist up eyecup.
Price: £109
For more information: www.tringastro.co.uk