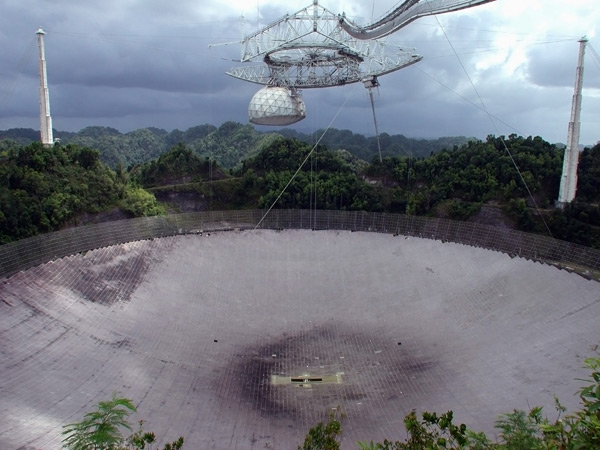 Initial reports from the Arecibo Observatory in Puerto Rico indicate powerful winds from Hurricane Maria destroyed an antenna and damaged the radio telescope's huge 300-metre (1,000-foot) dish reflector, but the bulk of the facility remains intact and workers sheltered there were unharmed.
Staff and family members who rode out the storm at the observatory Wednesday are safe, but officials are still trying to contact other employees who sheltered in their homes and other safe places, according to the Universities Space Research Association, or USRA.
USRA is part of a multi-institution team charged with operating Arecibo Observatory by the National Science Foundation.
While electricity and standard communications lines remain out, reports from the observatory were transmitted via shortwave radio, USRA said in a statement.
The main dish of the famed telescope, which spans 305 metres (1,000 feet) across, was reported intact. But the dish suffered several punctures when a 29-metre (96-foot) line feed antenna fell from a catenary more than 100 metres above the reflector, officials said.
The 430 MHz line feed was used to transmit and receive radio waves for atmospheric research. Arecibo uses different equipment for radio astronomy observations, but still relies on the same huge dish reflector.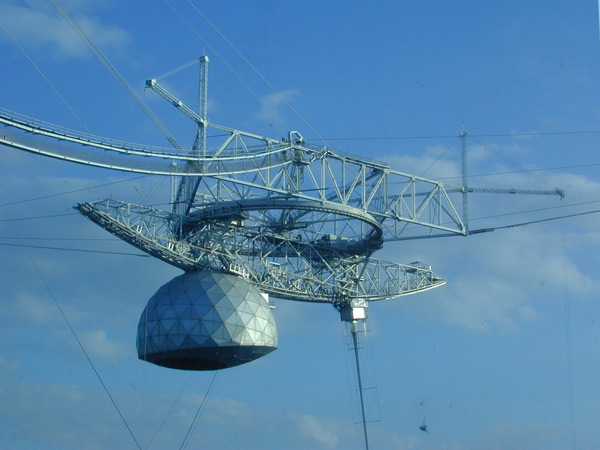 A 12-metre (39-foot) dish used as a phase reference for Very Long Baseline Interferometry was also lost, according to USRA.
"We will need a full assessment of the damage, repairs that are needed and when the observatory can resume observations," said Nicholas White, senior vice president for science at Universities Space Research Association.
The access road leading to the observatory is still covered in debris and inaccessible, officials said.
A weather station at Arecibo detected sustained winds of 78 mph (126 kilometres per hour) Wednesday morning, with gusts measured up to 108 mph (174 kilometres per hour), according to the National Hurricane Center.
Officials at Arecibo Observatory announced Monday they began hurricane preparations. The staff planned to secure the telescope, facilities and research equipment.
Hurricane Maria's landfall in Puerto Rico marked the second time in two weeks Arecibo prepared for a tropical cyclone. Hurricane Irma passed just north of the island Sept. 6, sparing the observatory significant damage.
Constructed in the early 1960s, the Arecibo Observatory is the world's second-largest radio telescope, with its dish antenna nestled inside a natural karst depression.
Astronomers use Arecibo to investigate asteroids, planets, pulsars, galaxies and dark matter. The giant radio telescope has also sent signals into the Universe to probe for extraterrestrial life, and listened for signs of transmissions coming from other worlds.
One recent target of Arecibo was the triple asteroid Florence, which passed more than 4 million miles (7 million kilometres) from Earth on Sept. 1. Arecibo and other radars observing the asteroid detected it had two unexpected companions, or moons.
Arecibo is also famous for its use as a location in films, such as Contact and GoldenEye.
Email the author.
Follow Stephen Clark on Twitter: @StephenClark1.