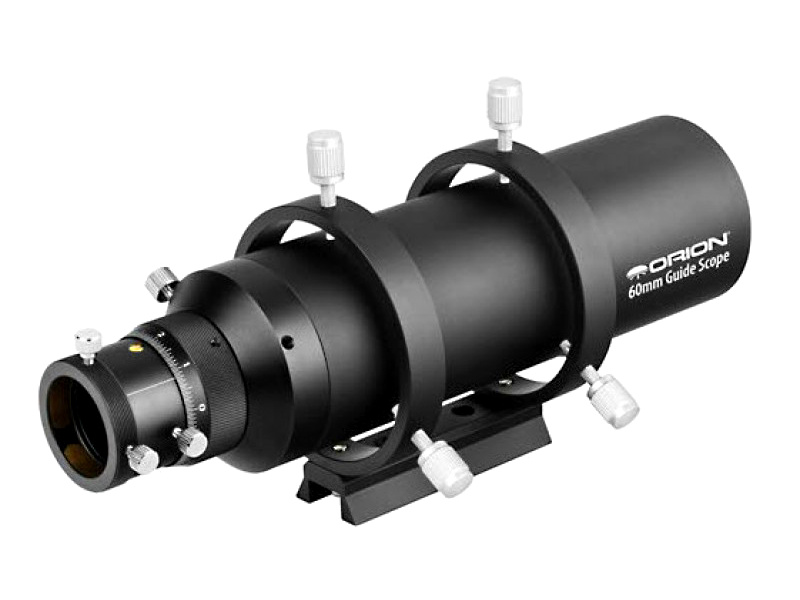 Finders these days 'find' themselves branching out from their usual task of merely functioning as a tube that hones the main telescope's gaze. They frequently possess optics sufficient to qualify them as fully fledged observational instruments in their own right. Besides working to locate targets, they offer abilities that directly assist in the various tasks that the main telescope is put to. Such is the new Orion 60mm guide scope.
Refractors of 60mm aperture are not to be sniffed at – in themselves, historically, having made discoveries of great merit. Capable of use with optional 1.25-inch eyepieces, this smart-looking telescope can therefore be utilised as a telescope in its own right – offering the abilities of a good achromatic refractor that can also be used for imaging.
Never forget that although diminutive compared to big reflectors or SCTs, a 60mm refractor is still capable of tunnelling down to magnitude 11.5 – and this f/4 version has a 240mm focal length that makes it capable of a very useful range of magnifications, beginning at a wide-field 9× with a 25mm eyepiece.
As a finder, this new model has been designed by Orion for use with their StarShoot AutoGuider (& Pro) – with a fine movement helical focuser that does not rotate. The fixed orientation and zero-shift of the focuser means that potential guide stars do not jiggle or move during the exercise of fine focus – easing this occasionally fretful task.
The helical thread allows 10mm of fine adjustment, while if necessary the drawtube provides a generous 35mm of additional back focus. When that snap focus is attained, a lock-down screw holds it firmly in place.
The finder is thoughtfully supplied with a pair of guidescope rings with a Vixen-style dovetail – and the finder itself is cosseted with nylon-tipped adjustment screws.
Price: £219
Supplier: Orion
For more information: www.telescope.com