For the April 2016 events, click here.
In an earlier post, I drew your attention to the fact that largest planet Jupiter — the bright 'star' currently visible low in the east at dusk — will be closest to the Earth on the evening of Tuesday, 8 March. So, if you haven't done so already, now is the time to ensure that your telescope is clean and collimated (aligned) to deliver the sharpest images of this visually rewarding planet at its best.
As if to mark the occasion of Jupiter at opposition, the planet's large Galilean moons indulge in a little celebratory dance as the shadows of Io and Europa appear simultaneously on the Jovian cloud tops from 12:28am to 1:57am GMT on 8 March. The image above simulates the telescope view mid-event.
Simultaneous shadow transits of Io and Europa on Jupiter also occur on Tuesday, 15 March (2:22am to 4:33am GMT), Tuesday, 22 March (4:22am GMT until twilight interferes) and on Friday, 25 March (after twilight fades to 7:28pm GMT).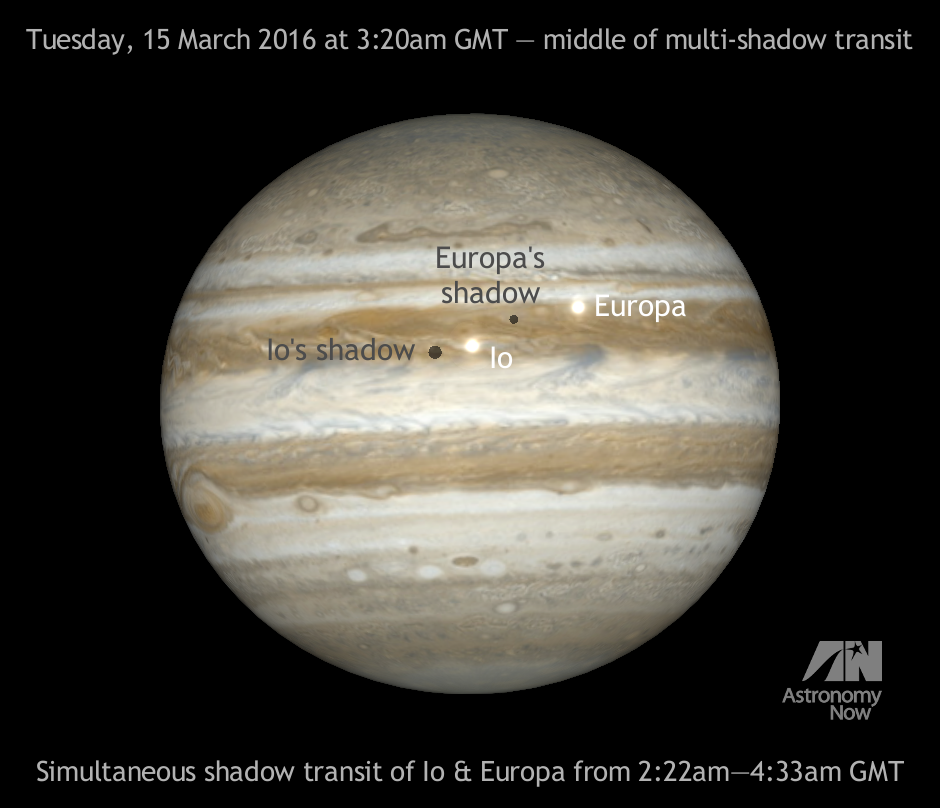 Multiple shadow transits of Io and largest Galilean moon Ganymede are also visible from the UK (weather permitting) this month. These occur on Wednesday, 9 March (6:56pm to 7:09pm GMT), Wednesday, 16 March (8:50pm to 11:06pm GMT) and 23/24 March (11:47pm to 12:59am GMT).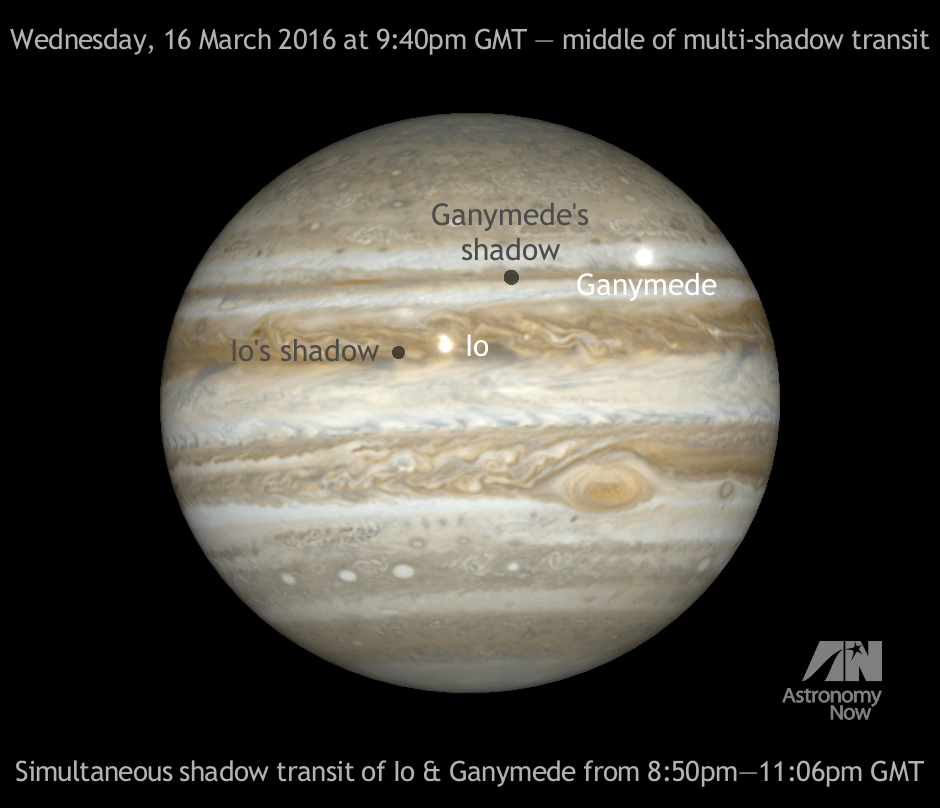 While the shadows of Jupiter's moons may be readily viewed with quality instruments of 3-inch (7.5-centimetre) aperture at powers of 100x or more when the seeing is good, don't overlook the planet's complex weather systems. The easiest cloud features to see (even in very small telescopes) are the North and South Equatorial Belts (NEB and SEB) — the two darker bands that lie either side of Jupiter's equator. Owners of 6-inch (15-centimetre) aperture and larger telescopes may wish to look for smaller structures and subtle colours in the planet's ever-churning storms.
Another prominent Jovian weather feature to view is the Great Red Spot (GRS), an anticyclonic storm found just south of the SEB that has been observed for around 400 years. Although it is currently somewhat smaller than in recent years, the GRS presently makes up for that by taking on a distinctly reddish hue, making it easier to see in smaller instruments.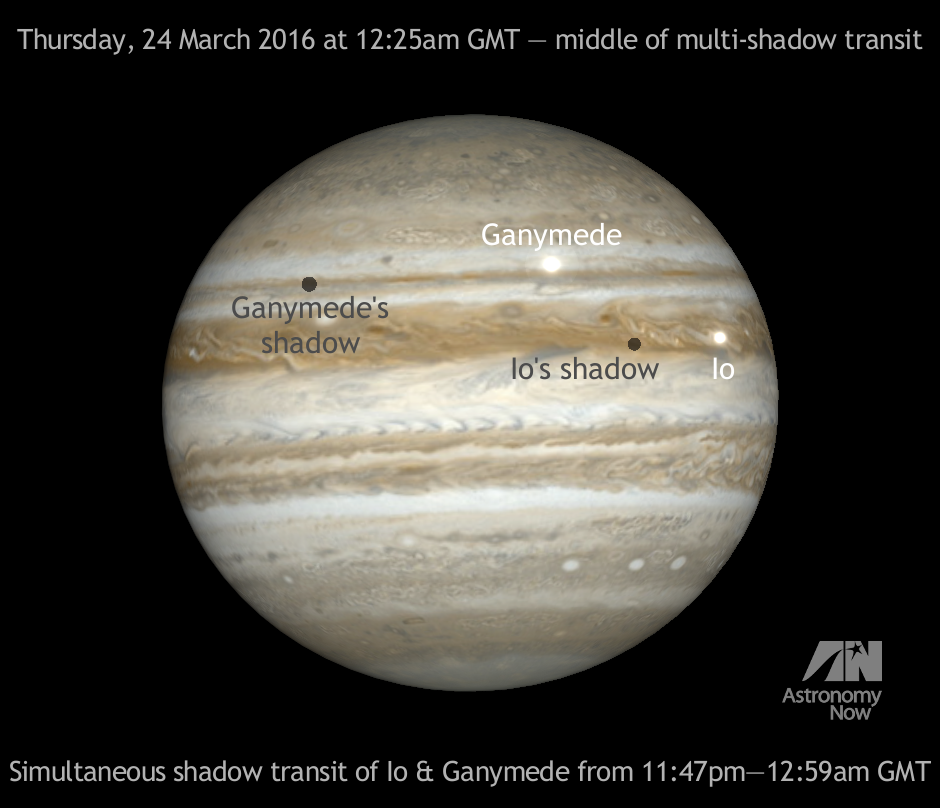 The Great Red Spot is easiest to see when it crosses the imaginary line joining Jupiter's north and south poles that passes through the centre of the planet's disc. At such times we say that the GRS is 'in transit'. For observers in the British Isles, conveniently observable transits of the Great Red Spot occur during March on the following dates and GMT times: 6 (2:45am & 10:37pm), 8 (4:23am), 9 (12:14am & 8:06pm), 11 (1:52am & 9:44pm), 13 (3:30am & 11:22pm), 14 (7:13pm), 16 (12:59am & 8:51pm), 18 (2:38am & 10:29pm), 20 (4:16am), 21 (12:07am & 7:58pm), 23 (1:45am & 9:36pm), 25 (3:23am & 11:14pm), [daylight savings starts 27 March], 28 (1:52am & 9:44pm BST), 30 (3:30am & 11:22pm BST).
Predictions for the beginning and end times of individual Galilean shadow transits (which are more common than the double transits highlighted in this article), plus information on their eclipses and occultations for any given date or location in the world, may be obtained through our Almanac.
Note that the Almanac's predictions of Jovian phenomena use 24-hour Universal Time (UT) — a global time reference based on the rotation of the Earth loosely synonymous with Greenwich Mean Time (GMT). Always ensure that the Daylight Savings Time check-box is ticked if applicable to your date, time and location. For help using the Almanac, see this article.
---

Inside the magazine
Find out everything you need to know about observing Jupiter at its best and the other planets in the night sky in the March 2016 edition of Astronomy Now.
Never miss an issue by subscribing to the UK's biggest astronomy magazine. Also available for iPad/iPhone and Android devices.