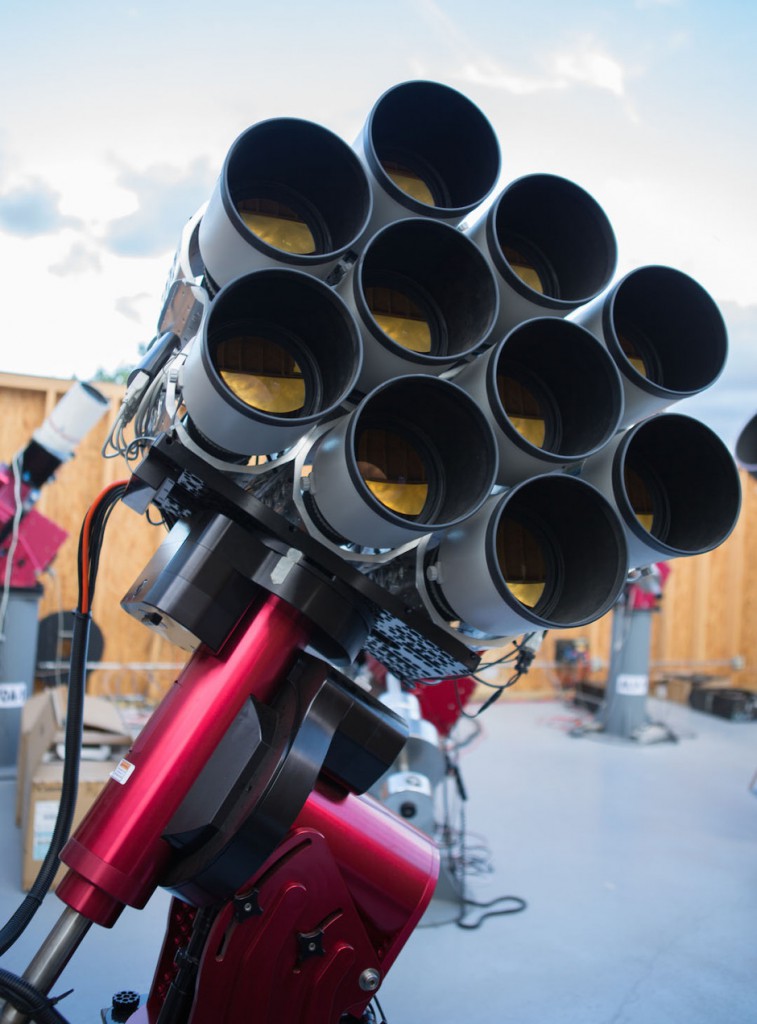 On Monday, May 25th, Roberto Abraham (University of Toronto) delivered the Helen Sawyer Hogg Lecture entitled "First Results from Dragonfly" at the 2015 meeting of the Canadian Astronomical Society / Société Canadienne d'Astronomie (CASCA 2015) at McMaster University in Hamilton, Ontario.
In his public talk, Abraham described a unique telescope, the Dragonfly Telephoto Array, one of the smallest professional astronomical telescopes in existence. Dragonfly is a multi-lens array with the power to detect very faint structure associated with galaxies (predicted by models of galaxy evolution), as well as faint dwarf galaxies and supernova light echoes. Abraham showcased early Dragonfly results, including the discovery of a new class of ghostlike, "fluffy" galaxies that are as big as the Milky Way but a thousandth the mass.
Dragonfly is an innovative, multi-lens array designed for ultra-low surface brightness astronomy at visible wavelengths. Commissioned in 2013 with only three lenses, the array is growing in size and proving capable of detecting extremely faint, complex structure around galaxies.
According to Cold Dark Matter (CDM) cosmology, structure in the universe grows from the "bottom up", with small galaxies merging to form larger ones. Evidence of such mergers can be seen in faint streams and filaments visible around the Milky Way Galaxy and the nearby M31 galaxy.
But the CDM model predicts that we should see more of this structure than is currently observed. However, images obtained using even the largest, most advanced telescopes today contain scattered light that may be hiding this faint structure.
Dragonfly is designed to reveal the faint structure by greatly reducing scattered light and internal reflections within its optics. It achieves this using ten, commercially available Canon 400mm lenses with unprecedented nano-fabricated coatings with sub-wavelength structure on optical glasses.
Also, Dragonfly images a galaxy through multiple lenses simultaneously — akin to a dragonfly's compound eye — enabling further removal of unwanted light. The result is an image in which extremely faint galaxy structure is visible.
The array began imaging targets in 2013 from its home at the New Mexico Skies hosting facility. Images have shown Dragonfly is at least ten times more efficient than its nearest rival and will be able to detect faint structures predicted by current merger models.