This article is now outdated. Please follow this link for updated viewing information.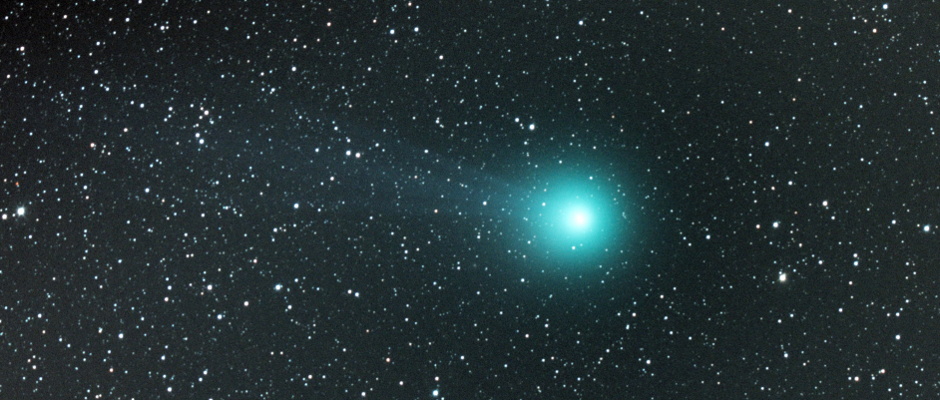 A circumpolar object for much of the British Isles since the beginning of February 2015, this means C/2014 Q2 Lovejoy hasn't set over the UK since then. It continues its inexorable trek north through the constellation of Cassiopeia, passing into Cepheus on May 2nd. Then, late into the night of Wednesday, May 27th, Comet Lovejoy passes just 1.1° from the Pole Star, Polaris.
Currently hovering around magnitude +7, the comet's brighter than predicted and a comfortable binocular object under moonless skies. Towards the end of April, dusk twilight has faded sufficiently by 10 pm (all times BST) for the centre of the British Isles to see Comet Lovejoy in an almost dark sky (the Moon notwithstanding).
At the fall of night, C/2014 Q2 is about 40° above the north-northwest horizon in the British Isles. As the Earth turns, Comet Lovejoy is carried below the celestial pole to approximately 40° above the northern horizon around 12:30 am, whereupon it starts to rise again in the north-northeast until the first signs of dawn twilight.
Observers using GoTo telescopes or instruments equipped with digital setting circles can use the following nightly equatorial coordinates to find Comet Lovejoy quickly:
30th April at 10 pm BST — α = 1h 28.3m δ = +76°54′ (J2000.0)
---

Inside the magazine
You can find out more about Comet Lovejoy in the April edition of Astronomy Now in addition to a full observing guide to the night sky.
Never miss an issue by subscribing to the UK's biggest astronomy magazine. Also available for iPad/iPhone and Android devices.