Top Stories





The very first stars

...thanks to a revolutionary new computer simulation created by astrophysicists from Japan and America, the very first instance that stars breathed light on the Universe have been mimicked...

Titan's liquid lakes

...Cassini scientists have presented unrivalled evidence for the presence of ethane lakes on Saturn's moon Titan, the first definitive example of liquid surface reservoirs on a planetary body other than the Earth...

Phoenix tastes water on Mars

...after weeks of struggling to deliver a sample of icy soil to Phoenix's onboard laboratory, the lander's ovens have finally received their bounty and provided the first direct evidence for water on Mars...



Spaceflight Now +





Subscribe to Spaceflight Now Plus for access to our extensive video collections!
How do I sign up?
Video archive

STS-120 day 2 highlights

Flight Day 2 of Discovery's mission focused on heat shield inspections. This movie shows the day's highlights.

Play

STS-120 day 1 highlights

The highlights from shuttle Discovery's launch day are packaged into this movie.

Play

STS-118: Highlights

The STS-118 crew, including Barbara Morgan, narrates its mission highlights film and answers questions in this post-flight presentation.

Full presentation
Mission film

STS-120: Rollout to pad

Space shuttle Discovery rolls out of the Vehicle Assembly Building and travels to launch pad 39A for its STS-120 mission.

Play

Dawn leaves Earth

NASA's Dawn space probe launches aboard a Delta 2-Heavy rocket from Cape Canaveral to explore two worlds in the asteroid belt.

Full coverage

Dawn: Launch preview

These briefings preview the launch and science objectives of NASA's Dawn asteroid orbiter.

Launch | Science

Become a subscriber
More video







Rosetta sets Steins in sights
BY DR EMILY BALDWIN
ASTRONOMY NOW

Posted: August 5, 2008
ESA's Rosetta spacecraft has begun its survey of asteroid (2867) Steins at a distance of 24 million kilometres, in preparation for a much closer encounter next month.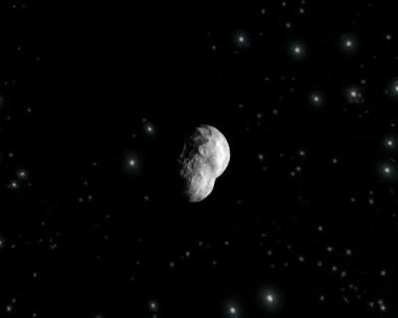 ESA's Rosetta spacecraft has asteroid (2867) Steins firmly in its sights as it prepares for a close-up view of its surface on September 5. Image: ESA.
"The orbit of Steins, with which Rosetta will rendezvous on 5 September, closing to a distance of 800 kilometres, is only known thanks to ground observations, but not yet with the accuracy we would like for the close fly-by," says Gerhard Schwehm, Rosetta Mission Manager.

The aim of the current tracking program, therefore, is to determine the asteroid's orbit with much greater accuracy than presently known, with the aim to reduce the current 'error' margin of 100 kilometres down to just 2 kilometres (in the direction perpendicular to the flight direction of the asteroid, to allow Rosetta the best possible approach.

"As Rosetta's distance from Steins decreases, the precision of the measurements for Steins' orbit will increase even further, allowing us the best possible trajectory corrections later on before closest approach, especially in early September," says Sylvain Lodiot, one of the Rosetta Flight Control Team members.

Rosetta's navigation cameras and the Optical, Spectroscopic, and Infrared Remote Imaging System (OSIRIS) will be used to track Stein, but for the next three weeks only OSIRIS will be able to spot the asteroid, appearing simply as a dot in the sky. During this time Rosetta will image Steins twice a week, and from 25 August it will take images daily until 4 September, at which point the orbital information gathered will be used to adjust Rosetta's orbit for the 5 September flyby.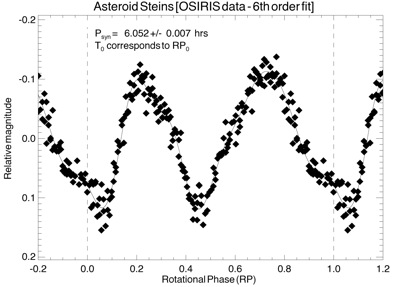 The OSIRIS instrument will keep track of brightness variations as Steins rotates. This light curve shows a variation of about 23 percent from maximum to minimum brightness, measured over one day. Image: Stefano Mottola (DLR), OSIRIS team.

This is the first time in the Rosetta mission that the OSIRIS instrument is being used for tracking purposes, but it will also perform its more familiar task of obtaining light curves to learn about how Stein's brightness varies with time, providing vital information about its shape and rotation characteristics.
The current optical and navigation campaign follows a month-long check-up of Rosetta's scientific instrumentation (read our report Rosetta wakes from hibernation for asteroid flyby), verifying the spacecraft's readiness for the up-coming close encounter.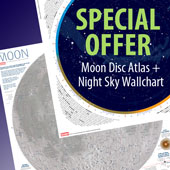 The Planets


From tiny Mercury to distant Neptune and Pluto, The Planets profiles each of the Solar System's members in depth, featuring the latest imagery from space missions. The tallest mountains, the deepest canyons, the strongest winds, raging atmospheric storms, terrain studded with craters and vast worlds of ice are just some of the sights you'll see on this 100-page tour of the planets.


GET YOUR COPY


Hubble Reborn


Hubble Reborn takes the reader on a journey through the Universe with spectacular full-colour pictures of galaxies, nebulae, planets and stars as seen through Hubble's eyes, along the way telling the dramatic story of the space telescope, including interviews with key scientists and astronauts.


GET YOUR COPY


3D Universe


Witness the most awesome sights of the Universe as they were meant to be seen in this 100-page extravaganza of planets, galaxies and star-scapes, all in 3D!


GET YOUR COPY