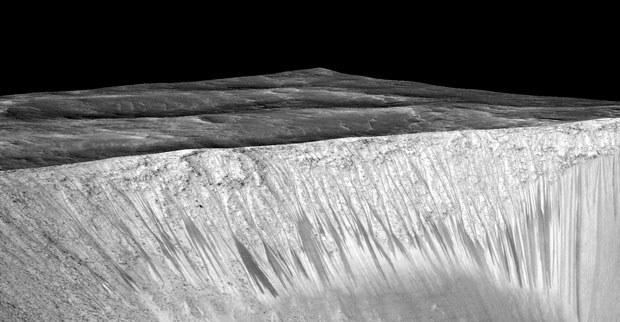 Liquid water existing on the surface of Mars, in the here and now, has been the holy grail of Martian exploration for some time, but in October 2015 NASA announced that the orbiting Mars Reconnaissance Orbiter (MRO) had turned water-diviner to find compelling evidence that water is bursting out onto the red surface and trickling down the slopes of crater walls and hillsides. This was exciting news because it raised the chance that life could still exist in some form on Mars.
MRO did not actually see water in the process of flowing downhill; rather it saw indirect yet incontrovertible evidence of water's presence. The focus of attention was on features known as 'recurring slope linae', or RSL, which is just a fancy term for dark streaks that MRO had photographed running downhill. The spacecraft's Compact Reconnaissance Imaging Spectrometer detected hydrated salts (i.e. salts that have been chemically altered by liquid water) in the streaks, including some in particular known as perchlorates, which can act as an anti-freeze in the low temperatures and air pressures on the surface of Mars. The streaks and the salty signatures fade away in the cold temperatures of Martian winter and return for Martian summer, and the water is believed to well up from aquifers.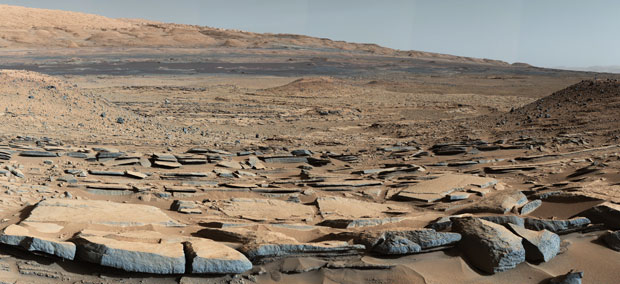 Water is crucial to life as we know it and the locations of the RSL are now prime spots for future rovers to explore. During 2015 there were two rovers still trundling across the Martian surface, the venerable Opportunity rover and the Curiosity rover in Gale Crater. This year has been a successful one for Curiosity, which has completed an assessment of what the environment was like in Gale Crater three-and-a-half billion years ago, finding that it was submerged in up to 200 metres of water for a period of around 500 million years. This discovery was a crucial one in our attempts to understand Mars' history, for it showed that, long ago, at least some regions on the red planet had climates that were friendly to liquid water, and possibly life. With two new spacecraft set to blast off for Mars in 2016, and six missions already active there, 2015 has laid a lot of the groundwork for future Mars exploration to follow up on.
---

Inside the magazine
Our top ten greatest stories of 2015 first appeared in the December edition of Astronomy Now.
Never miss an issue by subscribing to the UK's biggest and best astronomy magazine. Also available for iPad/iPhone and Android devices.