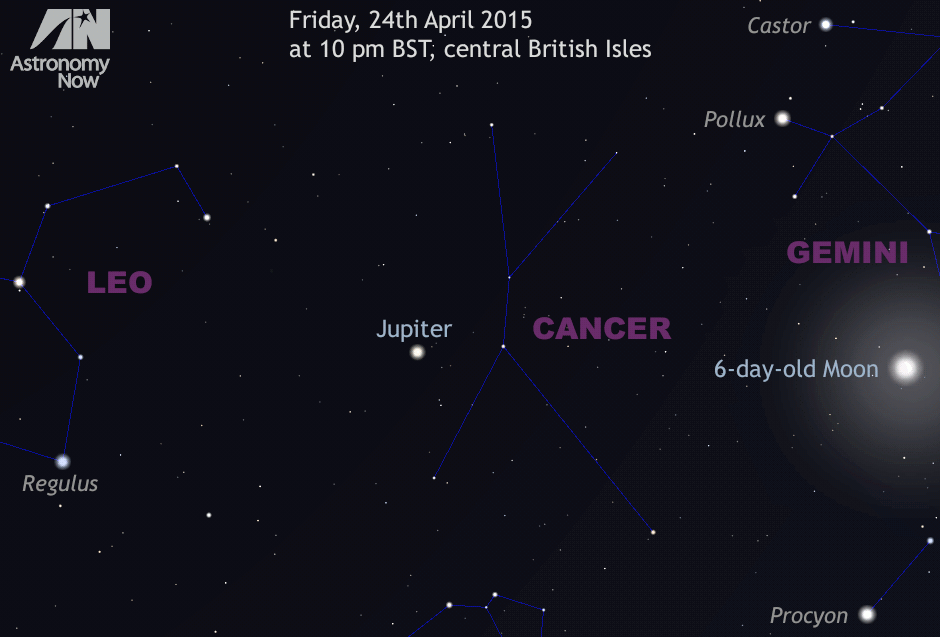 Jupiter may be big and bright in the constellation of Cancer, but the Solar System's largest planet already lies highest in the sky to the south before sunset and opportunities for viewing it high in a dark sky are fast diminishing, so you may wish to make the most of any clear nights.
If any help is required to identify the King of the Planets, then the First Quarter Moon is 11° (about the span of your fist at arm's length) to its lower right on Saturday, 25th April and a shade under 7° to the lower left of Jupiter the following evening. For observers with low power, wide-field binoculars, both the Moon and Jupiter will lie in the same field of view Sunday night.
For telescope users on Saturday night, the Great Red Spot will be on the centre of Jupiter's disc at 9:16 pm, Galilean moon Callisto emerges from behind its parent planet at 10:48 pm and sibling moon Ganymede emerges from Jupiter's shadow at 11:46 pm. On Sunday, 26th April moon Io partially occults Ganymede from 12:42 am to 12:48 am, while Europa partially occults Io from 10:23 pm to 10:27 pm (all times BST).
While contemplating this conjunction of the Moon and Jupiter, try and comprehend the vast difference in distance of these two worlds from us. On the night of Sunday, 26th April the Moon will be 247,200 miles (397,800 kilometres) distant, while Jupiter will be 478 million miles (769 million kilometres) from Earth — a staggering 1930 times further away! Clear skies!
---

Inside the magazine
You can find out more about Jupiter in the April edition of Astronomy Now in addition to a full observing guide to the night sky.
Never miss an issue by subscribing to the UK's biggest astronomy magazine. Also available for iPad/iPhone and Android devices.