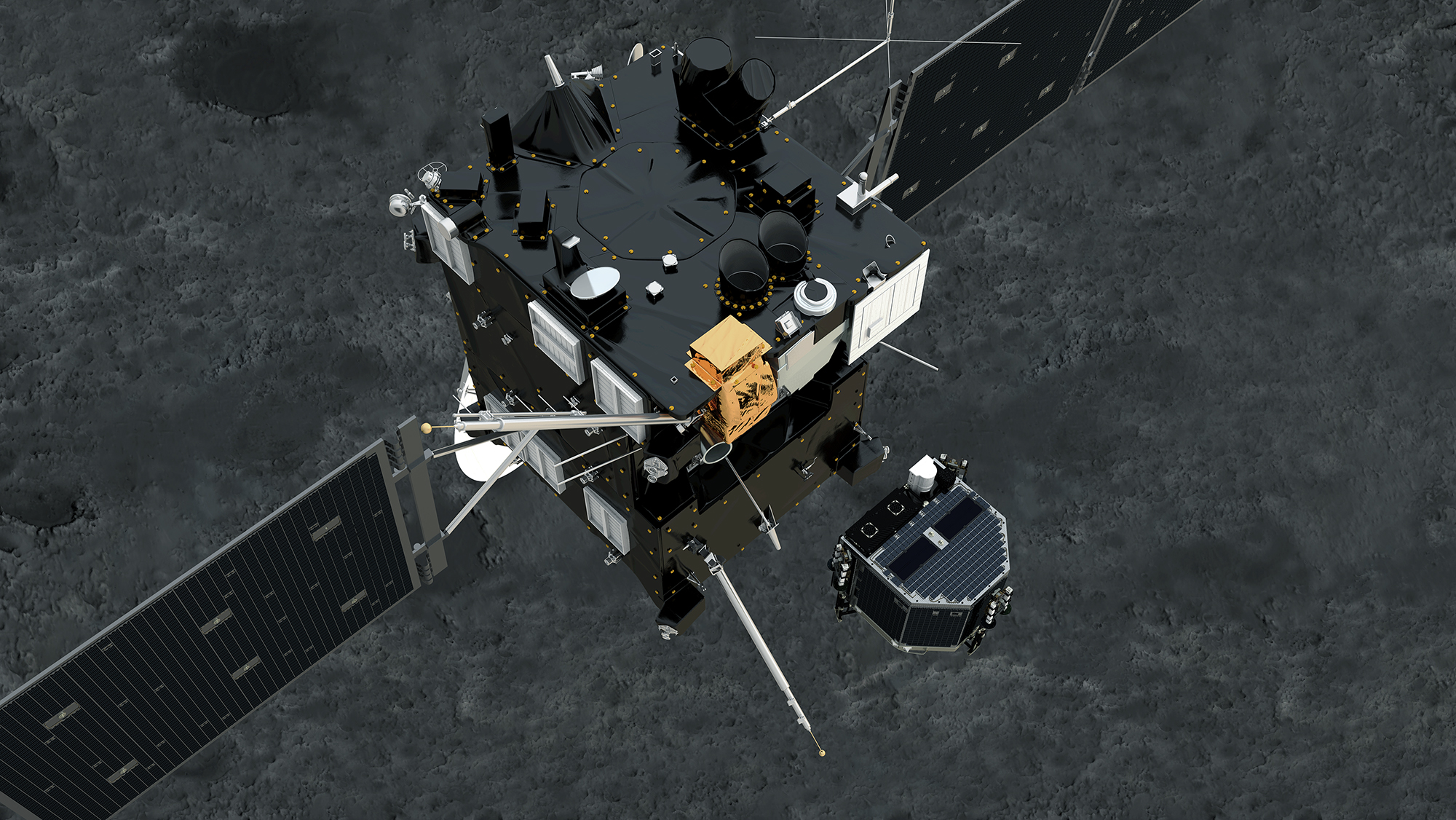 DARMSTADT, Germany — When a European landing probe goes for a daring touchdown on a comet Wednesday, officials say it would help to have a little luck on their side.
The European Space Agency's Rosetta orbiter is set to deploy a lander named Philae on Wednesday for a seven-hour descent to comet 67P/Churyumov-Gerasmimenko, an unexplored world that is rife with danger for the oven-sized landing craft.
Nothing like it has ever been tried before.
"It is realistic that there is a potential for failure, but I am very optimistic," said Fred Jansen, ESA's Rosetta mission manager.
Going into the mission officials predicted about a 75 percent chance of a smooth landing by Philae. But that was before scientists saw the comet up close, a look that revealed its nucleus was scarred with cliffs, boulders, towering rock protrusions and possibly made of two parts joined together.
"It's not a nice round potato," Jansen said. "It's rough, it's more difficult. But we've analyzed the terrain. We've analyzed the comet, and we are confident that the risks we have are still in the area of the 75 percent success ratio that we've always felt."
Philae hosts a suite of sensors designed to take panoramic and 3D imagery, measure the comet's mineral content, investigate the internal structure of the nucleus, and drill 23 centimeters — about 9 inches — into the comet's nucleus to extract a core sample for analysis by the lander's miniaturized internal laboratory.
"If you decide you want to land on an object you know nothing about 10 years, 20 years ago, then you run risk," Jansen said. "That's clear because you're going somewhere where not everything might be the way you anticipated, and that's the way this comet is."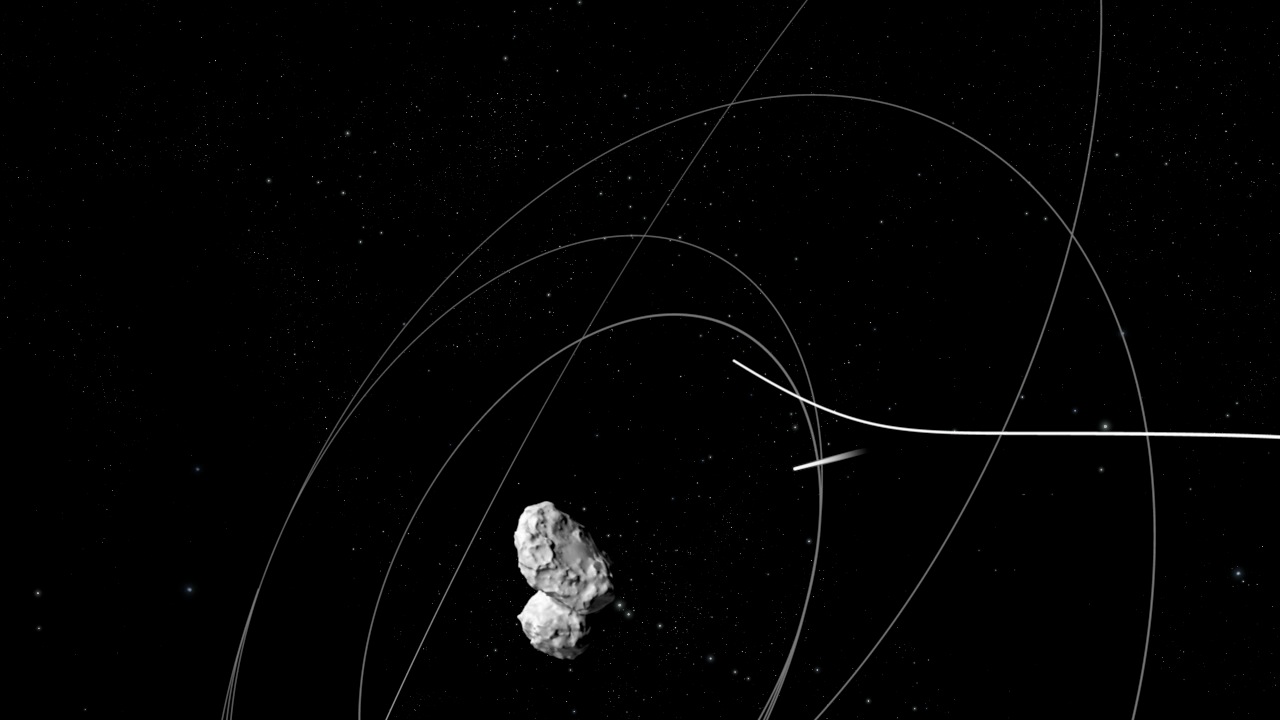 With a cost of 200 million euros — or about $250 million — the lander will provide ground truth for groundbreaking observations already underway by Rosetta. The chief goal of the $1.7 billion Rosetta mission is to find out how comets work and whether they may have seeded Earth with water and the building blocks for life — like organic molecules, amino acids, and other life-forming material.
Jansen described Philae as the "cherry on the cake" and said Rosetta itself will supply most of the mission's discoveries.
"It's amazing to scientists and scary to engineers," said Art Chmielewski, who manages NASA's portion of the Rosetta mission.
"This is not seven minutes of terror, OK?" Chmielewski said, referencing the catchy slogan used to describe the landing of NASA's Curiosity rover on Mars. "This is seven hours of scary patience."
"We cannot control this lander so accurately," Chmielewski said. "After the release, the baby goes and we can't do anything about it."
Philae's batteries only provide power to operate the probe for 64 hours before the lander switches off. If Philae has sufficient sunlight, it can recharge its batteries to support intermittent operations through March, when the craft is expected to overheat as the comet races closer to the sun.
"We're doing something hugely ambitious, it's never been done before," said Mark McCaughrean, a senior advisor in ESA's science division. "Nobody's tried to land on an object like this and then stay there to do science. We'll see what tomorrow brings. We stand on the brink of something amazing, but we have a mission that's hugely successful already, and that will continue to be so."
Getting Philae to the comet's surface requires an unprecedented cosmic ballet between the lander, the Rosetta mothership and the comet.
Early Wednesday, Rosetta will fire its rocket thrusters to drive toward the comet, setting up for release of Philae at a distance of 22.5 kilometers, or about 14 miles from the center of the icy world's nucleus.
If all goes according to plan, ground controllers here will receive confirmation of Philae's deployment from Rosetta at 0903 GMT (4:03 a.m. EST) Wednesday. Moments later, each spacecraft will turn their cameras toward each other to take a set of farewell photos.
Flying on its own, the Philae lander is not able to control its path toward the comet. Its course is charted before it departs the mothership, which is responsible for aiming and ejecting the lander in exactly the right direction at the correct time.
Using a team of spacecraft navigators based in Europe and the United States, Rosetta's operators got a location fix on the spacecraft Tuesday, then planned to command the probe to maneuver into position for deployment of Philae.
"We want to know where Rosetta is to find the exact point where we separate the lander," Accomazzo said. "This point is fixed in time, space, velocity and attitude, and we have to reach exactly that point."
A tiny error at the time of release could throw the lander off course by hundreds of meters, Accomazzo said.
A series of "go/no go" milestones were planned from late Tuesday through Wednesday morning to check off prerequisites before enabling the final commands to release Philae.
The lander is held to Rosetta with a latch and three electrically-powered spinning screws, which will push Philae away at a glacial pace of 18 centimeters per second, or about four-tenths of a mile per hour. If there is a problem with the screws, Rosetta carries a backup mechanism to spring-eject the lander, according to Jansen.
An electrical umbilical connecting Rosetta and Philae will also disengage.
Then Philae will follow an arcing parabolic trajectory curving toward the comet's nucleus, which spins once every 12 hours. The choreography of Wednesday's landing attempt must also account for the comet's rotation to bring the landing site underneath Philae at exactly the right time.
The lander's touchdown zone — stretching about a kilometer across — lies on the smaller of two lobes making up the central core of comet 67P/Churyumov-Gerasimenko.
Likened to a rubber duck, the comet is made of two distint segments connected by a narrow neck. The odd shape of the comet makes for a chaotic gravity field, requiring frequent rocket burns to keep Rosetta in a stable orbit.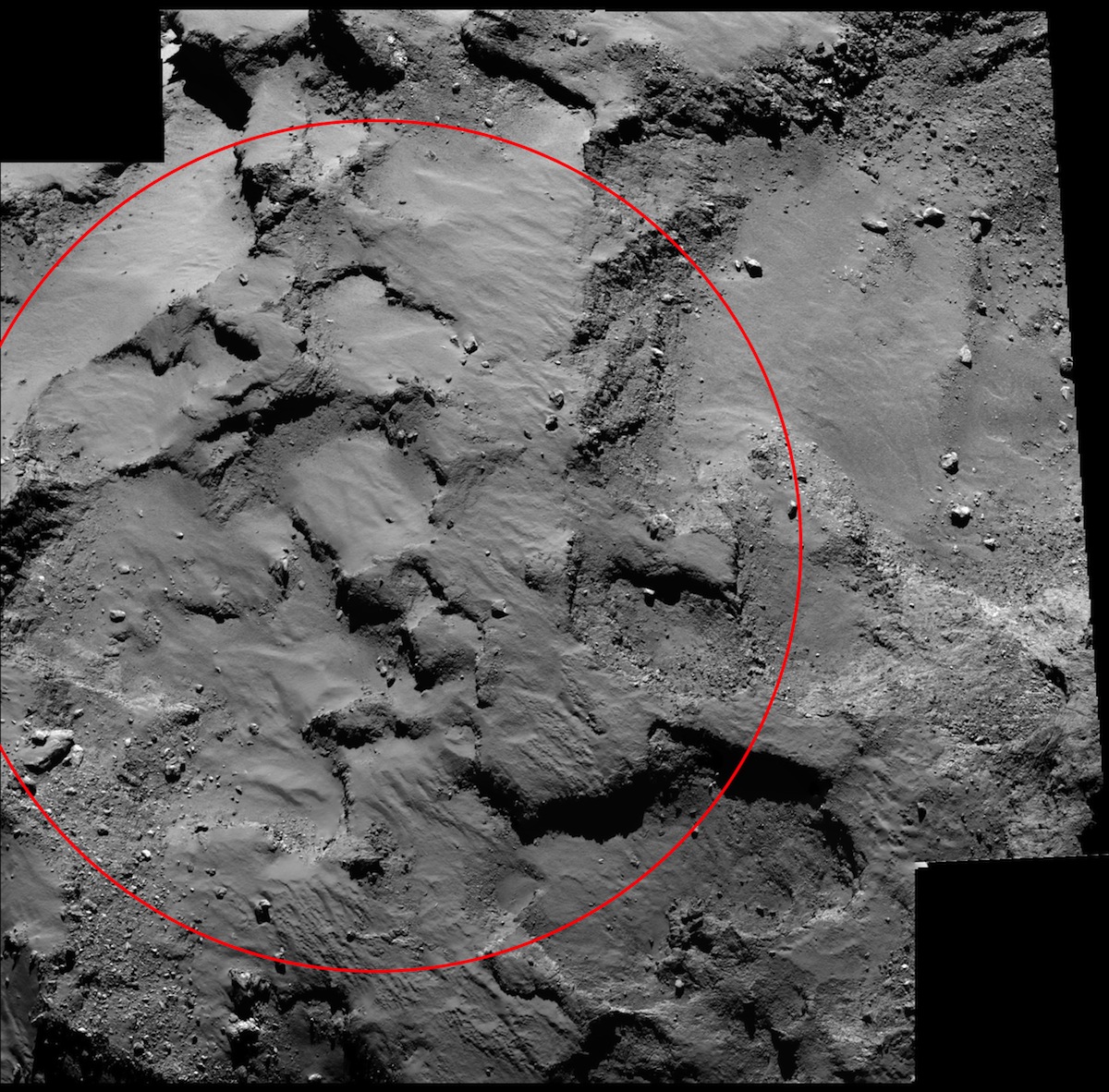 The comet's tenuous gravity — one hundred thousand times weaker than Earth's — will barely nudge Philae during its journey to the surface. The comet is not very dense, according to scientists — porous enough to float it was placed in a large enough body of water.
When the lander does contact the comet, it will only be moving at a walking pace.
Philae's three legs will pop open after leaving Rosetta, and a gyroscopic stabilizer will keep the lander's foot pads pointing toward the comet on the way down.
During the lander's slow-motion fall toward the comet, Rosetta will steer into position to serve as a communications platform to relay data between Philae and the ground.
Once the probe detects it has landed, Philae will immediately fire two harpoons into the comet and fire a top-mounted thruster to keep it from bouncing off. Ice screws on the lander's legs will also bore into the surface.
The 100-kilogram (220-pound) lander will weigh the equivalent a gram on the comet, according to Stephan Ulamec, head of the Philae lander team at DLR, the German Aerospace Center. Germany leads a pan-European consortium of space agencies and research institutions working on the lander.
Confirmation of landing is expected around 1600 GMT (11 a.m. EST) Wednesday, but touchdown will have actually happened 28 minutes earlier — the time it takes for radio signals to travel the 510 million kilometers (316 million miles) from the comet to Earth.
"It will take a few minutes, for sure, to really understand what has happened," Ulamec said.
Engineers will look for signs the lander's sensors detected touchdown and whether the harpoons fired and rewound their cables to form a tight hold between the comet and Philae.
Besides the risks from crashing into boulders or coming down on a slope, no one knows for sure whether Philae is heading for a plate of solid rock or quicksand. Solid ice has been ruled out from remote measurements by an instrument on Rosetta.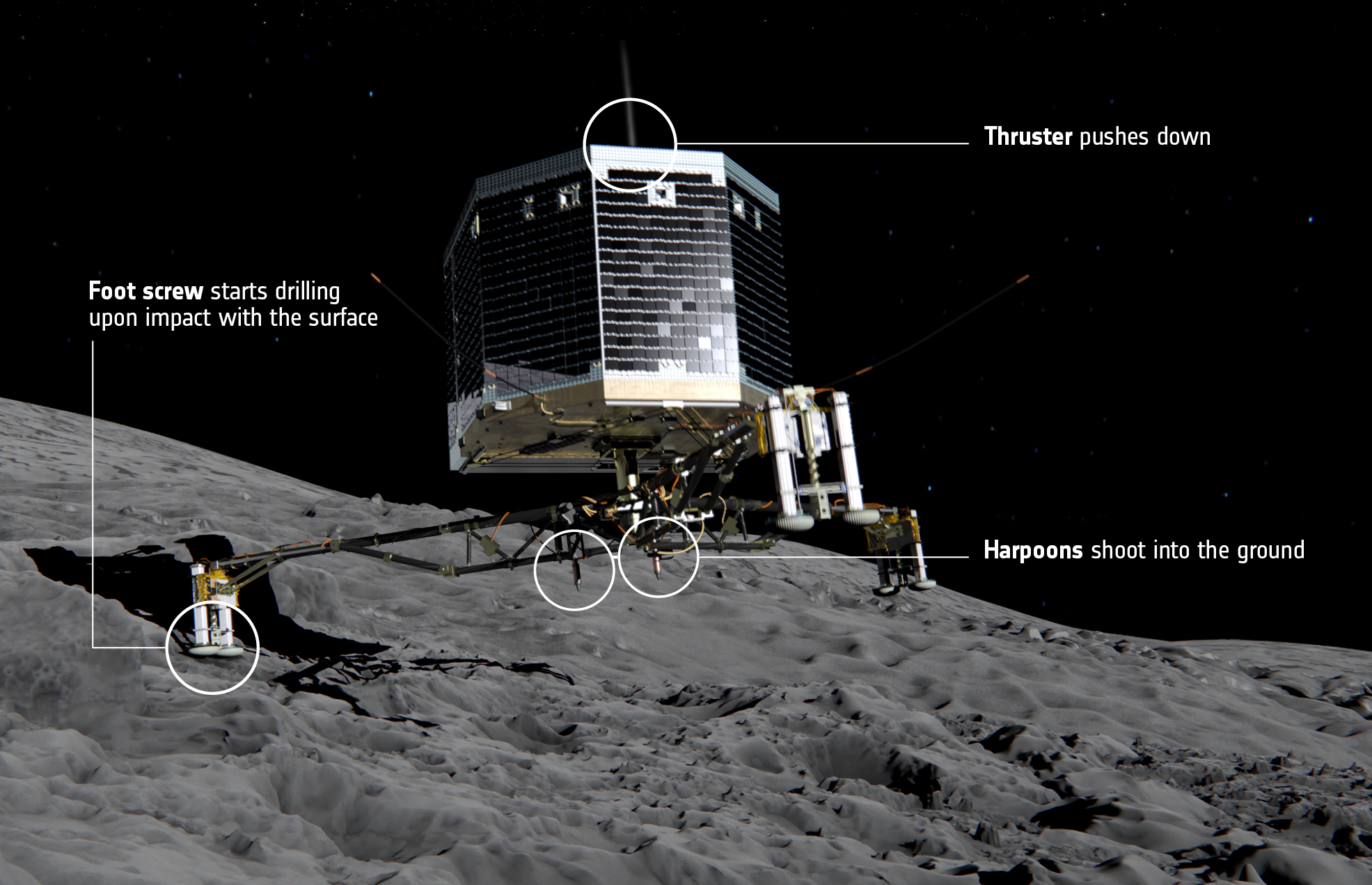 "It's not sheet ice on the surface," said Matt Taylor, Rosetta's project scientist. It's more of a dusty-like surface. We will learn more by putting the lander down there. That's the whole point … You only really know once you go down and touch it, and that's what we will do with the lander."
"In principle, the thruster will press us down to the surface, so the rebouncing will be only very limited due to some inertia from the harpoon firing," Ulamec told reporters Monday. "If the material is very soft, we may well sink in a little bit, but the harpoons should still anchor, in principle, because they go into deeper layers where there is expected to be some harder material."
Acknowledging the potential for failure Wednesday, ESA officials said they can meet 80 percent of the mission's scientific objectives with just the Rosetta orbiter.
"We shouldn't forget that Rosetta has a mission," Jansen said. "It has already done a vast amount of science."
"Everything on Rosetta, specifically being at a comet, orbiting it, landing on it and having the ambition to connect ourselves to the very origin of life on Earth and the solar system makes this mission an absolute historic first," Jansen said.
When scientists announced the selection of Philae's landing site in September — a location named Agilkia — they said it was the best bet for a successful touchdown.
"In the beginning, it was so scary to see this comet as it was," said Jean-Pierre Bibring, a lead scientist on the Philae lander. "It was really unexpected and unpredicted. No one felt we would face such a comet. When we saw it rotating, the first view was we won't be able to reach any place there."
But a closer look revealed more possibilities.
"As soon as we got closer … suddenly it happened that we might have reachable areas," Bibring said.
But no place on the comet is free of hazards that could doom the lander, which can't dodge boulders or fly away from unfavorable terrain.
"That, unfortunately, is totally outside of our control," Accomazzo said. "The surface of this comet is very, very rough. It's not an ideal place to land on, but this is what we have and this is what we are trying to do. We have to be a bit lucky.
"If the lander hits the surface of the comet in proximity of a boulder or something like that, then there is nothing we can do. We can't actively steer the trajectory of the lander on the descent. That is the part that worries me the most because I have no control of it. All the other is our responsibility, and we are prepared."
Follow Stephen Clark on Twitter: @StephenClark1.