Top Stories





New research puts asteroids in a spin

...according to new research, the answer to binary asteroid formation lies in the Sun...

Anaemic Mercury dominated by volcanism

...in a special edition of Science, 11 papers describe the findings of MESSENGER's January 2008 flyby, revealing the innermost planet as surprisingly deficient in iron, and having suffered a decidedly volcanic past...

STFC announces bitter-sweet funding programme

...The Science and Technology Facilities Council (STFC) have announced a three year £1.906 billion funding programme for UK physics and astronomy, but at the cost of several major projects in an attempt to recoup some of its £80 million shortfall...






Spaceflight Now +





Subscribe to Spaceflight Now Plus for access to our extensive video collections!
How do I sign up?
Video archive

STS-120 day 2 highlights

Flight Day 2 of Discovery's mission focused on heat shield inspections. This movie shows the day's highlights.

Play

STS-120 day 1 highlights

The highlights from shuttle Discovery's launch day are packaged into this movie.

Play

STS-118: Highlights

The STS-118 crew, including Barbara Morgan, narrates its mission highlights film and answers questions in this post-flight presentation.

Full presentation
Mission film

STS-120: Rollout to pad

Space shuttle Discovery rolls out of the Vehicle Assembly Building and travels to launch pad 39A for its STS-120 mission.

Play

Dawn leaves Earth

NASA's Dawn space probe launches aboard a Delta 2-Heavy rocket from Cape Canaveral to explore two worlds in the asteroid belt.

Full coverage

Dawn: Launch preview

These briefings preview the launch and science objectives of NASA's Dawn asteroid orbiter.

Launch | Science

Become a subscriber
More video







Small fraction of Sun-like stars produce planets
BY DR EMILY BALDWIN
ASTRONOMY NOW

Posted: July 10, 2008
Fewer than 10 percent of stars in the Orion Nebula have enough dust to make Jupiter-sized planets or larger, say astronomers from the University of California, Berkeley, the California Institute of Technology and the Harvard-Smithsonian Centre for Astrophysics, suggesting that Sun-like stars have a low probability of forming planets.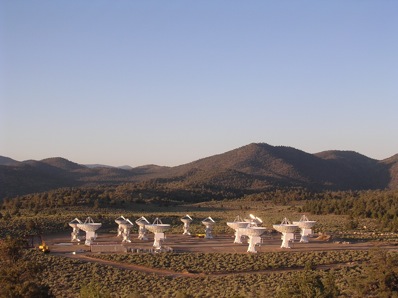 The new findings come from some of the first observations using the Combined Array for Research in Millimetre Astronomy (CARMA), located in eastern California's Inyo Mountains near the city of Bishop, and which is jointly operated by UC Berkeley, Caltech, the University of Maryland and the University of Illinois. Image: www.mmarray.org.
Stars like the Sun most likely formed in hot open clusters like the Orion Nebula, which at a youthful million years old is densely populated with around 1,000 stars crammed into a volume just a few light years on a side. For comparison, only one star occupies the equivalent volume of space in the neighbourhood of the Sun, but four billion years ago the Sun may too have been in a dense, open cluster like Orion. But over the course of billions of years open clusters become gravitationally unbound, dispersing their contents.

"We think that most stars in the Galaxy are formed in dense, Orion-like regions, so this implies that systems like ours may be the exception rather than the rule," says Joshua Eisner of the University of California, Berkeley, whose findings result from some of the first observations using the 15-dish Combined Array for Research in Millimetre Astronomy (CARMA). The Submillimeter Array (SMA) was also used for the study, enabling both sensitivity and high image quality needed to observe the dusty discs in Orion.
The astronomers observed over 250 known stars in Orion's central region and found that only 10 percent emit the 1.3 millimetre wavelength radiation typically cast by a warm disc of potentially planet-bearing dust. Even fewer had dust discs with masses suitable to form Jupiter-sized planets, a result that adds another piece to the jigsaw puzzle of planet formation in which other planet searches have found that only about six percent of stars surveyed have planets the size of Jupiter or larger.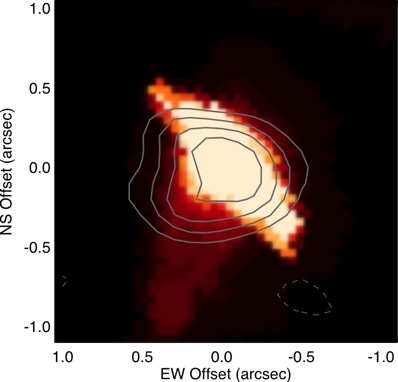 While a Hubble Space Telescope image of visible light emitted by a protoplanetary disc (proplyd) in the Orion Nebula called proplyd 170-337 shows hot, ionized gas (red) surrounding and streaming off of a disc (yellow), 1.3 mm radio observations by CARMA and SMA reveal the dust disc hiding within the hot gas (contours). This protoplanetary disc has a mass more than one hundredth that of the Sun, the minimum needed to form a Jupiter-sized planet. Image: Bally et al 2000/Hubble Space Telescope & Eisner et al 2008/CARMA, SMA.
There also appears to be an evolutionary trend in the average masses of discs, with older clusters exhibiting less dust, perhaps because much of it has already gathered into planets. However, surveys of a lower density star-forming region – the Taurus cluster – show that more than 20 percent of its stars have enough mass to form planets. The astronomers think that the difference is probably related to the tightly packed, hot stars of the Orion cluster.
"Somehow, the Orion cluster environment is not conducive to forming high mass discs or having them survive long, presumably due to the ionization field from the hot, massive stars which you might expect would photo-evaporate dust and lead to small disc masses," says John Carpenter, a senior research astronomer at Caltech.
Future improvements to the CARMA array could allow detection of even smaller discs capable of giving rise to
sub-Jupiter planets. To detect yet smaller discs able to form large Earth-like planets would require a more extensive array, such as the Atacama Large Millimetre Array now being built
in Chile.