Top Stories





Anaemic Mercury dominated by volcanism

...in a special edition of Science, 11 papers describe the findings of MESSENGER's January 2008 flyby, revealing the innermost planet as surprisingly deficient in iron, and having suffered a decidedly volcanic past...

New Horizons team celebrates 30th anniversary of Charon's discovery

...on July 7 1978, Pluto was officially given its first moon, Charon, and in seven years time Pluto will welcome its first artificial satellite – New Horizons – that will turn these distant bodies from points of light into well-mapped worlds..

Rosetta wakes from hibernation for asteroid flyby

...ESA's comet-chasing Rosetta spacecraft has awoken from hibernation to prepare for its encounter with rare asteroid (2867) Steins on 5 September...






Spaceflight Now +





Subscribe to Spaceflight Now Plus for access to our extensive video collections!
How do I sign up?
Video archive

STS-120 day 2 highlights

Flight Day 2 of Discovery's mission focused on heat shield inspections. This movie shows the day's highlights.

Play

STS-120 day 1 highlights

The highlights from shuttle Discovery's launch day are packaged into this movie.

Play

STS-118: Highlights

The STS-118 crew, including Barbara Morgan, narrates its mission highlights film and answers questions in this post-flight presentation.

Full presentation
Mission film

STS-120: Rollout to pad

Space shuttle Discovery rolls out of the Vehicle Assembly Building and travels to launch pad 39A for its STS-120 mission.

Play

Dawn leaves Earth

NASA's Dawn space probe launches aboard a Delta 2-Heavy rocket from Cape Canaveral to explore two worlds in the asteroid belt.

Full coverage

Dawn: Launch preview

These briefings preview the launch and science objectives of NASA's Dawn asteroid orbiter.

Launch | Science

Become a subscriber
More video







STFC announces bitter-sweet £2 billion funding programme
BY DR EMILY BALDWIN
ASTRONOMY NOW

Posted: July 8, 2008
The Science and Technology Facilities Council (STFC) have announced a three year £1.906 billion funding programme for UK physics and astronomy, but at the cost of several major projects in an attempt to recoup some of its £80 million shortfall.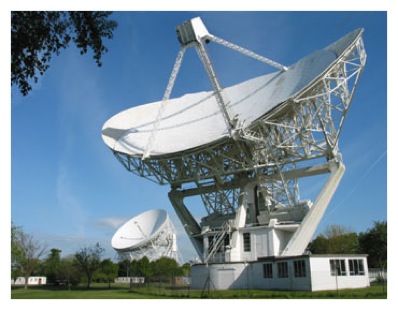 The Lovell and Mark II Telescopes at Jodrell Bank Observatory working together as part of MERLIN. STFC will continue to contribute to the operating costs of eMerlin on a shared cost basis with the University of Manchester. Image: Jodrell Bank Observatory (University of Manchester).
Earlier in the year the scientific community was up in arms as world class facilities, including the eMerlin radio-astronomy facility at Jodrell Bank and the UK's subscription to the eight-metre Gemini telescopes – which the UK helped build – were threatened with closure as a result of being ranked as low priority in the first stages of STFC's review process. But in STFC's latest Programmatic Review, which was approved at the start of this month, the Council has confirmed its intention to contribute to the operating costs of eMerlin on a shared cost basis with the University of Manchester, as well as securing the future of UK radio astronomy with a subscription to the Square Kilometre Array, which will become the world's largest radio project. The Gemini Telescopes have also been given a reprieve, although they still fall towards the bottom of STFC's priority list, and the UK's access to Gemini North will be maintained by selling around 50 percent of British observing time to other institutions around the world.
Other global projects that will benefit from the £1.9 billion funding programme include particle physics experiments at CERN, a neutrino project in Japan, a nuclear physics facility in Germany, and various ambitious projects at The Rutherford Appleton Laboratory near Oxford. A whole armada of space exploration telescopes received support, including the James Webb Space Telescope (Hubble's successor), SWIFT, LISA Pathfinder, GAIA and XMM Newton, all of which will continue to contribute to our understanding of the nature and evolution of our Galaxy within the Universe.
"The next three years will see dramatic advances in the capabilities available to UK researchers, be it medical researchers using the Diamond Light Source's new beam-lines, particle physicists using CERN to learn about events just after the Big Bang, astronomers surveying the skies with the new VISTA telescope or biologists testing samples at the new ISIS beam-lines or the ULTRA laser," says STFC chief executive Professor Keith Mason. "UK scientists have a lot to look forward to."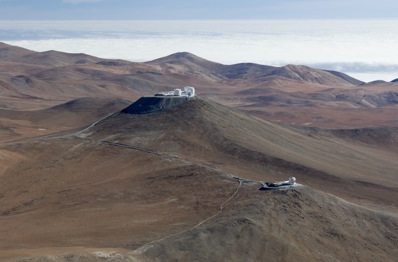 Aerial view of Paranal, home of the Very Large Telescope array (background) and the new VISTA telescope (foreground) that STFC is funding. Image: VISTA/G.Hudepohl.
But since not all of the UK's projects cut the grade, that opinion is not shared by everyone. Indeed, it's a bitter-sweet success for the likes of ESA's ExoMars and Bepi-Colombo missions. Although key UK industries continue to have major inputs into the building of ExoMars, and the mission received a high grading in the Programmatic Review, Britain's contribution to science once it gets to the surface of Mars is not yet secured thanks to a recommended 25 percent reduction to the planned 'spending line'. ExoMars is part of ESA's Aurora Programme, a strategy that calls for robotic and human exploration of the Solar System, as well as the search for life beyond Earth. And while Bepi-Colombo will still receive contributions from the UK thanks to an external arrangement between STFC and ESA, the mission is classed as low priority. Two gamma ray observatories, one ground-based – VERITAS – and one space-based – Integral – remain in the unfunded category, and Astrogrid, an online virtual observatory that ties together astronomy resources and data from around the world, will have its funding 'ramped down' over the remainder of 2008.
"We've made some difficult but necessary choices in order to keep the UK at the forefront of international scientific research," says Professor Mason. "We have targeted our money very carefully at the areas which will have greatest impact for UK science."
"There are risks in our very ambitious programme but I think our community would prefer we proceed in this way rather than have a smaller, more conservative programme," adds Professor Richard Wade, STFC's Deputy CEO. "We have no plans, however, to revisit the recommendations of the Programmatic Review in a 'second round' of cuts. We have achieved our target savings and have an affordable programme."
Only time will tell how these funding 'choices' will affect future generations of PhD researchers. Professor Wade tells Astronomy Now: "In order to exploit our project activities we are maintaining PhD numbers, and while there will be reductions to the planned growth in exploitation grants – cuts compared with expectations if you like – the balance between new projects and exploitation was judged to be about right in the Programmatic Review."
Robert Massey of the Royal Astronomical Society says: "It's absolutely legitimate to reprioritise projects that should be funded, provided that is done in consultation with the astronomical community. STFC have committed themselves to improving future consultation and the RAS welcomes that. But it is still deeply regrettable that research groups face a 25 percent cut in grants, which will cut back on the number of postgraduate and postdoctoral opportunities and strip away the infrastructure researchers need to work on the fantastic projects the UK is still involved with. We hope that the Government looks at the funding again in the autumn, when the Wakeham review of physics issues its report. After the US, the UK publishes the highest number of astronomy and space science papers in the world and it would be a great shame if cutbacks threaten that."
The £1.906 billion budget was agreed by STFC's executive council following a three month consultation in which over 1,400 submissions from the UK and abroad were considered. Full details of the Programmatic Review can be found on STFC's website at:
http://www.stfc.ac.uk/PMC/PRel/STFC/FinalProgRev.aspx