Cassini's imaging trick earned halloween treats from Enceladus
BY DR EMILY BALDWIN
ASTRONOMY NOW

Posted: 31 October, 2008; updated 04 November
Following the success of the 'skeet shoot' imaging technique employed for the 11 August Enceladus fly-by, Cassini performed the same trick to obtain more high resolution images of the icy satellite this halloween.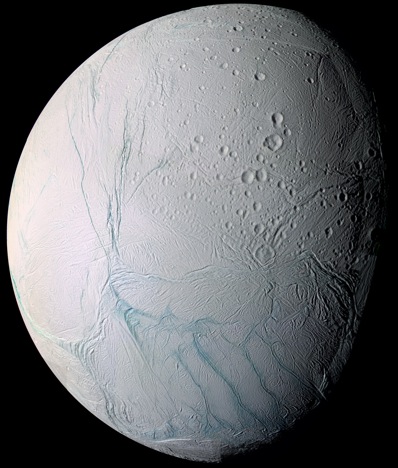 Cassini captured more high resolution images of the prominent tiger stripes in the south polar region of Enceladus in a halloween encounter with Saturn's enigmatic moon. Image: NASA/JPL/Space Science Institute.
While the 9 October fly-by focussed on the geyser-like plumes emanating from the so-called tiger stripes at the moon's south pole, the halloween fly-by was set on obtaining high resolution images of the terrain from which the jets are erupting. The skeet shoot technique, named after an Olympic shooting event, works by initially pointing Cassini ahead of the moon, and ordering it to track a point in space while it waits for Enceladus to move into the camera's field of view. Once the targeted region is in the line of fire, the camera shoots images of the high priority target regions in rapid succession.
For the 31 October fly-by, the ground track of the camera's pointing was selected to cut across two tiger stripes, known as sulci. The swath was chosen to pass over three particular segments of the tiger stripes that are known to be local hot spots and which are sites of previously observed eruptions. The results of the fly-by mean that the Cassini team have now observed six of eight jet sources, with the latest fly-by catching sources assigned tags VI and VII in and around the Baghdad sulci, as well as repeating observations of Damascus jet sources II and III. They noted that the region of the active tiger stripes is finely-fractured throughout and littered with icy blocks.
The source region for a jet (assigned the tag VI) was identified in the Baghdad Sulcus region. Image: NASA/JPL/Space Science Institute.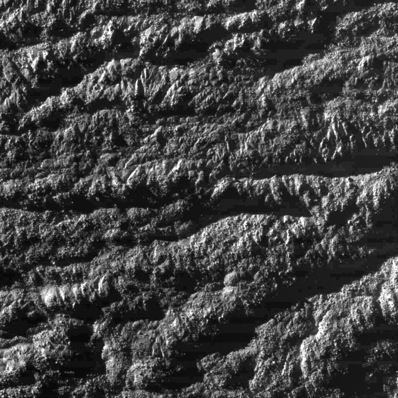 This image was captured at a resolution of just nine metres per pixel, the highest resolution of the halloween encounter. The image shows the south polar terrain in unprecedented detail, revealing fractured terrain littered with icy blocks. Image: NASA/JPL/Space Science Institute.


Related Stories

Oct 13 New views of enigmatic Enceladus... read more
Oct 08 Cassini prepares for double flyby... read more
Aug 28 Cassini pintpoints source of Enceladus jets read more
Aug 13 Enceladus images dazzling success read more
Aug 12 Cassini swoops past Enceladus read more
Jun 02 Cassini primed for extended tour of Saturn read more
May 21 Cassini maps of Saturn's moons... read more
Mar 27 Cassini tastes organic material... read more
Mar 14 Cassini flyby success read more
Mar 11 Cassini to dive into water plume... read more