Phoenix digs into darkness
BY DR EMILY BALDWIN
ASTRONOMY NOW

Posted: October 09, 2008
As the Sun falls further and further below the horizon in northern hemisphere Mars, Phoenix continues to dig soil and deliver samples to its onboard laboratory for analysis.
The Mars Lander has been occupied with investigating the area around the 40 centimetre wide rock - nicknamed Headless - that it shifted into a trench around two weeks ago. Since then, it has been scraping soil from underneath the rock, delivering a few teaspoonfuls to the Microscopy, Electrochemistry and Conductivity Analyser.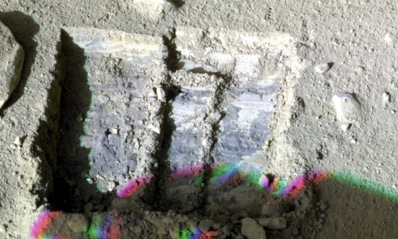 This false colour image reveals colour variations in the trench informally named 'La Mancha,' and shows the ice layer beneath the soil surface as a dark grey sheet. The trench is about five centimetres deep. The colour outline of the shadow at the bottom of the image is a result of Sun movement with the combined use of infrared, green and blue filters. Image: NASA/JPL-Caltech/University of Arizona/Texas A&M University.
The soil sample has been nicknamed 'Galloping Hessian' and caught the attention of Phoenix mission scientists because it may contain a high concentration of salts. In arctic and arid environments on Earth, salt is left under and around rocks after water evaporates.
"That's why we wanted to look under Headless, to see if there's a higher concentration of salts there," says Phoenix mission scientist Diana Blaney of NASA's Jet Propulsion Laboratory.
The hard, icy layer underneath the Martian surface also continues to occupy Phoenix. The lander has dug a trench called La Mancha, underneath the original location of the 'Headless' rock, to investigate how deep the ice layer is set in this location. There are also plans to dig laterally across some of the existing trenches to reveal a horizontal profile of the ice layer, building up a three-dimensional picture of the distribution of ice in this local region of Mars.
"We'd like to see how the ice table varies around the workspace with the different topography and varying surface characteristics such as different rocks and soils," says Phoenix co-investigator Mike Mellon of the University of Colorado. "We hope to learn more about how the ice depth is controlled by physical processes, and by looking at how the ice depth varies, we can pin down how it got there."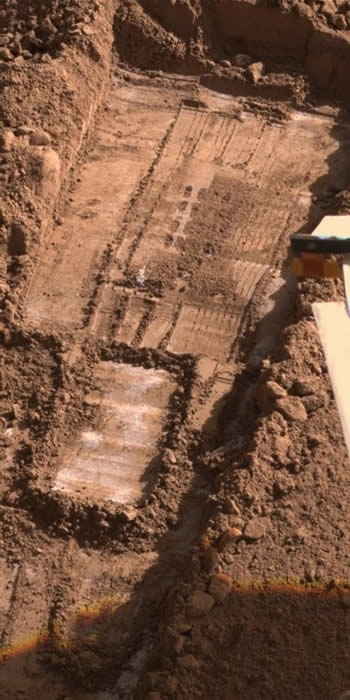 It's frosty mornings for Phoenix from now on as the Sun begins to set on the mission. This image was taken at 9am on 18 September and shows bright, frosty material forming in and around the trench. Image NASA/JPL-Caltech/University of Arizona/ Texas A&M Univeristy.
The Phoenix lander is now in its fifth month of an originally planned three month mission, but the Sun is rapidly setting. The lander's weather instruments have detected water-ice haze clouds in the northern Martian sky, and temperatures are getting colder as the daylight hours wane. As solar power declines, Phoenix will become primarily a weather station before all activity ceases by the end of the year.

Related Stories

Sep 30 Phoenix sees falling snow read more
Sep 29 Phoenix peeks under a rock read more
Sep 12 Dust devils pay visit to Phoenix read more
Sep 05 Phoenix's vapour quandary read more
Aug 26 Phoenix digs into extended mission... read more
Aug 06 Martian salts analysed for habitability... read more
Aug 01 Phoenix tastes water on Mars read more
Jul 29 Sticky situation for Phoenix read more
Jul 22 Phoenix in 24-hour monitoring assignment read more
Jul 17 Phoenix rasps frozen layer... read more
Jul 11 First success with Phoenix soil probe... read more
Jul 10 Phoenix struggling with icy payload read more
Jul 03 Next Phoenix bake could be last read more
Jun 30 Phoenix soil could support life read more
Jun 23 Frozen water confirmed on Mars read more
Jun 19 Bright chunks must have been ice read more
Jun 17 First results from Phoenix bakery read more
Jun 12 An oven full of sand read more
Jun 10 Clumpy Martian soil challenges Phoenix read more
Jun 06 Closest view ever of Mars sand read more
Jun 03 Phoenix scoops up Martian soil read more
Jun 02 Phoenix sees possible ice read more
May 30 Phoenix flexes robotic arm read more
May 28 HiRISE captures Phoenix descent read more
May 26 Spectacular new colour view of Mars read more
May 23 Phoenix prepares for Mars landing read more