Phoenix sees possible ice
BY DR EMILY BALDWIN
ASTRONOMY NOW
Posted: June 2, 2008
Scientists have discovered what may be ice underneath the Phoenix lander, exposed when soil was blown away as it landed in the northern polar plains of Mars last week.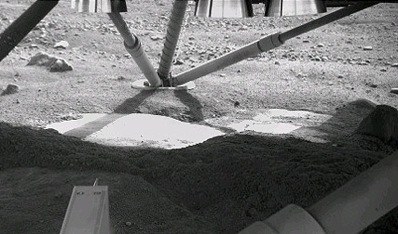 Phoenix peers under its body and spots what could be an exposed layer of ice. Descent thrusters on the bottom of the lander are visible at the top of the image. Image: NASA/JPL-Caltech/University of Arizona/Max Planck Institute.
The possible ice appears in an image the robotic arm camera took underneath the lander, near a footpad. The view from the north side of the lander toward the southern leg (image above) shows smooth surfaces that were possibly cleared from overlying soil by the rocket exhaust during landing. The abundance of excavated smooth and level surfaces adds evidence to a hypothesis that the underlying material is an ice table covered by a thin blanket of soil.
"We could very well be seeing rock, or we could be seeing exposed ice in the retrorocket blast zone," said Ray Arvidson, co-investigator for the robotic arm. "We'll test the two ideas by getting more data, including colour data, from the robotic arm camera. We think that if the hard features are ice, they will become brighter because atmospheric water vapor will collect as new frost on the ice."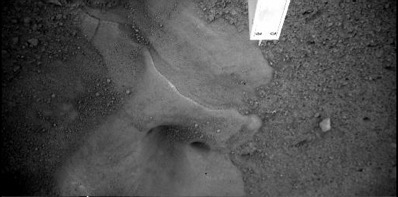 A close-up of the "Snow-Queen" feature underneath the lander, which has a smooth surface with several rounded cavities. Image: NASA/JPL-Caltech/University of Arizona/Max Planck Institute.
This type of terrain is exactly what the mission scientists were hoping to find, and the team are keen to get digging. Phoenix has already begun to use its robotic arm to reach out and touch the Martian soil, an important step toward scooping up soil and ice and delivering the samples to the lander's onboard experiments.